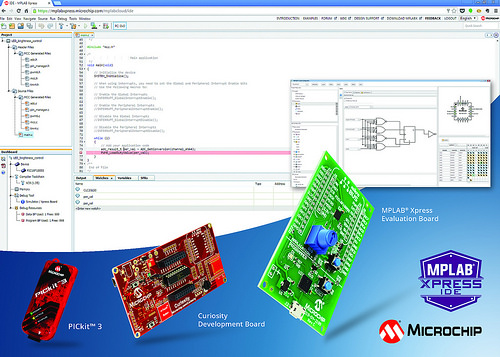 Microchip cloud-based development platform launches
Microchip Technology announced MPLAB Xpress, a new cloud based development environment to provide an easy way to get started with PIC microcontrollers.
Microchip Technology Inc. (NASDAQ: MCHP), a leading provider of microcontroller, mixed-signal, analog and Flash-IP solutions, today announced its MPLAB® Xpress Cloud-based Integrated Development Environment (IDE). This online development platform is the easiest way to get started with PIC® microcontrollers (MCUs), with zero downloads, sign-in or setup needed to start designing. Microchip's free, cloud-based IDE brings the most popular features of the award-winning MPLAB X IDE to Internet-connected PCs, laptops or tablets.
Microchip cloud-based development platform launches – [Link]
Subscribe to Blog via Email
Join 97,590 other subscribers
Archives