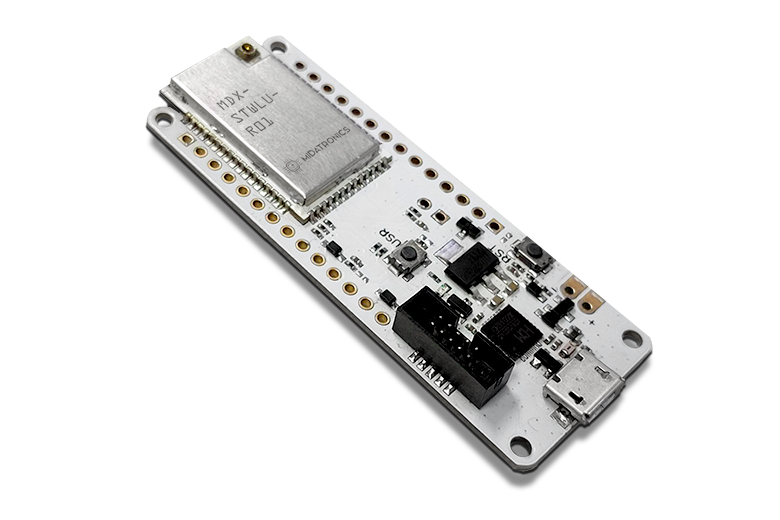 Just recently, we wrote about Midatronics' MKR SharkyPro BLE, Zigbee, OpenThread development board that is based on STM32WB55 MCU in an Arduino MKR form factor. We are back with excitement to inform you that the company also has a similar looking MKR Windy board that follows the same Arduino MKR layout but is based on the Windy STM32WL module and adds LoRa connectivity.
The MKR Windy board is built around the company's WINDY Module, an IoT module based on the STMicro STM32WL, with onboard uFL connector and an SoC that integrates both the general-purpose microcontroller and a sub-GHz radio.
"Built on an Arm® Cortex®‐M4 core architecture, STM32WL microcontrollers also support multiple modulations – LoRa®, (G)FSK, (G)MSK, BPSK – to ensure flexibility in wireless applications with LoRaWAN®, Sigfox® or any other suitable protocol in a fully open way." says Midatronics.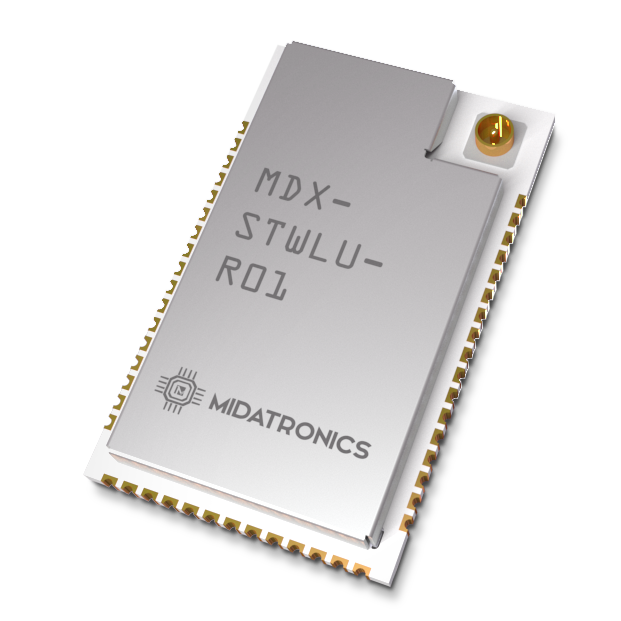 Key Features and Specifications of the MKR Windy include:
Windy module (MDX-STWLU-R01)

STMicro STM32WLE5JX/STM32WL55JX Arm Cortex-M4 MCU running @ 48 MHz; 256KB flash; 64KB SRAM
Semtech SX126x sub-GHz radio with LoRa, (G)FSK, (G)MSK, and BPSK modulations; 150 MHz – 960 MHz
uFL connector for external antenna
1.8 V to 3.6 V supply voltage
Temperature Range: 40°C to 85 °C
RX Sensitivity: 123 dBm for 2-FSK,  -148 dBm for LoRa
Dimensions: 16 mm x 26 mm

1x Micro USB port for power and programming
2x 14-pin headers compatible with Arduino MKR boards with USART, ADC, SPI, I2C
8-pin SWD connector
Reset button
User button
User LED
Power Supply: 5V via Micro USB port; 2.5V – 5.5V via Vin pin; 2.0V – 5V via Vbatt pin (battery)
Dimensions: 63 mm x 25 mm
Not much has been said about the MKR Windy board for now, so there is no available information on its product brief or datasheet. The company has not also said anything about programing the board but they made us to understand that:
"the module is totally open and can be easily and quickly programmed with ST software by UART, virtual USB or with the ST-Link by SWD port."
We suspect however, that the MKR board could also be programmed with both STMicro software tools and the Arduino IDE, just like we saw with the SharkyPro boards. We also suspect that the MKR Windy is closer to being an evaluation platform for the Windy module than a direct competitor of other boards that also offer LoRaWAN connectivity.
Further details on the MKR Windy board along with technical documentation of the Windy module are available and can be found on the product page.