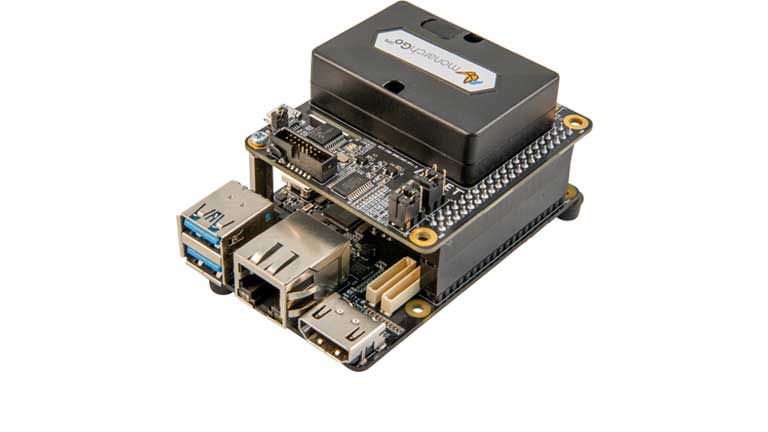 Monarch Go Pi Hat features LTE Cat-M1 modem
The Monarch Go Pi HAT enables engineers to connect Raspberry Pi HAT-capable SBCs to the Monarch Go LTE Cat-M1 modem. The Monarch Go Pi HAT supports both the Monarch Go and Monarch Go-GPS modems. In addition to Monarch Go support, the Pi HAT includes a shuttle click expansion connector that enables 3.3V I/O I2C, SPI, UART, and GPIO-based click modules from MikroElektronika. Having access to the large array of click module offerings permits prototyping of various LTE-based applications.
The Monarch Go Pi HAT can operate in two modes. The first mode works with a SBC over a Pi HAT 40-pin GPIO UART interface. In this mode, the SBC performs the communication over the UART interface with the Monarch Go modem. The second operating mode for the Monarch Go Pi HAT is standalone. In standalone operation, the Monarch Go Pi HAT's power and UART communication to the modem occur through the micro USB interface. In standalone operation, it functions like the Monarch Go Starter Kit and can be evaluated on many other platforms over the USB-UART interface.
Features
Raspberry Pi HAT Compatible
Monarch Go LTE modem

Cat-M1
Pre-installed Verizon ThingsSpace IoT SIM
Production ready

MikroElektronika shuttle click site

3.3V I/O
I2C
SPI
GPIO
UART

Voltage I/O translator
Micro USB

Debug and Programming UART
The Monarch Go LTE Cat-M1 modem delivers the shortest possible route to market and lowest development cost for cellular IoT connected devices. Unlike traditional cellular modules, this modem is certified for use on the Verizon network, which avoids costly lab testing while improving time to market. The Monarch Go has an integrated antenna and pre-installed Verizon ThingSpace IoT SIM card, giving developers an easy, cost-effective approach to developing LTE IoT solutions.
The Monarch Go Pi HAT kit is available in the Americas for USD $72.95. Learn more about this product. Raspberry Pi products and accessories, including the new Raspberry Pi 4 Model B computer with 8GB of onboard memory, are available from Newark, an Avnet Company.
Join 97,426 other subscribers

Archives