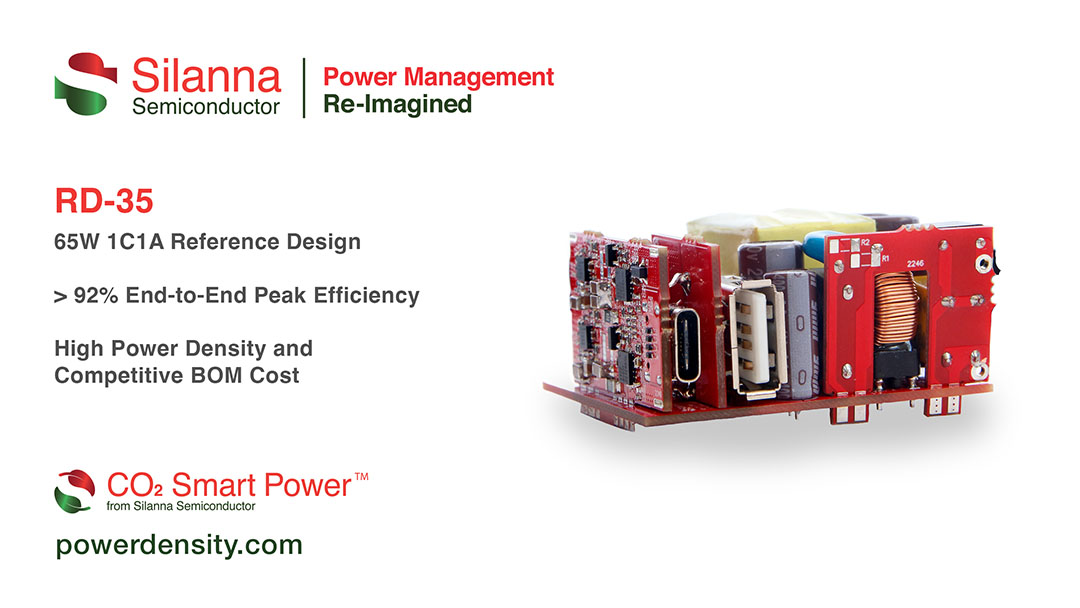 Multi-port 65W fast charger reference design
Silanna Semiconductor has launched a fully integrated reference design for 65W multiport faster chargers in a 1C1A format.
The RD-35 design is built around Silanna's AC-DC controller and DC-DC converter technology and featuring a silicon superjunction FET for fast chargers with one USB Type-A and one Type-C interface (1C1A) delivering up to 3.25A.
The operating efficiency greater than 92% minimizes power consumption during charging, while no-load consumption of less than 300 mW reduces standby power. Efficiency is relatively flat across the universal (90 – 265Vac) input voltage range and low-to full-load conditions.
The RD-35 combines Silanna's 16pin SZ1131 fully-integrated AC-DC active clamp flyback (ACF) controller and the company's SZPL3102A high-voltage, high-efficiency integrated 65W buck converter. The AnyPort architecture provides the flexibility to complete a charger design for a given power level prior to specifying and configuring the specific number and type of output ports.
This allows a single base charger design to be deployed across various end products with different Type-C and Type-A output configurations. Time-to-market is further reduced as the RD-35 exceeds conducted and radiated EMI requirements, eliminating the need for pre-production validation and certification.
"Manufacturers are looking to create multi-port fast chargers that address stringent performance, power density and efficiency requirements within tight time-to-market deadlines," says Ahsan Zaman, Silanna Semiconductor's Director of Product Marketing.

"In line with our other production-ready reference designs, the combination of Silanna's CO2 Smart Power family of advanced AC/DC and DC/DC technologies and the innovative AnyPort architecture enable engineers to reduce the time needed to develop and test 65W 1C1A multi-port designs and ensure the fastest possible route from prototyping to full production."
Full availability of PCB Gerber and production files further reduces the time from prototyping to full production.
powerdensity.com/reference-design/
Join 97,426 other subscribers

Archives