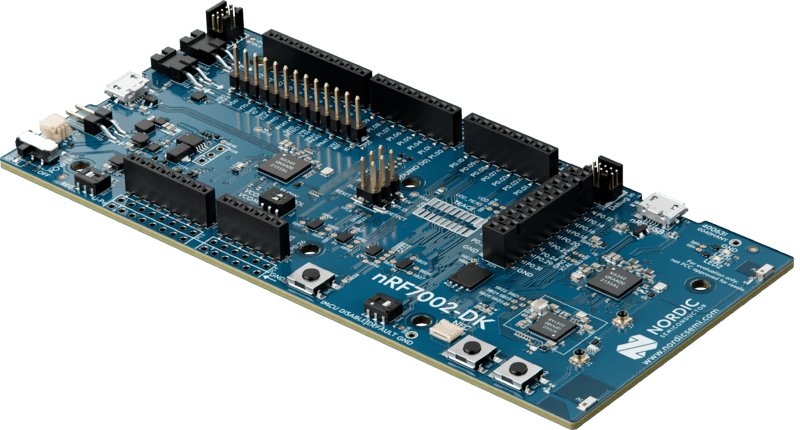 Nordic Semiconductor launches its new nRF7002 development kit that supports Wi-Fi 6
Nordic Semiconductor has recently launched its new nRF7002 development kit, which supports Wi-Fi 6 and other wireless IoT protocols. The development kit is designed to provide a comprehensive platform for developers to create IoT devices that can connect to a wide range of networks.
The nRF7002 development kit is based on Nordic Semiconductor's nRF5340 system-on-chip (SoC), which features two Arm Cortex-M33 processors and support for Bluetooth Low Energy, Thread, Zigbee, and 802.15.4 protocols. The nRF5340 offers trusted execution, root-of-trust, and secure key storage features.
The onboard nRF7002 Wi-Fi 6 companion integrated circuit is a low-power device with advanced security that enables Wi-Fi connectivity and Wi-Fi-based location. The device is designed to be used along with nRF52 and nRF53 series system-on-chips. It features a 2.4GHz and 5GHz radio with low power consumption and extended battery life.
Specifications of Nordic Semiconductor nRF7002 development kit:
Wi-Fi module: nRF7002 Wi-Fi companion IC featuring 2.4GHz and 5GHz dual-band
System-on-chip: nRF5340 SoC is equipped with a high-performance Arm Cortex-M33 application core
Buttons: Two programmable buttons
Software: nRF Connect SDK
The nRF7002 can be used together with the nRF Connect SDK, which offers a complete and integrated development platform consisting of various tools and libraries to create applications that utilize the nRF7002's functionalities. By utilizing the nRF7002 and nRF Connect SDK, developers can efficiently incorporate Wi-Fi capabilities into their products, enabling them to connect to the internet and interact with other devices through a Wi-Fi network with ease and speed.
According to Nordic Semiconductor, the nRF7002 development kit is ideal for various applications, including smart homes, industrial IoT, and wearables. The kit is designed to provide developers with a comprehensive platform to create devices connecting to a wide range of networks and sensors.
The nRF7002 development kit is now available for purchase on Nordic Semiconductor's website. The company also provides various resources and support to help developers get started with the kit, including application notes, reference designs, and technical support.
Join 97,426 other subscribers

Archives