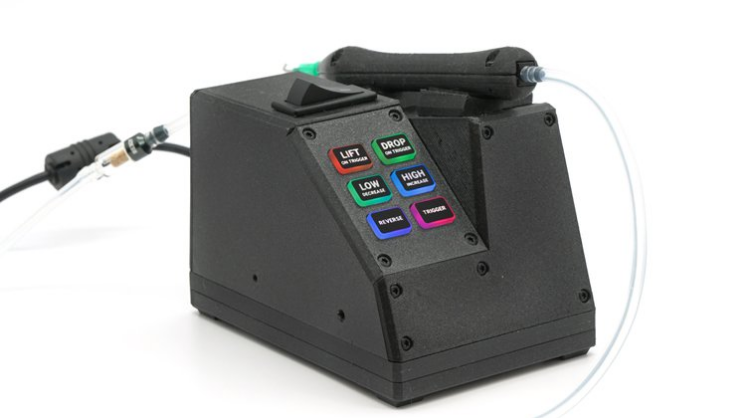 Open Source Manual Pick And Place Machine For PCB Makers
Details about Pixel Pump, which is an open-source vacuum pump for manual SMT assembly have been posted on Crowd supply. It features a comfortable pen, a foot pedal, RGB LED buttons, and host a variety of features that make hand assembly a lot more fun. It is perfect for manual SMT soldering applications, from individual prototypes to small production runs.
The pen is equipped with a barbed connection for the air hose, and also a standard luer lock tip for attaching the nozzles. The four M8 steel nuts you fund inside the pen provide some weight, and also enable magnetic attachment to the Pixel Pump.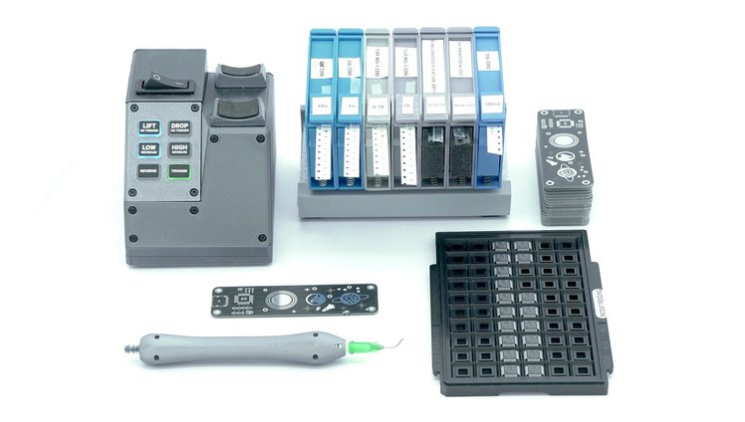 Pixel Pump also features a tactile silicone button with RGB backlighting, which enables full control over the unit. Operation modes can be switched between high and low power settings or put into a reverse mode to clean your nozzle. The buttons also enable access to different setting modes such as fine-tuning the vacuum power modes or adjusting the LED brightness to match the lighting of your workplace.
Pixel Pump is equipped with a pressure relief valve that dumps the vacuum when releasing the foot pedal. This ensures that your part gets released quickly. On request, you can switch the valves from suction to blow mode, enabling for a quick and easy nozzle clean in cases whereby you have sucked in debris like solder paste by accident. You will find a sintered air filter, which is installed right before the air enters the system. This air filter protects the vacuum pump and all the valves from debris which are being sucked in by accident. You can easily access the filter from the outside, making it easy to be cleaned and reused.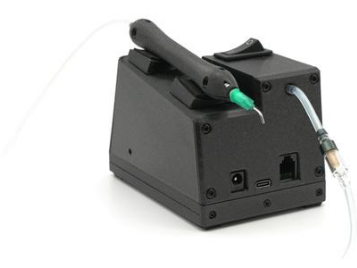 Pixel Pump is a good substitute for an expensive automatic pick and place machine. It is designed primarily for individuals and organizations that create single prototypes. However, it can be used for small production runs. It is very easy to use, and for smaller batch sizes it is faster to set up than an automated pick and place machine. The Pixel Pump is the perfect tool for hobbyists and professionals for their PCB projects.
The entire unit of the Pixel Pump including the pen, and parts of the foot pedal are 3D printed. This enables you to carry out quick adjustments and fixes during production. It also makes it possible to print replacement parts if needed. The project is open source. The source code, STL files, and schematics will be available on GitHub once it has passed the pre-launch phase and the campaign has started.
Video
Features & Specifications
The comfortable pen that holds different vacuum needles
Small, flexible, and heat resistant silicone hose connecting the pen and the Pixel Pump
Variable and strong vacuum that allows for picking very small and large components
Magnetic base for the pen
Tactile RGB silicone button interface
Foot pedal for triggering the pump
Optional second foot pedal for even cooler things like iBOM remote control
Adjustable High/Low power settings
Adjustable LED brightness
Reverse mode that creates a pressure instead of a vacuum – used for cleaning the nozzle
Vacuum relief valve for quick depressurization so the part falls down immediately
Easy software updates via USB-C
Small and compact so it does not use up much space on your workbench
For more information, visit the campaign page on Crowd Supply.
Join 97,426 other subscribers

Archives