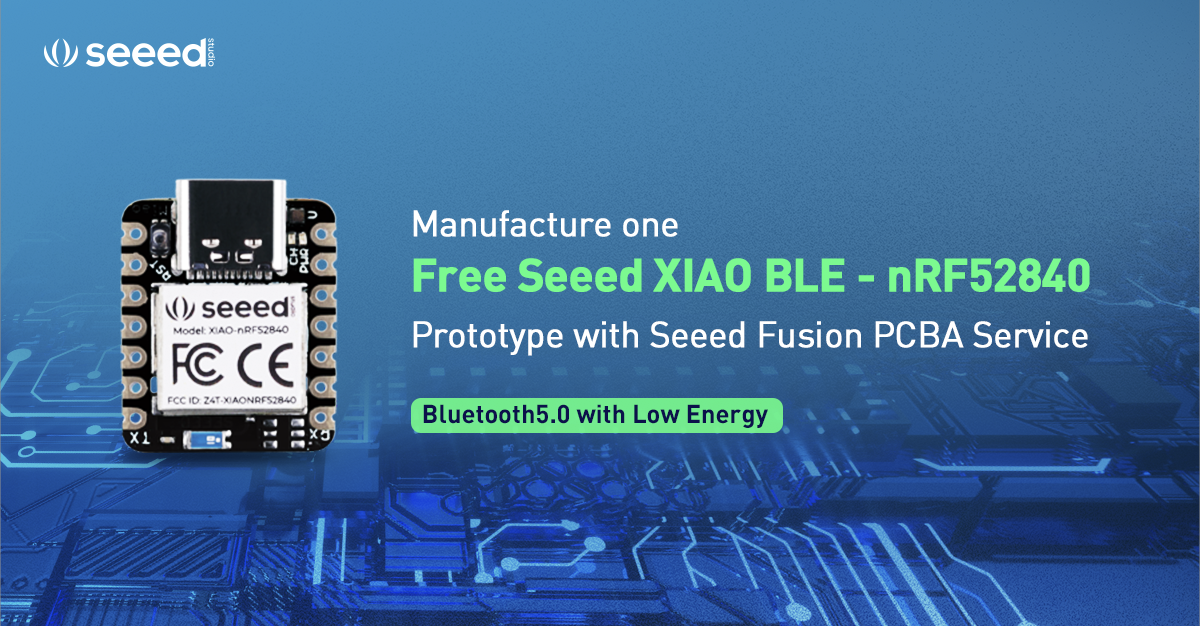 Open up new IoT possibilities with Seeed XIAO BLE for TinyML and Seeed Fusion PCBA service
Seeed Studio has just released the highly anticipated addition to the XIAO series, Seeed XIAO BLE – nRF52840, a powerful Bluetooth LE microcontroller supporting multiple protocols including Bluetooth 5.0, NFC and Zigbee.
What's so special about it?  Seeed XIAO BLE and the advanced version, Seeed XIAO BLE Sense are designed for wearable devices and Internet of Things projects, taking advantage of the Nordic nRF52840 MCU's Bluetooth capabilities of working at long distances, at low power yet with high performance.
The onboard antenna, small size and surface-mountable design make it highly suitable for connected, wearable designs, Internet of Things projects and the possibilities to run AI using TinyML and TensorFlow™ Lite.
Get inspired! To better support Internet of Things developers and enthusiasts to utilize this tiny yet feature-rich board, and accelerate the implementation of IoT industry, smart wear projects and TinyML, Seeed has launched a sponsorship event, manufacture your Seeed XIAO BLE prototype for free with Seeed Fusion PCBA service.
What is Seeed XIAO BLE?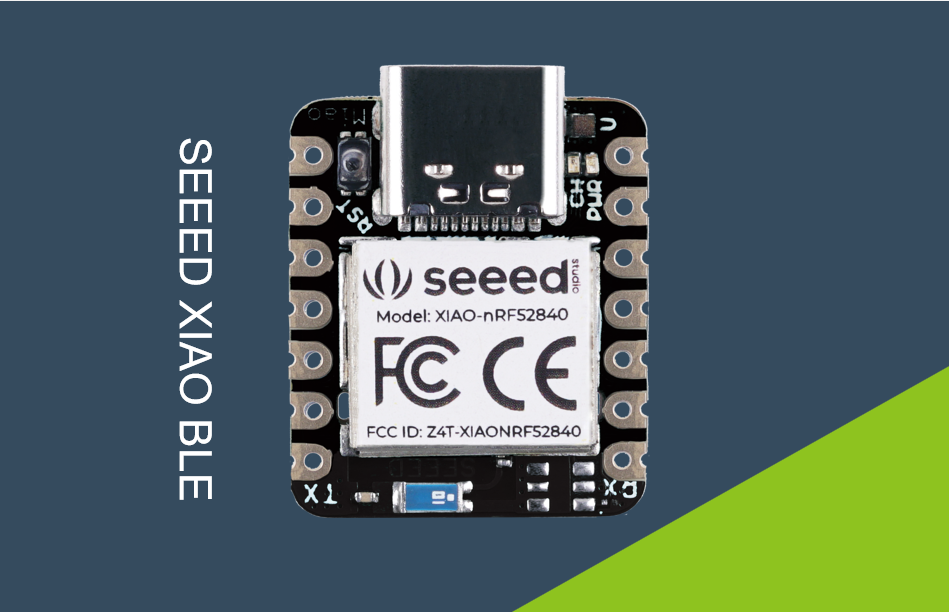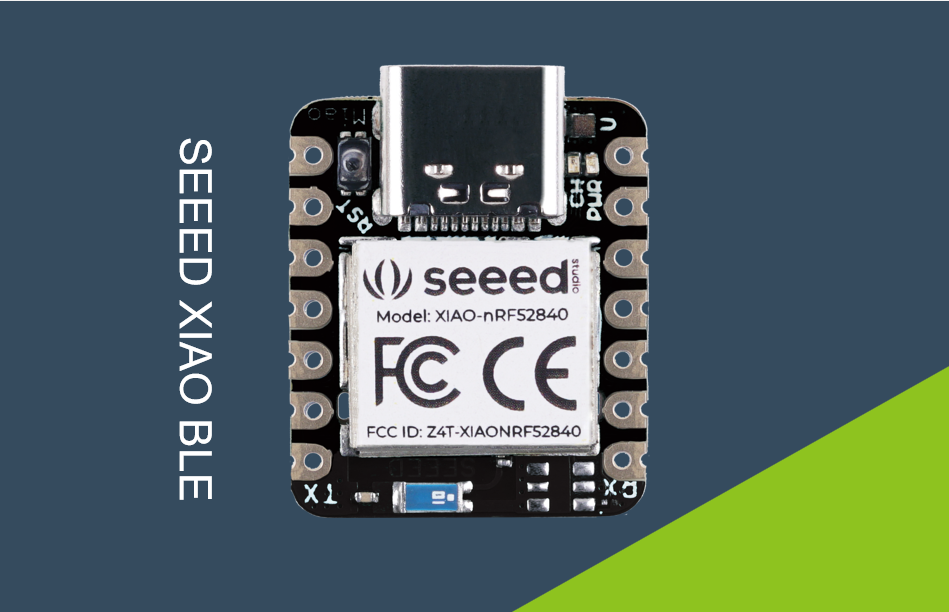 Seeed XIAO BLE – nRF52840 is a low-power, ultra-small size, super cost-effective Bluetooth development board based on the powerful Bluetooth 5.0 MCU — Nordic nRF52840.
What are the key features of Seeed XIAO BLE?
One look at Seeed XIAO BLE and it's hard to imagine that this cute board is a powerful wireless development board. Sharing the same form-factor with another Seeed favorite, Seeed XIAO BLE uses the thumb-size, surface-mountable design as other boards in the XIAO family. But on this tiny board is the powerful Bluetooth ARM Cortex®-M4 MCU, Nordic nRF52840 with Bluetooth 5.0 BLE, NFC and Zigbee support, an onboard antenna, battery management chip and 2MB high-speed QSPI flash for MicroPython and CircuitPython programming.
In addition to its small size and battery management, the ultra-low power consumption with a deep sleep current of less than 5μA makes it ideal for battery-powered IoT applications, wearables and small projects. And with the onboard QSPI flash, Seeed XIAO BLE is fully compatible with Arduino IDE & MicroPython/CircuitPython programming languages, and the large comprehensive libraries make it easy to get started with IoT projects.
With new wireless capabilities and as the smallest and most versatile nRF52840 development board available, Seeed XIAO BLE is set to be a gamechanger in the IoT and wearables space.
Get one piece of your Prototype Seeed XIAO BLE design manufactured for free with Seeed Fusion PCBA Service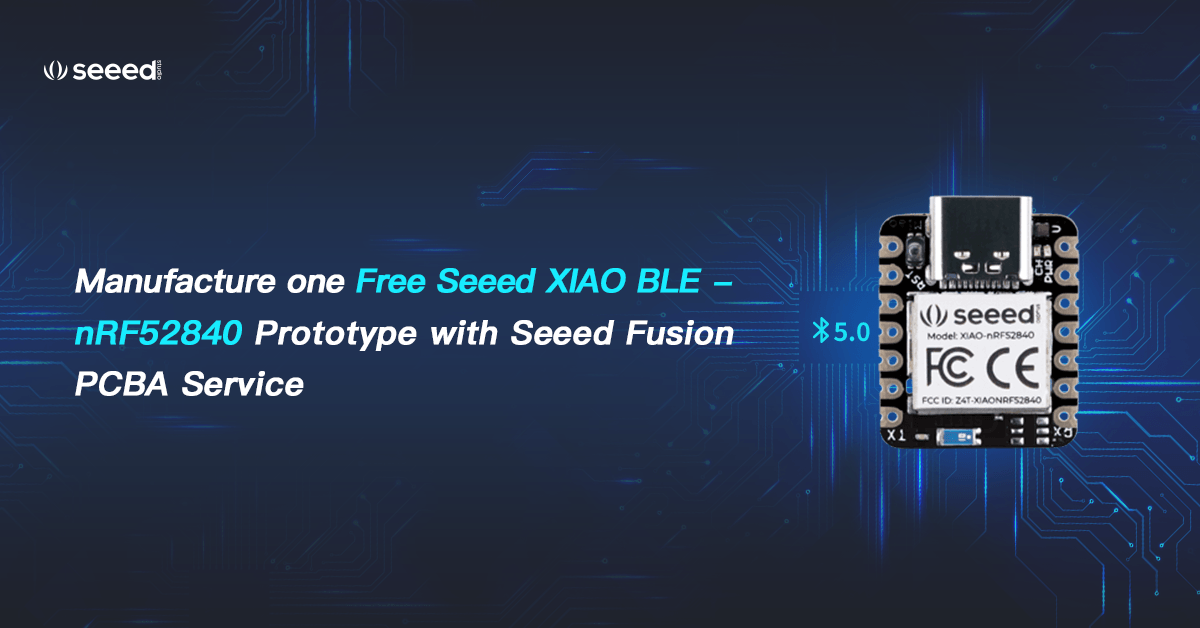 When the original Seeeduino XIAO was launched, many engineers and makers alike were interested in using XIAO, and we received a lot of positive feedback from our customers in forums and on social media platforms.
Therefore, in order to stimulate enthusiasm and help commercial customers land more productive and valuable landing projects. Seeed are sponsoring Seeed XIAO BLE -nRF52840 designs with the Seeed Fusion PCBA service.
How to apply:
All you need to do is fill in the form and complete your Seeed XIAO BLE design.
Please click the link and fill in the form: https://forms.gle/qKQhz7te5JDPPkdD8
Then add your order to the cart and we will confirm the application and get back to you with a coupon for one free PCBA piece. If you are looking for a powerful Bluetooth LE microcontroller for your next design, don't miss this opportunity. Committed to providing one-stop electronic hardware services for over a decade, Seeed Fusion has the expertise and engineering insight to deliver streamlined PCB assembly at low costs and is equipped with a wide range of value-added services and capabilities.
Take advantage of the Free Design for Assembly review and Free functional testing with Seeed Fusion PCBA service now. Business users will also be interested in Seeed's free prototyping sponsorship for business users. When your product reaches the batch production stage, we will deduct all the prototyping costs for that design up to 6% of the batch production value. If you are very interested in our product, but do not want to draw schematic and lay out by yourself for some reason, you are welcome to experience our ODM service. For more information, please contact fusion@seeed.cc for help.
Join 97,426 other subscribers

Archives