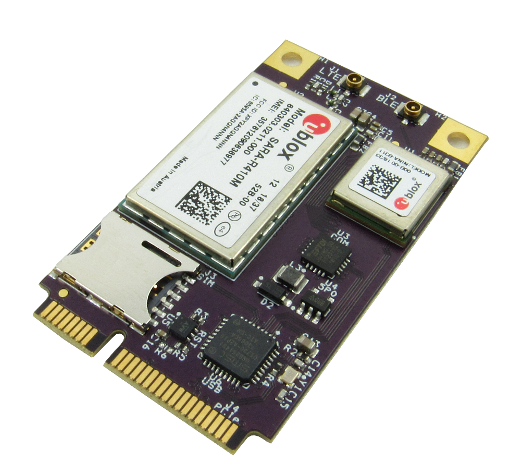 GW16126 Mini-PCIe Modem and Bluetooth Radio
Mini-PCIe LTE Cat M1 Cellular Modem & BLE Radio.
The GW16126 is a Mini-PCIe Radio card that provides cost-effective, low power cellular connectivity and Bluetooth Low Energy (BLE) for Internet of Things (IoT) networks. The GW16126 features a u- blox SARA-R410M LTE Cat M1 modem for low bandwidth cellular connectivity to the cloud. A nano- SIM socket is included with a Hologram IoT starter SIM. The GW16126 also features u-blox NINA- B301 Bluetooth 5 Low Energy radio used for communicating with and reading BLE sensors. Both the cellular modem and BLE radio have dedciated separate u.Fl antenna connectors for connection to an external antenna. This radio card operates in any standard Mini-PCIe socket that includes a USB 2.0 interface. This radio card enables a Gateworks SBC as a remote IoT Cellular Gateway with the ability to communicate with BLE sensors.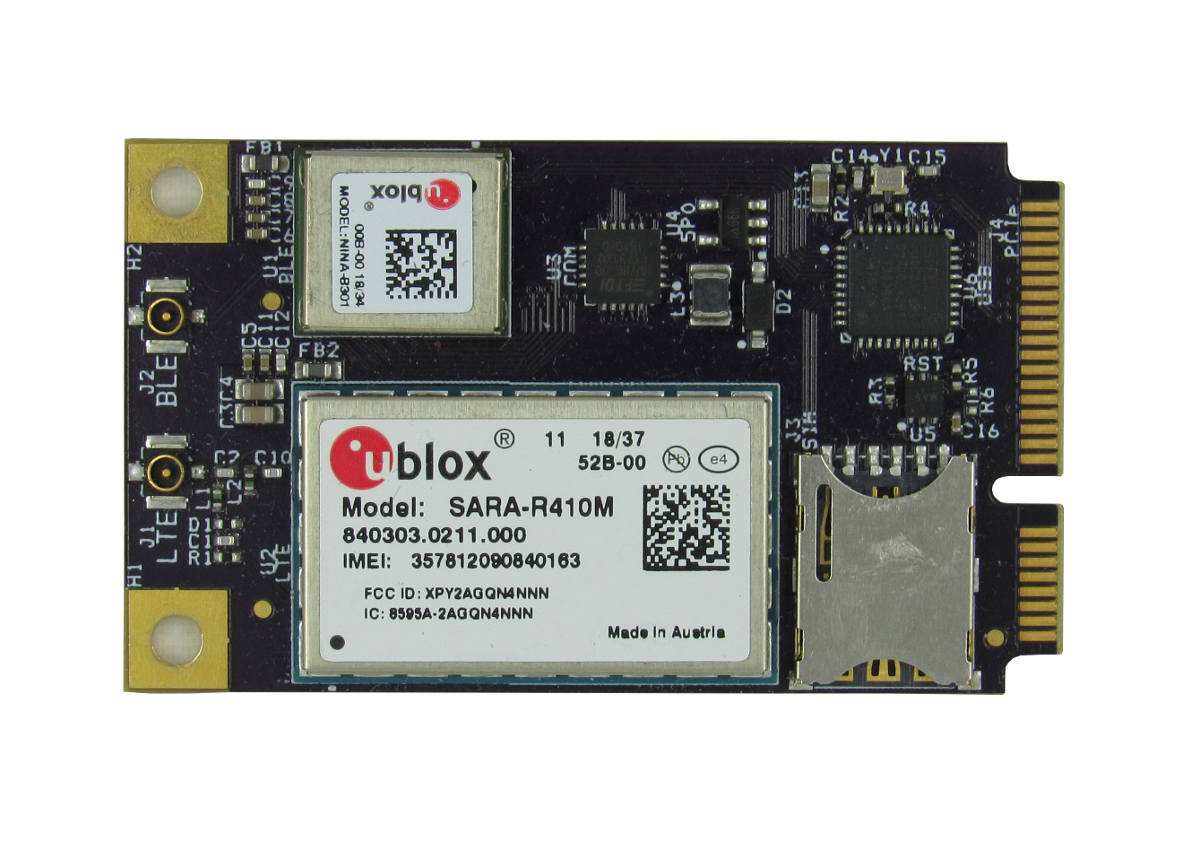 Features
U-blox SARA-R410M-52 LTE/CATM1 Cellular Modem

Offers low cost, low bandwidth LTE CATM1 cloud connection
Up to 375 kb/s upload and 300 kb/s download
Operates with most North America Cellular carriers
Other regions available with alternate module upon request
Supports LTE Bands 2,4,5,12,13
Utilizes standard Linux drivers
Firmware update Over AT commands (FOAT) support

nano-SIM socket

Hologram starter SIM included
Low cost multi-carrier SIM
Free 1MB/month starter plan included
More info: www.hologram.io
u-blox NINA-B301 Open CPU Bluetooth 5.0 Low Energy Radio

Ideal for reading BLE IoT Sensors
Features Nordic Semiconductor nRF52840 chipset
Pre-loaded Zephyr RTOS with Bluetooth HCI UART Host Interface
Utilizes standard Linux HCI drivers
Band support: 2.4GHz, 40 channels
RX Sensitivity: -94dBm standard mode, -100dBm long range
BLE Rates: 125kbps, 500kbps, 1Mbps, 2Mbps

Separate u.Fl antenna connectors for CATM1 and Bluetooth modules
Mini-PCIe (USB Channel) Compatible with Gateworks SBCs
3.3V Operating Voltage from Mini-PCIe Connector
1W@25C Typical Operating Power
-40C to +85C Operating Temperature
1 Year Warranty
Block Diagram

more information and support material can be found here: trac.gateworks.com
Join 97,426 other subscribers

Archives