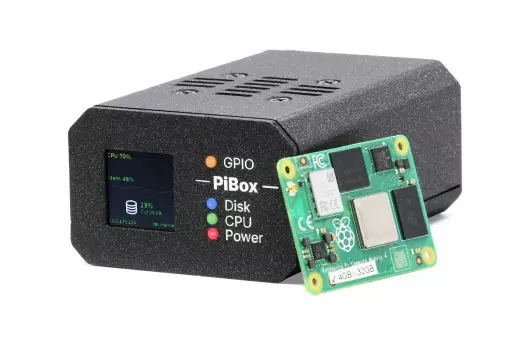 PiBox 2 Mini – A Raspberry Pi CM4-Based NAS And Cloud Storage Device
With the increased number of cloud storage solutions now available to support virtual data access, it is undeniably true that cloud computing has come to stay in the tech ecosystem. KubeSail, a self hosting company, has added to this number with their newest product called the PiBox 2 Mini.
The PiBox 2 Mini with a modular design is a network data storage server built on a Raspberry Pi CM4 board with up to 8GB RAM and 32GB eMMC flash. The PiBox is designed to function as a standard NAS and specifically provide support for home-based private cloud hosting applications capable of replacing popular cloud storage solutions/services like Dropbox and Google photos with easily installable templates (apps/services) available in/for the box. It is furnished with two slots for 2.5″ HDD and SSD compatible drivers, USB ports, and an HDMI port to also function as a computer.
The box features a PCIe carrier board that carries the Raspberry Pi CM4, a PCIe slot for the Raspberry Pi CM4, and a SATA board with interfaces that I already mentioned. The carrier board also exposes a 40-pins GPIO header and a Gigabit Ethernet port. It requires a supply power of 5V/3A. Board specification references Jean-Luc's content on Cnx Software. 
Key Features and Specifications Include:
Raspberry Pi CM4/CM4 Lite
8GB RAM
32GB eMMC flash
5V/3A power supply (through USB-C port)
2x SATA port (for 2.5-inch HDD/SSD drives)
MicroSD card socket (CM4 Lite support)
RJ45 port
Optional 802.11b/g/n/ac WiFi 5, Bluetooth 5.0 module of Raspberry Pi CM4
HDMI 2.0 port @ 4Kp60
Built-in 1.3-inch colour LCD
USB 2.0 ports x 2, USB-C port (power input)
Tri-color RGB LED, Disk, CPU,  Power LEDs, PWM cooling fan

As for the software, the board runs KubeSail and supports open-source solutions (templates). These solutions include MySQL, WordPress, Nextcloud – cloud storage solution, Minecraft Server, PhotoPrism — a replacement for Google photos, and more. KubeSail platform is optional software that provides flexibility to its users by granting easy access to user files physically or virtually/remotely. Three subscription plans are included:
Community — $0.0 per cluster with limited proxy traffic, dynamic DNS and one user per month.
Standard — $5.0 per cluster with custom domains, encrypted backups, 25GB proxy traffic, up to 3 users and deploy from Github per month.
Pro — $25.0 per cluster, per month with nearly unlimited backups, many TBs proxy traffic, unlimited users and priority support.
So, with the community subscription available, KubeSail software appears free for an entire lifespan as long as you use limited resources and stay within the free zone conditions — of one cluster, one user. If you want to try the PiBox OS available on the Github repository on your Raspberry Pi compute module, follow the guides lines for installation.
The KubeSail PiBox 2 Mini is available on Kickstarter for crowdfunding campaign with rewards at $100+ (for bare PiBox circuit board), $ 250+ (for standard bundle), $450+ (for standard bundle + SSD drives installed), and, $2500+ (for founders Edition bundle).
Other useful details can be found on Kickstarter's website.
Join 97,426 other subscribers

Archives