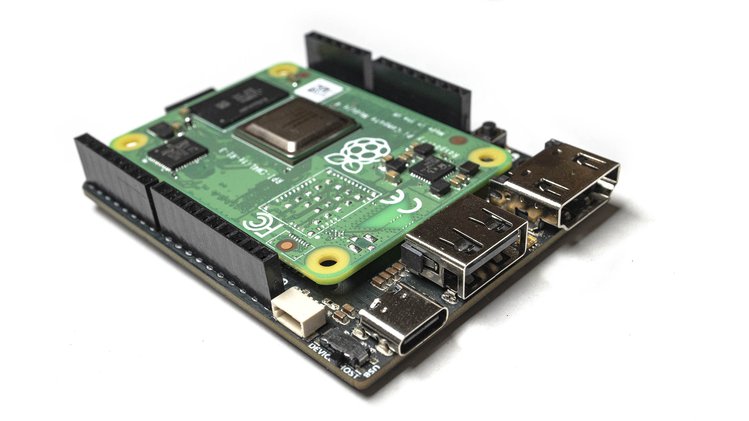 Piunora Carrier Board For Raspberry Pi Compute Module 4
Piunora carrier board for Raspberry Pi CM4 is designed for rapid electronics prototyping in a Linux environment. The official carrier board of the Raspberry Pi CM4 is large as it covers all features required. Whereas, the Piunora carrier board comes with similar functionalities but with a smaller form factor similar to Arduino Uno or Adafruit Metro. It also features GPIO, HDMI, USB, and power connections from the Broadcom BCM2711 SoC as the PCle interface.
Timon's Piunora carrier board has SoM compatibility for specific functionalities with a quad-core Cortex-A72 processor working at a frequency of 1.5 GHz. It offers RAM from 1GB to 8GB with an optional 4GB to 32GB eMMC flash memory. The carrier board comes with an optional wireless module with 802.11b/g/n/ac WiFi 5 and Bluetooth 5.0.
It has a MicroSD card socket for the operating system while working on Raspberry Pi CM4Lite as an SoM. The HDMI 2.0 port comes with a 4Kp60 feature for real-time video output. The camera interfaces with a MIPI connector to a USB 2.0 port or USB-C port with support for data and power using a host switch.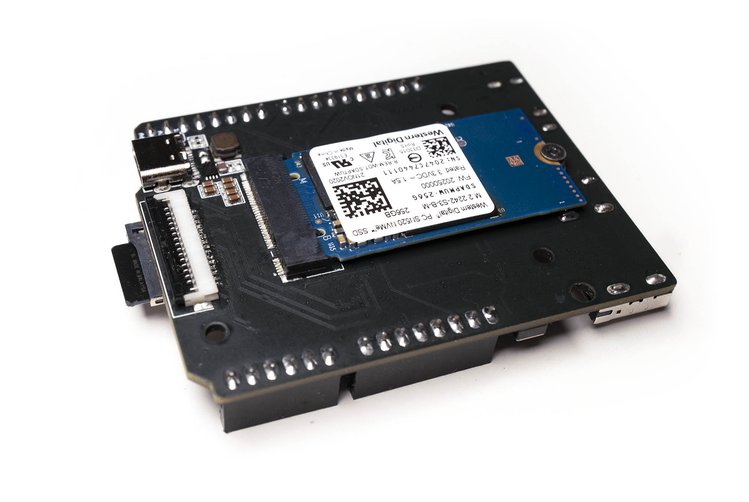 Key Features
Arduino UNO R3 / Adafruit Metro compatible form factor (3.3 v logic)
PCI-e through M.2 B-Key connector on the rear of the board
On-the-fly switching between USB host (USB Type-A) and device mode (USB Type-C)
A full-sized camera connector that supports all Pi-compatible cameras
6x ADC Inputs (10 bits / 200k/s)
Full-sized HDMI port supporting high bandwidth of data
WS2812 Smart RGB LED for user status
One user-controllable button
CircuitPython compatibility with ease of programming by a plugin to computer
The official Raspberry Pi compute module provides more I/O ports than the normal Raspberry Pi additionally, it has the feature of designing hardware customized user-specific applications, rather than having general-purpose functionalities. But, an interface is needed for its functioning as the normal I/O ports are not available on the official Raspberry Pi CM4. Hence, the Pinuora carrier board designed by Timon solves the problem of prototyping.
The Piunora carrier board allows some additional features that are complex to implement using the official Raspberry Pi 4, like running the Pi as a USB gadget rather than as a host component. Hence, it simplifies certain types of development and allows quick implementation. This USB gadget mode functions through a virtual Ethernet connection or as a USB storage device. Adafruit Blinka a compatibility layer for CircuitPython on Linux SBCs allows the usage of the Piunora carrier board similar to any other CircuitPython dev board.
Timon's Latest Tweet
https://twitter.com/timonsku/status/1337134272625467392
The board features flexible connectivity with an Arduino-compatible header for various interfaces. This includes 6x ADC, digital I/Os, I2C, SPI, and UART. It also comes with a Stemma QT connector and an M.2 B-key socket for further expansion of the device.
There is no information about the price for the Piunora carrier board at this point in time. However, Timon's latest tweet on 15 January 2021 says:
"Now up on Crowd Supply. No ETA yet when the campaign will start but be sure to sign-up to be notified."
For more information visit the Crowd Supply's product page for Piunora Carrier Board. The images and technical specifications have also been taken from the product page.
Join 97,426 other subscribers

Archives