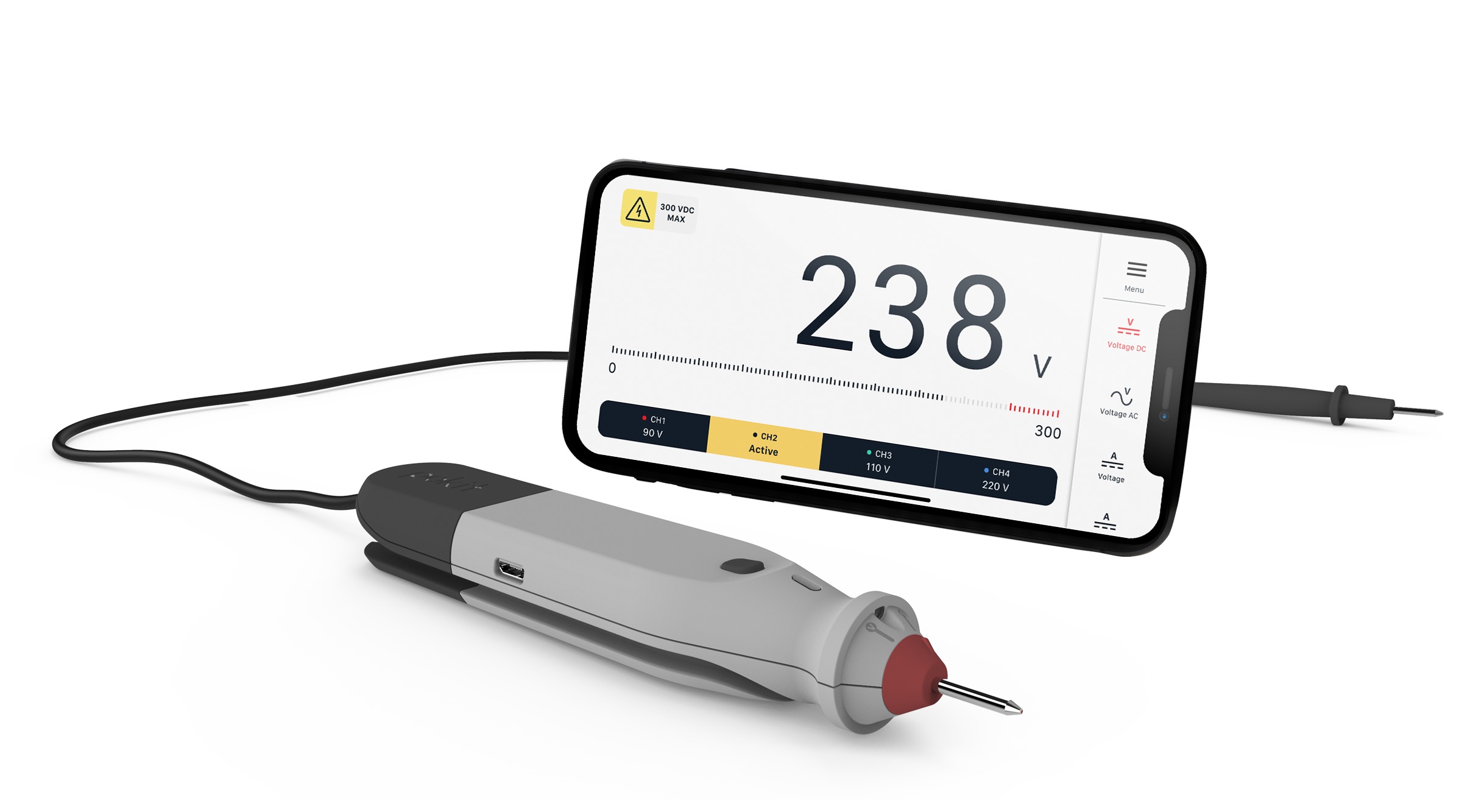 Pokit PRO – a multichannel multimeter, oscilloscope and logger
Pokit Innovations has done it again. Hot on the heels of pokitMeter's success on Kickstarter and beyond, the pokit team are ready to ramp it up with their next product – Pokit PRO. This new electronic measurement tool will be launched as the company's second Kickstarter campaign on the 22nd of October 2019.
Pokit PRO was born out of the many excellent ideas given to the pokit team from their community of dedicated and creative supporters. The community loved the original pokitMeter for its highly accurate, versatile and fully integrated multimeter, oscilloscope and data logger functions. These are all packed into a tiny, portable device that connects to a smartphone app, and costs a fraction of traditional measurement tools. Pokit PRO will have all these functions and much more.
"The pokit community dared us to create bigger, bolder and better. We listened, and this is exactly what we bring with the enhanced features of Pokit PRO"
Opportunity through versatility
Enhanced functionality opens the door to new use-case possibilities. Pokit PRO is a full-featured multimeter, accurately measuring AC/DC voltage, AC/DC current, resistance and ambient temperature, as well as checking continuity and diodes. Pokit PRO's 600V RMS (CAT III) voltage range extends pokit's applications to include higher-voltage household, lighting, automotive and electronics work.
Pokit PRO has been optimised for heavy duty work through its water resistant housing and high quality materials. Pokit PRO also comes with a whole bunch of other exciting new features, including an integrated torch, rubberised grip and rechargeable battery.

More power in your hands
Pokit PRO's enhanced digital storage oscilloscope functionality supports multichannel use, connecting up to four devices simultaneously. Waveforms can be captured, displayed in real-time on a smartphone, and then saved for export to a CSV file. You can even perform an FFT spectrum analysis directly within the app! Pokit PRO fosters a creative community through its open-source API, which allows users to create their own pokit integrated apps and share them with others.
"Pokit's harnessing of the power of smartphones has revolutionised the way test and measurement tools are used. There is no other tool which brings such power, accuracy and functionality in such a small package"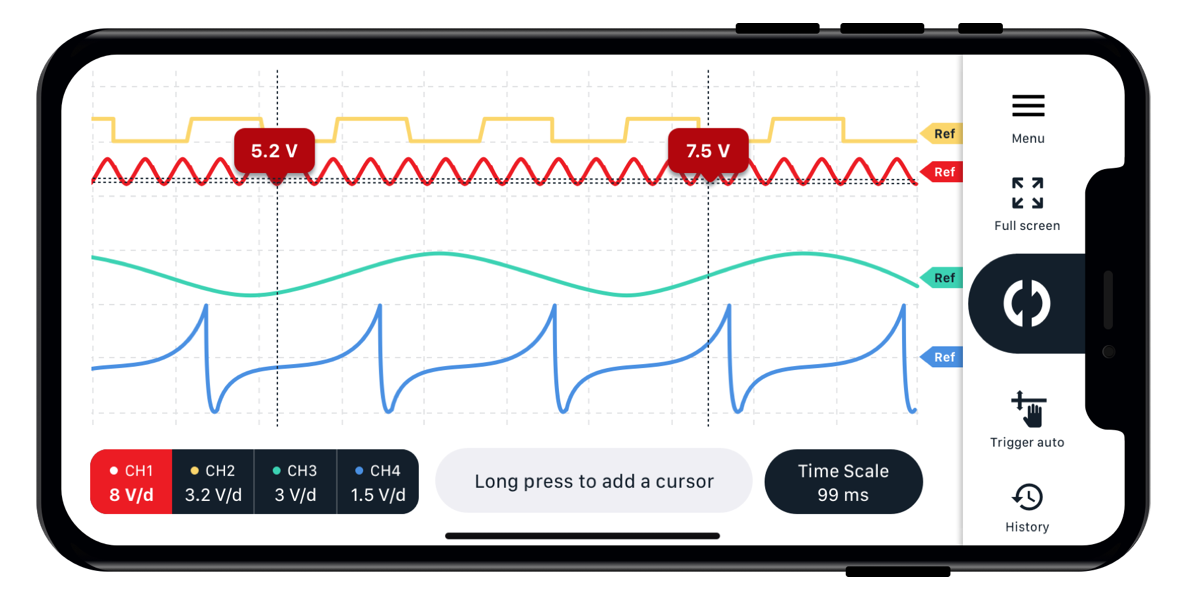 Features:
Extended voltage range up to 600V RMS – CAT III
Extended current range up to 10A
Multichannel support. Connect up to four Pokit PRO's to your phone to measure more
Continuous acquisition
Integrated buzzer for a faster response in continuity mode
Integrated torch (see what you're probing)
RGB LED to match App trace colours
Rechargeable (USB)
Increased robustness and water resistance for heavy duty use
Trigger acquisitions from the Pokit PRO or the app
Detachable wire clips and probe covers
Comfortable rubber grip
152mm length, 28mm diameter. 500mm lead
Freedom to move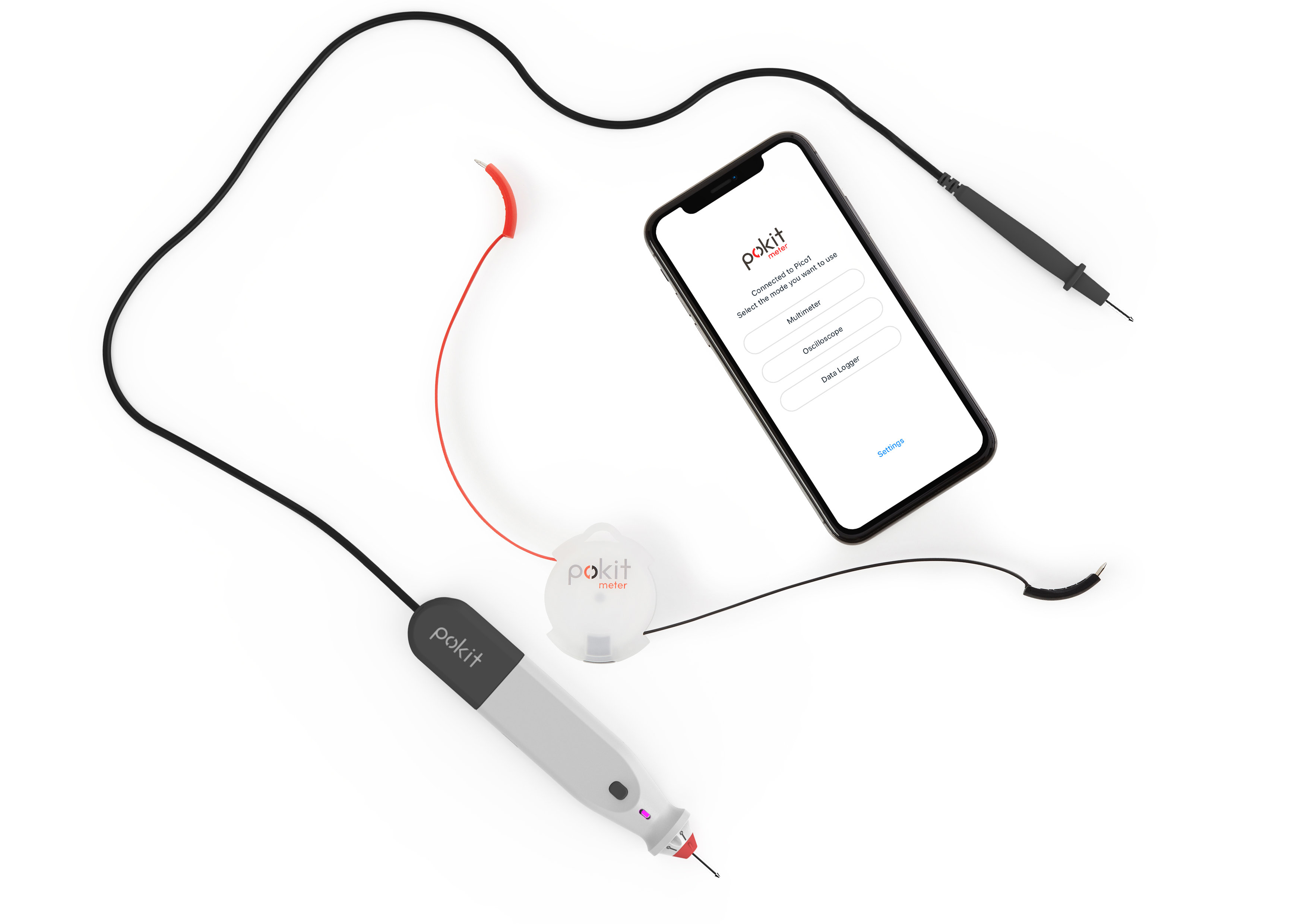 Innovators can move beyond the bench through a uniquely compact design. Traditional electronic measurement tools are bulky, expensive and complicated. Pokit PRO has been thoughtfully designed to mobilise innovators, allowing them to take their creativity anywhere. Pokit PRO's innovative cable management system neatly stores the leads in the body of the device, increasing portability.
Pokit PRO is also a stand-alone data logger that monitors temperature, voltage or current waveforms for a period up to 6 months, even without connection to a phone. Simply hook up your pokit and walk away!
Pokit PRO will unleash users' creativity with more power and freedom than ever before. The pokit team are excited to bring this revolutionary new tool to Kickstarter, launching 22nd of October 2019.
UPDATE 30/10/2019: The project is live on kickstarter.com and already reached the funding goal (AU$30,000) from more than 1300 bakers. The campaign has 28 more days to go and pledges starting from AU$115.