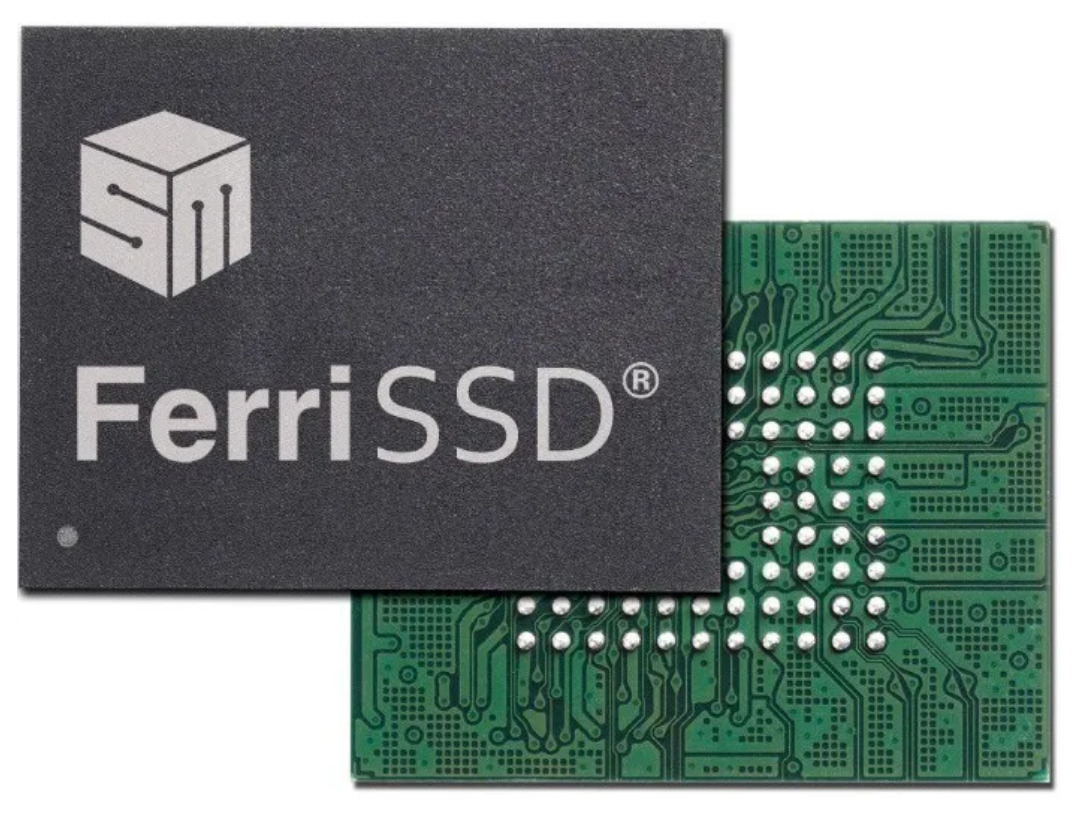 SATA FerriSSD – Silicon Motion's single-chip solid-state drive enables reliable and high-performance solutions
Silicon Motion's FerriSSD is optimally designed for a wide range of embedded applications that require faster access speed, a small, flexible form-factor, and reliable serial ATA (SATA) or parallel ATA (PATA) storage. The FerriSSD combines industry-proven controller technology, NAND Flash, and passive components into a single small BGA package which simplifies design efforts and reduces time-to-market while protecting from NAND technology migration concerns.
The FerriSSD products consist of SATA and legacy PATA series that feature a high-throughput transfer rate with optional embedded DRAM to enhance data storage efficiency and high random read and write input/output operations per second (IOPS). The 4th generation FerriSSD leverages Silicon Motion's highly advanced technologies, including IntelligentScan, DataRefresh, high-bandwidth, low-density parity check (LDPC) error correcting code (ECC) engine with group page RAID, and end-to-end data path protection to provide unsurpassed data integrity in a non-volatile storage device. The FerriSSD products support 3D single-level cell (SLC), multi-level cell (MLC), and three-level cell (TLC) modes NAND Flash options.
Features
Plug-and-play only requires format/fdisk prior to use
Full end-to-end data path protection with recovery algorithms
Remote firmware updates available via a secured digital signature
Eliminates the requalification cost from the NAND generation cost
Cost-saving with flexible TLC, MLC, and SLC modes, configurable capacities
Supports S.M.A.R.T. and advanced SSD telemetry logging features
Small footprint for space-limited designs
Rugged and reliable (no moving parts)
IntelligentScan and DataRefresh enhances data integrity
4th generation LDPC ECC engine with group page RAID
Join 97,426 other subscribers

Archives