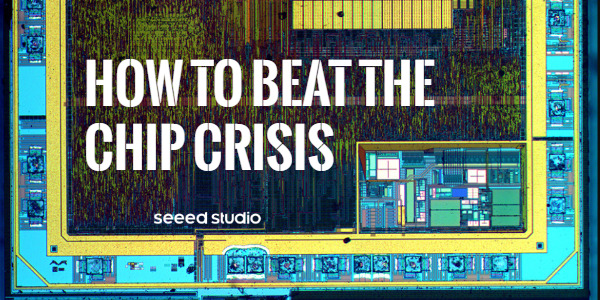 Seeed Fusion – Beat the chip shortage with Seeed Fusion and Seeed products
The main image is part of an 8-bit Atmel Atmega microcontroller die courtesy of Zeptobars
Amidst the global semiconductor shortage, product developers, supply managers, and enthusiasts have had to get creative to keep sowing the seeds of innovation until supply can catch up with demand. From games consoles to automotive parts, industries across the globe have been affected, and despite major technological milestones, the IoT field and small businesses have been hit especially badly. However, as the past few years have shown, it will take more than a supply shortage to halt innovation and the pursuit of a more interconnected world.
As a strong advocate of the IoT movement and IoT hardware solutions provider, Seeed Fusion is no stranger to shortages and potential workarounds. In this article, we look at some of the ways product developers can bypass the shortage until supplies eventually recover.
Snatch up supply
Get in line and hoard up stock when it finally arrives. Component distributors such as Digikey and Mouser have heavily invested resources for back-orders and keeping customers informed of the arrival of new stock. If you are patient enough, you can wait for the parts to become available and stock up.
Other suppliers have opted to hike up prices of the remaining inventory, causing the market price to fluctuate widely between resupplies. For example, the Microchip 8-bit microprocessor ATMEGA328P-MU, popularised by Arduino and the maker movement, has seen price inflation of up to 24 times at the time of writing. The alternative package ATMEGA328P-AU, soon followed suit, currently selling for $27USD a piece.
For established designs, waiting for stock or paying a premium may be the only way to get more of your product onto shop shelves and into the hands of eager customers. Seeed Fusion has secured stock of ATMEGA328P-AU and MU for Seeed Fusion PCB Assembly orders and is constantly on the lookout for availability from trusted sources. Fill out our web form to inquire about stock and reserve your parts (for Seeed Fusion PCB Assembly orders only. We do not offer independent parts purchasing services).
Find alternative parts
For some designs, a slight board redesign or part substitution can allow production to go ahead. Popular ICs are often available in various different forms and configurations, and with some slight modifications, footprint changes, and/or the acceptance of performance changes, one can avoid using parts in higher demand.
Taking the ATMEGA328P example again, AU takes the form of the slightly larger leaded TQFP package and MU comes in the leadless VQFN variety but the two are otherwise identical in terms of functionality and performance. By changing to the AU package, one could save over half on the MU package. Find out more ATMEGA alternatives here.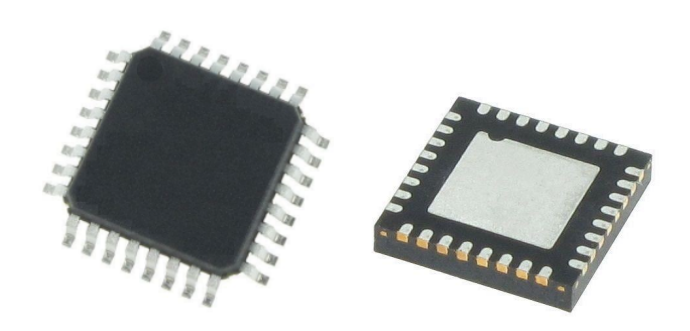 Likewise, when a certain US president imposed sanctions on China, restricting the import of some US-made chips, high-performance STM chips were restricted entry, however, lower performance versions could still be imported. Raspberry Pi CM4 modules have always been in short supply, but higher performance modules with less popular configurations may be more readily available.
Not only are integrated circuits experiencing shortages, but many connector manufacturers have also been impacted by lower production output. Thankfully, there are many lesser-known Asian brands that produce almost identical substitutes that do the job just as well and at a lower cost.
Develop with alternative platforms
With more and more development platforms being released in recent years, it is wise to consider alternatives early in project development in anticipation of potential supply issues. Rather than sticking with traditional favourites, newcomers to the scene can offer more in terms of functionality, stability, and value.
Since the pandemic began, Raspberry Pi has released headlining products including the new form factor compute module 4 (CM4) which is available in many configurations, and their own Raspberry Pi RP2040 dual ARM Cortex-M0+ chip that comes at a fraction of the cost of ATMEGA 8-bit chips (even at retail price) and competing for 32-bit chips such as Microchip's SAMD21G18. Now with Arduino support, RP2040 is a strong viable alternative for small low-power microcontroller projects and applications using Arduino IDE. But most notably, the RP2040 chip is plentiful in supply and Raspberry Pi chief Eben Upton has assured users that there is plenty of silicon to go around thanks to a new silicon wafer production process. As Upton put bluntly,
"If you want to build your product on a microcontroller you can actually buy in 2022, RP2040 is your friend."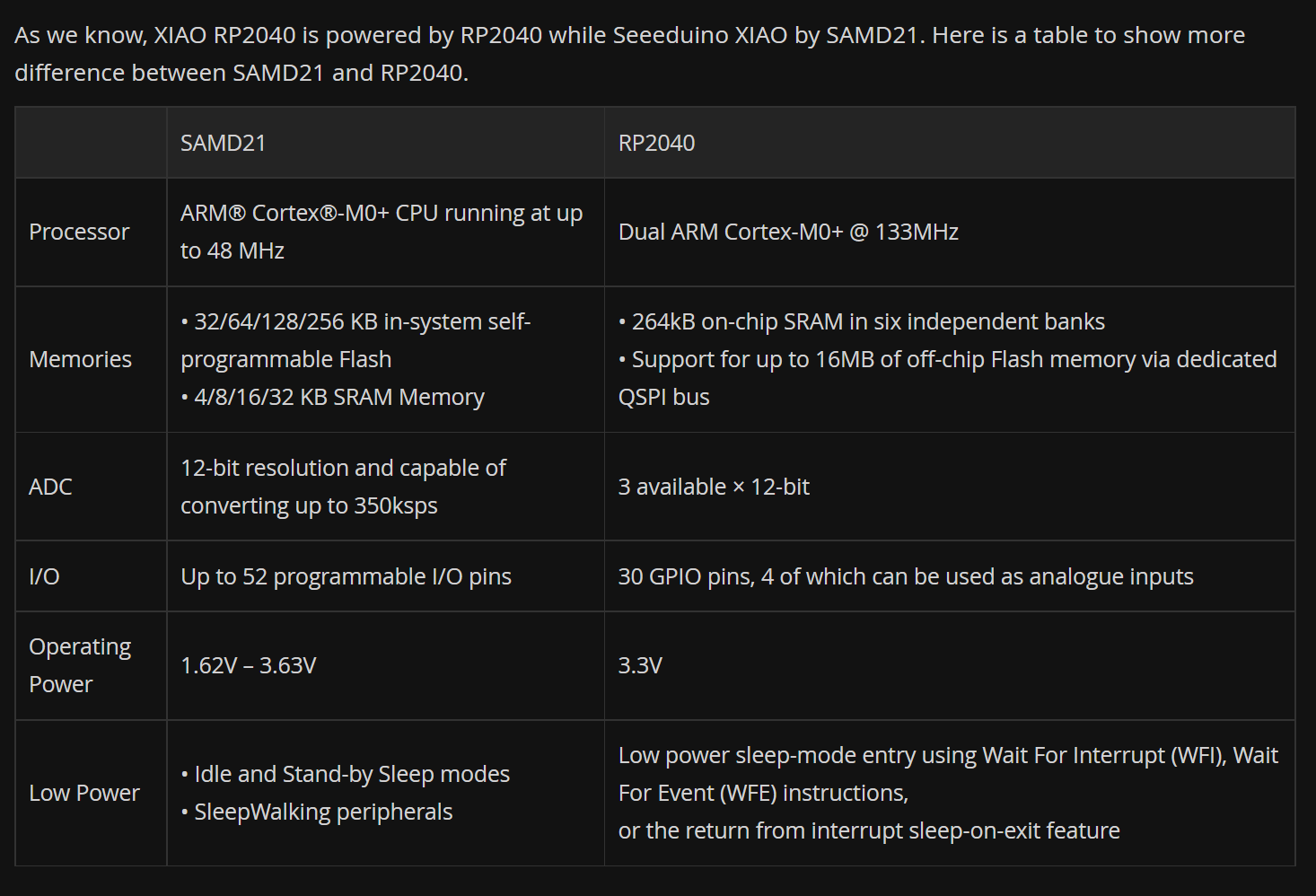 The supply situation is mirrored in Seeed's XIAO product series. Starting with the release of Seeeduino XIAO, the tiny Arduino development board based on SAMD21G18 was well received by the maker community and product innovators alike and quickly sold out. The small but powerful device served as both a tiny Arduino development board and a module suitable for mass production. However, the pandemic hit, and supplies of the SAMD21G18 chip ran dry. At the time of writing, the module is currently out of stock on Seeedstudio.com and official distributors.
Seeed then released the Seeed XIAO BLE – nRF52840 Bluetooth development board and Seeed XIAO RP2040 which both share the same multi-purpose Seeeduino XIAO footprint. Seeed XIAO BLE features the powerful Bluetooth module nRF52840 with ARM® Cortex-M4 processor featuring Bluetooth 5.0, BLE, Zigbee, and an onboard antenna. Both XIAO BLE and XIAO RP2040 have a more stable supply than the SAMD21G18-based XIAO, suitable to rapid product development.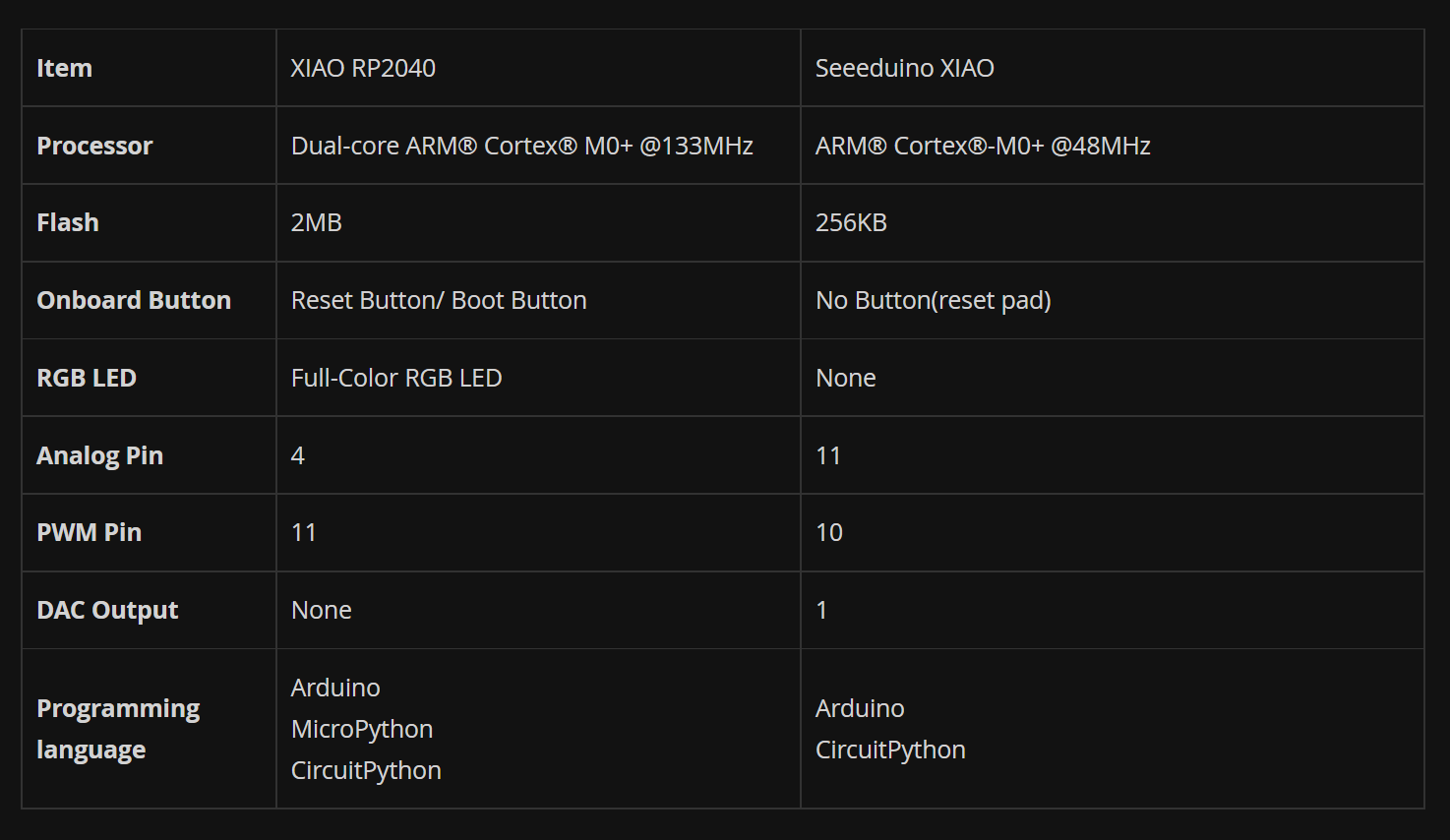 Similarly, Seeed LoRa-E5 is a LoRaWAN module based on ST Microelectronic's STM32WLE5JC, the first system-on-chip to combine the MCU and LoRa transceiver on a single module. STM32 chips are also facing supply issues but Seeed LoRa-E5 currently has ample supply and is suitable for new designs.
While the global shortage is expected to improve in the year 2022, long-term planning and flexibility are key to ensuring a continuous uninterrupted supply amidst the growing desire for technology. By being open and inventive, engineers can plan ahead and work with their procurement team to find alternative parts and increase the chances of finding stock, which is key to getting products out onto shelves.
Find a reliable Turnkey PCBA partner
A turnkey PCB assembly provider is highly valuable in supply shortages, as they can use their expertise and resources to maximize a project's chances of success, from procurement, and PCB manufacture, to testing and quality assurance. Established for over 12 years in the PCB assembly industry, Seeed has a strong supply chain in the hardware capital of the world, Shenzhen, China, and has pioneered the smart instant online quote. Upload your Bill of Materials file for a full Seeed Fusion PCB Assembly quotation in seconds.
To support developers of the semiconductor shortage, Seeed Fusion is hosting sponsorships for a variety of projects with the Seeed Fusion PCBA service. Now get 2 free prototypes manufactured 100% for designs including Seeed XIAO BLE, Seeed XIAO RP2040 or Seeed LoRa-E5. Click the respective hyperlink to find out more.
Raspberry Pi's RP2040 chip is also now in the Seeed Open Parts Library, a catalog of parts available immediately and at competitive prices. Get RP2040 from $0.84USD a piece when you manufacture with the Seeed Fusion PCBA service. Seeed XIAO BLE and Seeed XIAO RP2040 are also available immediately. ATMEGA328P-AU and ATMEGA328P-MU are available in limited quantities.
Seeed Fusion can also help you pre-purchase parts to secure them and avoid price hikes. Get in touch with us for parts substitution, procurement, and other assistance.
Join 97,426 other subscribers

Archives