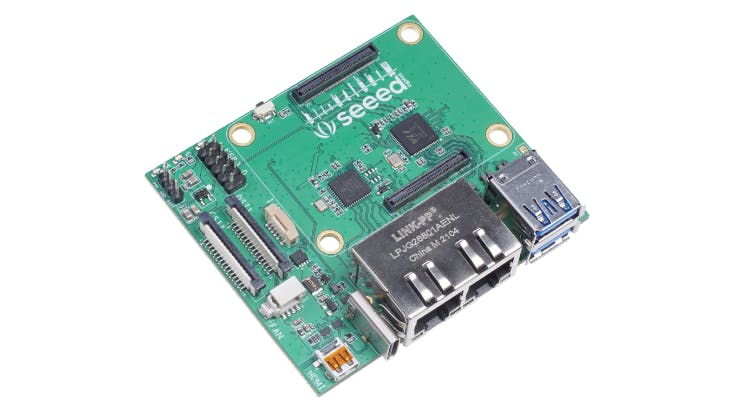 Seeed Studio's Dual Gigabit Ethernet Carrier Board Brings The CM4 To Router Projects
The latest design from Seeed Studio is one that will pique your interest if you are a software router enthusiast, a Linux developer, an HTPC maker, or just the regular Raspberry Pi user. It is a carrier board for the Raspberry Pi Compute Module 4 and it offers two Gigabit Ethernet ports.
"The Dual Gigabit Ethernet Carrier Board for the Raspberry Pi Compute Module 4 was designed with soft router applications in mind," says Seeed Studio. "It features dual Gigabit Ethernet ports, dual USB 3.0 ports, a rich set of I/O peripherals such as MIPI CSI, MIPI DSI and micro-HDMI for display and camera connectivity, a standard 9-pin USB 3.0 for further USB expansion, microSD card slot and FPC connector. Despite this, the Dual Gigabit Ethernet Carrier Board maintains a small form factor of 75 by 64 by 21mm [around 2.95 x 2.52 x 0.82in] – that's one third the size of the official I/O Board!"
The carrier board is designed in a way that allows users to explore more possibilities with CM4. The MicroSD card slot in the compact carrier board implies that it can support all Raspberry Pi CM4 boards including those without an onboard eMMC storage like the Compute Module 4 Lite family. The carrier board will support up to 8GB of LPDDR4 RAM and 32GB of eMMC storage. Extra connectivity for the carrier board is provided by the Wi-Fi and Bluetooth onboard selected CM4 boards.
Seeed Fusion team is launching a Raspberry Pi CM4 Sponsorship Program to support CM4-powered designs. Manufacture your custom Raspberry Pi CM4 Carrier Board with the Seeed PCB Assembly Service and get up to $500 Off! –
Features and Specifications of the Dual Gigabit Ethernet Carrier Board include:
2x Gigabit Ethernet connectors for soft router applications
Camera / display connectivity using:

1x MIPI CSI connector
1x MIPI DSI connector, and,
1x Micro HDMI connector

Onboard 2x USB 3.0 with 1x additional USB 3.0 9-pin header for more external ports
1x microSD card slot to load system image for non-eMMC version of CM4
More expandability via FPC Connector (I2C, SPI)
External fan support with fan power connector
USB 3.0 to GbE (Gigabit Ethernet Bridge): Microchip's LAN7800
Power Supply: 5V/3A using USB Type-C Port
Dimensions: 75 mm x 64 mm x 21 mm
Weight: 43 grams
Temperature Range: -40°C to +85°C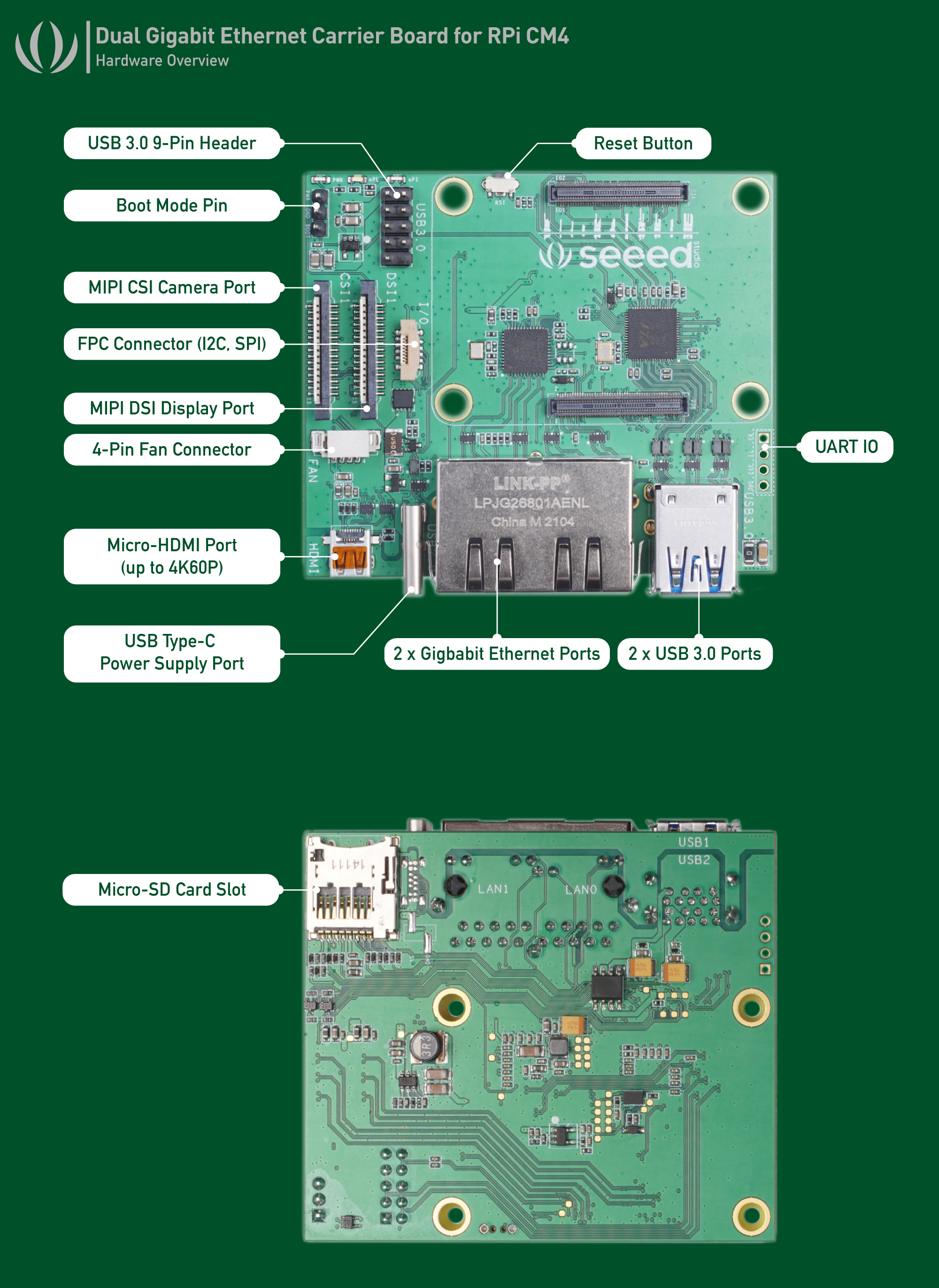 Application scenarios include:
Smart home
Internet of Things
Gateways
Routers
Camera projects
Pricing and Availability
The Dual Gigabit Ethernet Carrier Board is currently available for pre-order on Seeed Studio at $45 but the company is offering some discounts for those who will be purchasing in bulk units — $43 for quantities above 10 but less than 20, while $41 for 20 and above. Shipping is expected to start before the end of April this year.
Join 97,426 other subscribers

Archives