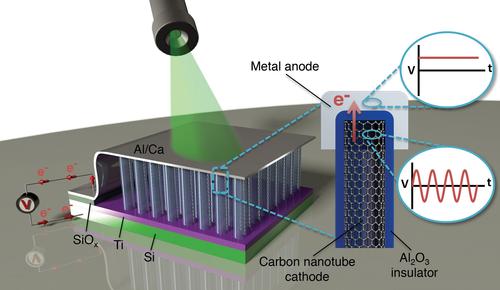 Solar Cells Made Obsolete – 3D rectennas aim at 40-to-90% efficiency
R. Colin Johnson @ eetimes.com:
PORTLAND, Ore.–Now before you get all excited by the headline, which is not click-bait according to the researchers, a new kind of nanoscale rectenna (half antenna and half rectifier) can convert solar and infrared into electricity, plus be tuned to nearly any other frequency as a detector. The invention was made at Georgia Tech (Atlanta) and peer-reviewed in today's issue of Nature Nanotechnology.

Right now efficiency is only one percent, but in the paper (DOI: 10.1038/nnano.2015.220) professor Baratunde Cola and colleagues at the Georgia Institute of Technology (Georgia Tech, Atlanta) convincingly argue that they can achieve 40 percent broad spectrum efficiency (double that of silicon and more even than multi-junction gallium arsenide) at a one-tenth of the cost of conventional solar cells (and with an upper limit of 90 percent efficiency for single wavelength conversion).
Solar Cells Made Obsolete – 3D rectennas aim at 40-to-90% efficiency – [Link]