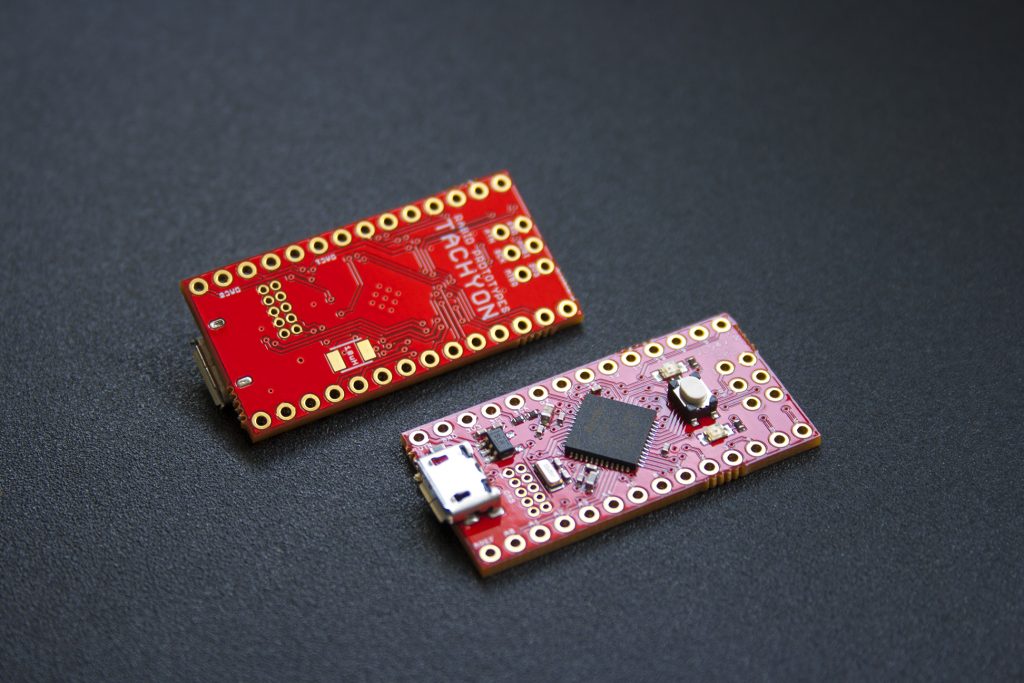 Tachyon – 120MHZ 32-bit Arduino Compatible Microcontroller
The Tachyon is a new lightning-fast open-source Arduino Zero-compatible board developed by Rabid Prototypes, currently on Kickstarter for funding. It features a 32-bit ARM M4F processor running at 120MHz and contains 128K of RAM. The Tachyon's pinout is nearly identical to both the Neutrino and Arduino Zero, making it a go-with replacement for practically any project using either one.
The Tachyon is an open source board. The users will be provided with the Eagle cad files and schematics with which they're free to modify and integrate it into their own designs, without ever paying any extra to the real developers.
Programming this board is going to be easy like most Arduinos. A user can simply plug the board into the PC using a micro USB cable and program it with the Arduino IDE as usual. The Tachyon ships with the Zero bootloader installed.
To create the Tachyon it was needed to make only a few minor tweaks to the Neutrino's layout to get the new chip to work with it. Specifically, the values of two capacitors were changed, and one pin, which the Zero broke out for an RX LED, but which was not broken out on the Neutrino, was re-purposed for the chip's internal switching regulator.
Most importantly, the SAMD51 is so similar to the SAMD21, most libraries written for the Zero should work on the Tachyon without any modification. So it has the potential to be quite effective and smart Arduino Zero or Neutrino substitute board.
Technical Specs for Tachyon:
Microcontroller: Microchip ATSAMD51G18A ARM Cortex M4F @120MHz
Operating voltage: 3.3V
I/O pin limits: 3.3V, 7 mA
Digital I/O pins: 14 w/ 12 PWM
Analog input pins: 6 12-bit ADC channels
Analog output pins: 2 10-bit DACs
Flash memory: 256 KB
SRAM: 128 KB
Voltage regulator: 3.7-5.5V input / 3.3V, 300mA output
Dimensions: 1.4 x 0.7″ (36mm x 18mm)
This board is currently available at Kickstarter. Early shipment to the backers will start from October this year. More information can be found on their Kickstarter page.
Join 97,426 other subscribers

Archives