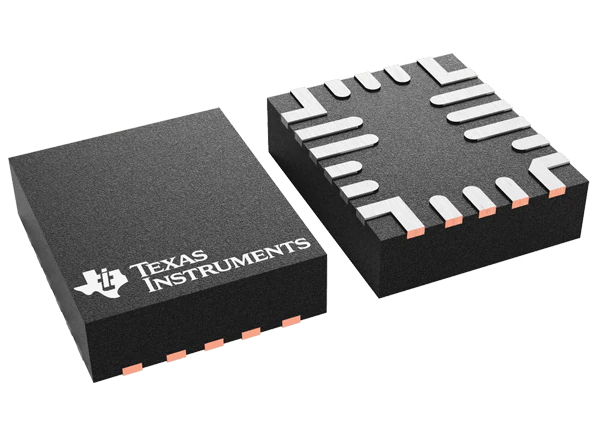 Texas Instruments bq25628/bq25629 Battery Charger ICs
Texas Instruments bq25628/bq25629 Battery Charger ICs are highly-integrated 2A switch-mode battery charge management and system power path management devices for single-cell Li-ion and Li-polymer batteries. The solution is highly integrated with built-in current sensing, loop compensation, input reverse-blocking FET (RBFET, Q1), high-side switching FET (HSFET, Q2), low-side switching FET (LSFET, Q3), and battery FET (BATFET, Q4) between system and battery. The device uses narrow VDC power path management, regulating the system slightly above the battery voltage without dropping below a configurable minimum system voltage. The low impedance power path optimizes switch-mode operation efficiency, reduces battery charging time, extends battery life during discharging phase, and the ultra-low 0.15µA ship mode current extends battery shelf life. The I2C serial interface with charging and system settings makes bq25628 and bq25629 truly flexible solutions.
The bq25628 supports a wide range of input sources, including a standard USB host port, USB charging port, and USB-compliant high-voltage adapter. The bq25629 has the ILIM pin to set the default input current limit and TS_BIAS pin for controlled thermistor bias. The device complies with USB 2.0 and USB 3.0 power specifications for input current and voltage regulation and meets the USB On-the-Go (OTG) operation power rating specification up to 2.0A
Features
High-efficiency, 1.5MHz, synchronous switching mode buck charger for single-cell battery

>90% efficiency down to 25mA output current from 5V input
Charge termination from
Flexible JEITA profile for safe charging over temperature

BATFET control to support a shutdown, ship mode, and full system reset

1.5µA quiescent current in battery-only mode
0.15µA battery leakage current in ship mode
0.1µA battery leakage current in shutdown

Supports Boost Mode operation to power accessory

Boost Mode operation supporting 3.84V to 5.2V output
>90% boost efficiency down to 100mA boost current for 5V PMID

Supports a wide range of input sources

3.9V to 18V wide input operating voltage range with 26V absolute maximum input voltage
Maximizes source power with input voltage regulation (VINDPM) and input current regulation (IINDPM)
VINDPM threshold automatically tracks battery voltage

Efficient battery operation with 15mΩ BATFET
Narrow VDC (NVDC) power path management

System instant-on with depleted or no battery
Battery supplement when the adapter is fully loaded

Flexible autonomous or I2C-controlled modes
Integrated 12-bit ADC for voltage, current, and temperature monitoring
High Accuracy

±0.4% charge voltage regulation
±5% charge current regulation
±5% input current regulation

Safety

Thermal regulation and thermal shutdown
Input, system, and battery overvoltage protection
Battery, and converter overcurrent protection
Charging safety timer
Application Circuit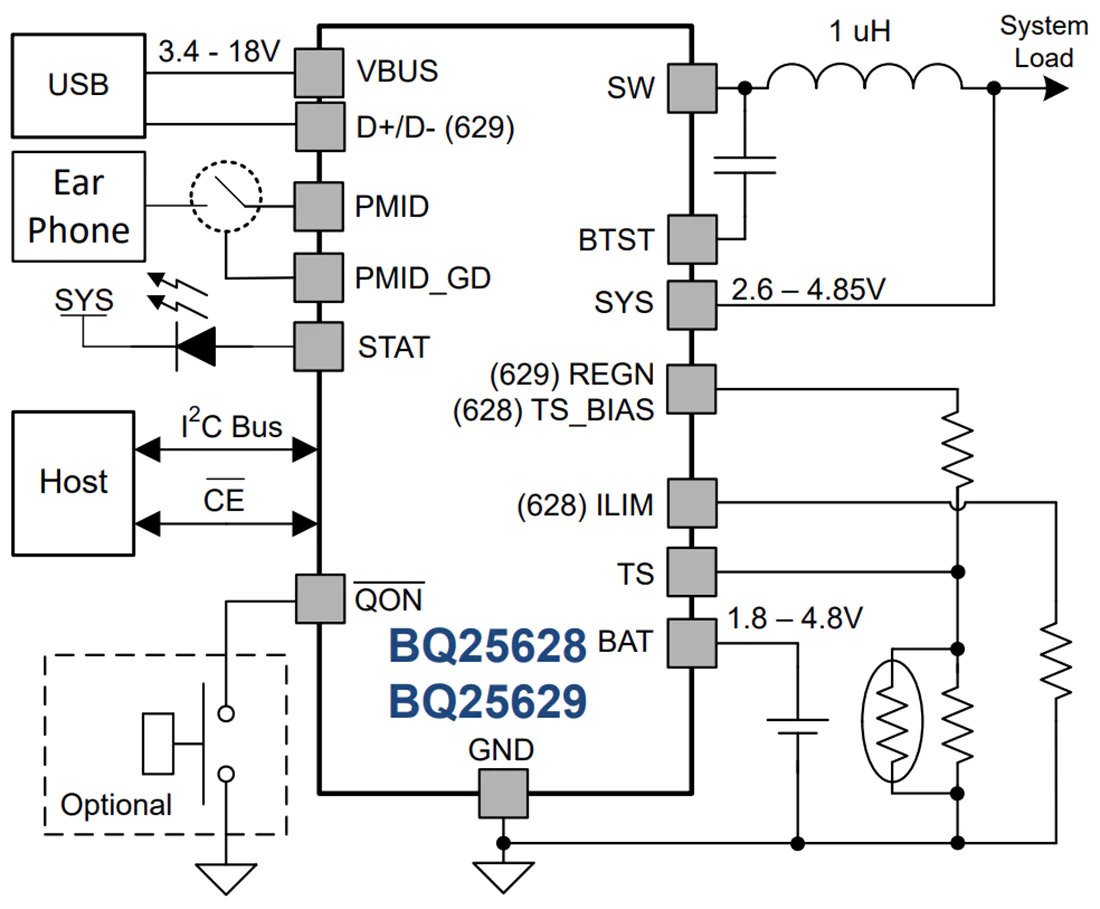 Texas Instruments bq25628/bq25629 provides various safety features for battery charging and system operations, including battery negative temperature coefficient thermistor monitoring, charging safety timer, and overvoltage and overcurrent protections. The thermal regulation reduces the charge current when the junction temperature exceeds the programmable threshold. The STAT output reports the charging status and any fault conditions. Other safety features include battery temperature sensing for charge mode and OTG boost mode, thermal shutdown and input UVLO, and overvoltage protection. The INT output notifies the host when a fault occurs or status changes. The bq25628 and bq25629 are available in an 18-pin, 2.5mm × 3.0mm WQFN package.
more information: https://www.ti.com/product/BQ25628
Join 97,426 other subscribers

Archives