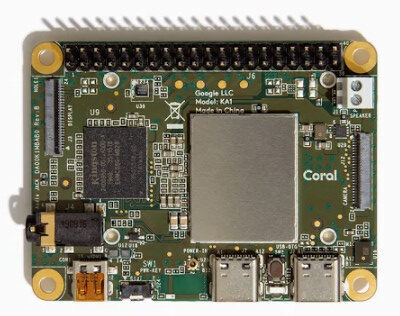 The New Coral Dev Board is Powered by MediaTek
At the beginning of this year, we saw Google's announcement of a stripped-down Coral Dev Board Mini and Coral Dev Board implementing their in-house 4-TOPS Edge TPU. Now Seeed has come with $100 pre-orders on the Mini along with a pre-soldered Coral Accelerator Module. Shipment is expected at the end of October 2020.
The new Coral Dev Board Mini is powered by MediaTek 8167s SoC accompanied by the new solderable Edge TPU module. Like the Coral Dev Board, the Mini version runs Google's version of Debian Linux called Mendel. The power-efficient MediaTek 8167s is equipped with 4x Cortex-A35 cores and an Imagination PowerVR GE8300 GPU. The processor is comparable with its superior siblings, the MediaTek 8167a and 8167b. The SoC adds comprehensive audio interfaces such as I2S and 8-channel TDM input and output. The MediaTek 8167s adds the support for 1280 x 800-pixel displays and H.264, H.265, and HEVC decoding. It also offers a 12MP camera ISP and H.264 encoding.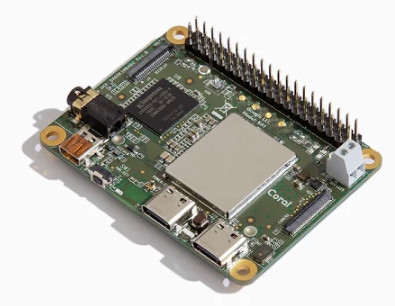 The Coral Dev Board Mini, as the name suggests, it is designed as an evaluation platform for the new Acceleration Module. The Edge TPU is designed to run TensorFlow Lite ML and AutoML Vision Edge models for high-speed ML inferencing on low-powered Arm Linux systems. The Edge TPU runs at 4 TOPS using 0.5 watts for each TOPS (2 TOPS per watt). On a side note, AutoML is a library of fast, high-accuracy custom image classification models.
The Coral Dev Board Mini has a dimension of 64 x 48mm. It comes with 2GB LPDDR3 and 8GB eMMC. It has a dual USB 2.0 Type-C ports and a micro-HDMI 1.4. The Mini provides 802.11ac with Bluetooth 5.0, 4-lane MIPI-DSI, and -CSI2 FFC connectors. It also has a 40-pin GPIO connector and a 3.5mm audio jack.
Specs for the Coral Dev Board Mini

Processor: MediaTek 8167s (4x Cortex-A35); Imagination PowerVR GE8300 GPU; separate Edge TPU AI chip via Coral Accelerator Module
Memory: 2GB LPDDR3; 8GB eMMC
Networking: 802.11ac with Bluetooth 5.0
Media I/O Port:

Micro-HDMI 1.4 port
4-lane MIPI-DSI via FFC
4-lane MIPI-CSI2 via FFC
3.5mm audio jack
Digital PDM mic
2-pin speaker terminal

Other I/O Port:

2x USB 2.0 Type-C ports with power input support
40-pin GPIO header

Dimensions: 64 x 48mm
OS Support: Mendel Linux (Debian based)
The Coral Dev Board Mini, Currently on preorders for $99.99 at Seeed and Google. Shipments are due from Seeed starting October 31.
Join 97,426 other subscribers

Archives