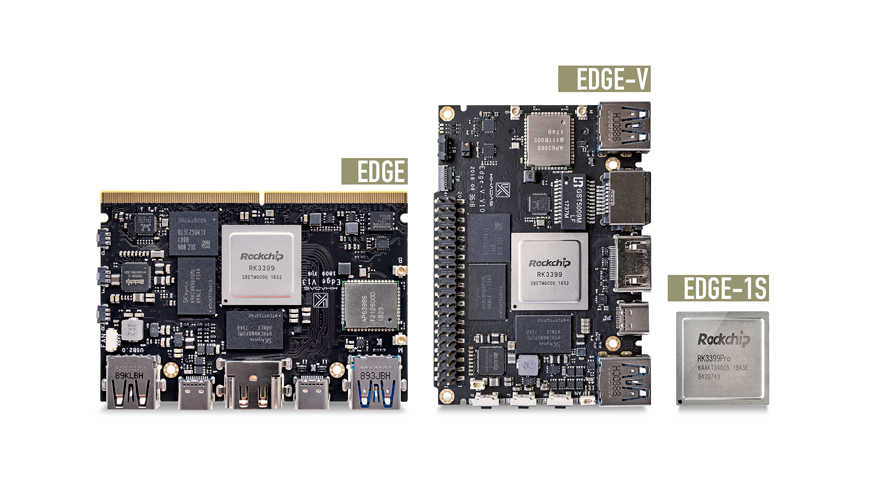 Three RK3399 open-spec SBCs launched including AI capability Model
Three open-spec SBCs have been launched on Indiegogo. They are the RK3399-based Khadas Edge SBC, a new Edge-1S model that uses the AI-enhanced RK3399Pro SoC and an Edge-V model that replaces the Edge's MXM3 connector with 40-pin GPIO and adds MIPI-DSI and -CSI. Shenzhen Wesion's Khadas project exhibited the Khadas Edge SBC in July, which runs Linux or Android on Rockchip's hexa-core RK3399 SoC. Now Khadas is in business with Indiegogo with a $50K flexible funding campaign for the Khadas Edge and two new models. The Edge-V version has a similar footprint to the Amlogic based Khadas Vim and Khadas Vim2. There's also an Edge-1S model that runs on Rockchip's new neural chip enhanced RK3399Pro SoC.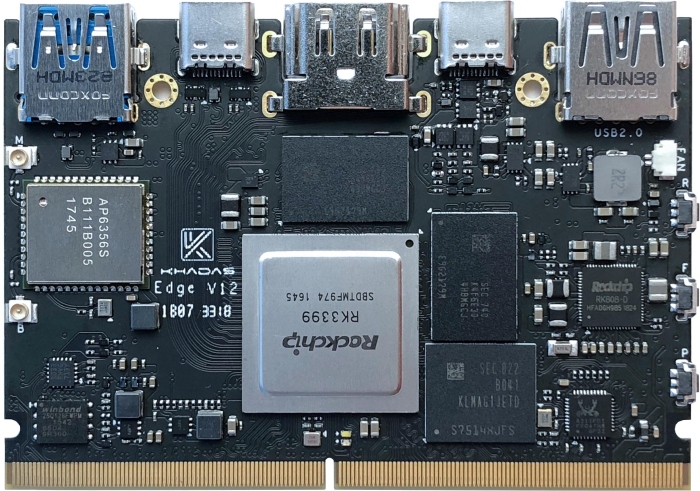 The Khadas Edge-V is built for general purpose hacking and home theater applications. The Edge and Edge-1S are designed for professional embedded development and deployment, like applications for computer clusters, drones, and augmented reality gear. Initial packages for the Khadas Edge and Khadas Edge-V are of similar price and includes a free accessory bundle. The Edge initial package gives you a free Edge IO debugging daughter-card and Edge heatsink while the Edge-V package offers a free Khadas Vim-style heatsink.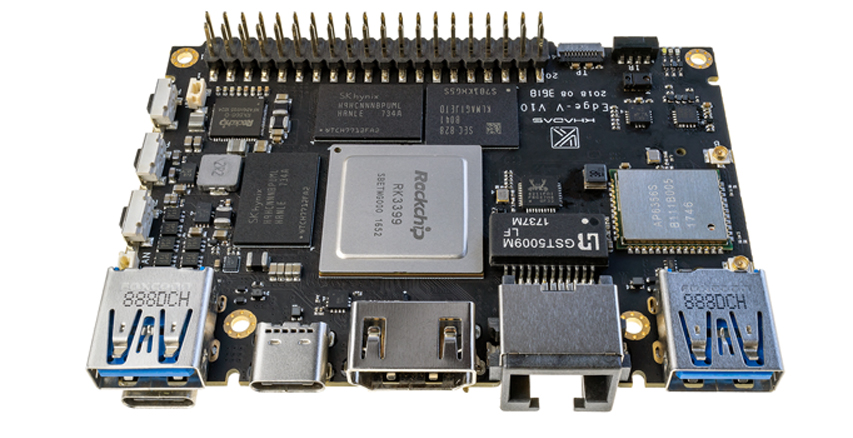 Other extra-cost accessories include a $9 bundle that gives you a heatsink and an Edge IO daughter-board, which enables serial debug and easier GPIO expansion. Other accessories include a fan with USB-C adapter ($14), a camera with LiPo battery ($19), and the Khadas Captain carrier board option, which is designed primarily for gaming console configurations. The Captain Carrier costs $39 with a free, 5-inch, HD multitouch screen, and seems to work only with the MXM3-equipped Edge and Edge-1S models, not the Edge-V. The Edge Basic and Edge-V Basic are available for $99 with 2GB LPDDR4 and 16GB eMMC 5.1. There's also a Pro (4GB/32GB) model for $149 and a Max version (4GB/128GB) for $199. Once the initial packages. are exhausted, the price remains the same, but without the free accessories.
An experimental version of the AI-enhanced Edge-1S model is available for $299 and includes free Edge IO and Captain Carrier boards, a 24W USB Type-C adapter, and a 3705 Cooling Fan. This "high risk" board is set to ship in January just like the other models, but only if the campaign reaches $200,000, if not it will be delayed. Another stretch goal ($350K) is for a NextC Case, and if the campaign reaches $500K, Khadas will give away the NextC case free with every Edge and Edge-1S, and offer a free DIY Case for the Edge-V. The Edge boards will ship with schematics and other open source files just like the Khadas Vim boards.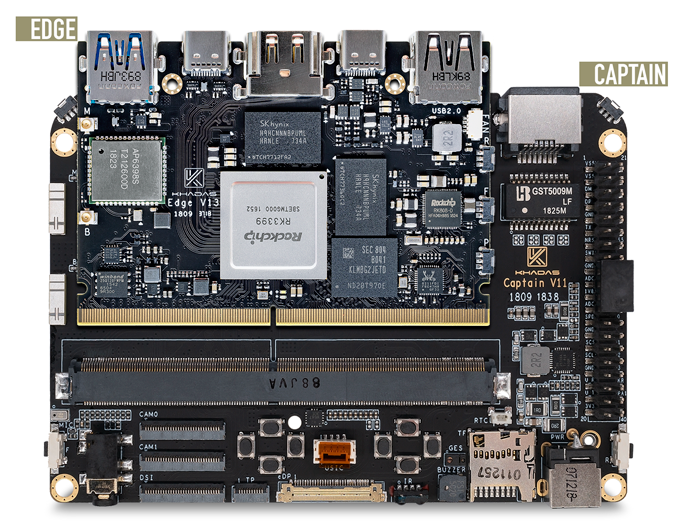 They all support Android P, mainline Linux (including Ubuntu), and LibreELEC. The Edge board also has softer pushbuttons and a new fan header that supports the "cooler and quieter 3705 cooling fans. There are 4x new PMOS logic chips for bi-directional power input and output.
It could power the Captain Carrier Board via USB-C PD, or the Captain could power the Edge via the 12v barrel jack and battery module,
says Khadas. There are also improved heatsink and 3705 cooling fan options. The Edge-1S is similar to the Edge except for the new RK3399Pro SoC, which inputs a Neural Network Processing Unit (NPU) with 8- and 16-bit processing.
The NPU offers up to 2.4TOPS performance according to Rockchip's original announcement, and up to 3.0TOPS, 800MHz performance according to Khadas. The NPU supports Tensorflow, Caffe, MLlib, and other deep learning models for AI applications such as face recognition, object detection and tracking. The Edge-1s board adds 1GB (Basic) to 2GB (Pro and Max) of dedicated RAM for the NPU. The Captain Carrier has a real-world GbE port and dual gamepads, as well as several features that the Edge-V model has . These include an APDS-9960 sensor module, a microSD slot, and a storage-ready M.2 2280. The Captain Carrier share other features with the Edge-V, like the eDP interface and MIPI-DSI and -CSI connections.
The Captain Carrier is fitted with an audio jack, touch-panel interface, IR, buzzer, RTC header, Li-Po battery charging circuit, and more. The Edge-V has a different layout from the Edge and Edge-1. The Edge-V has new four-lane MIPI-CSI, MIPI-DSI, and eDP 1.3 interfaces. The MIPI-CSI connector supports dual 13-megapixel cameras. The Edge-V adds a touch-panel connector, an RTC, an IR receiver, a sensor module with gesture control, and 6x-axis motion tracking. It's unknown if there's a real GbE port, or as with the Edge, only the PHY, as listed in the specs. The photos show an empty RJ45 socket.
More information may be found on the Khadas Edge Indiegogo page and the Khadas website.
Subscribe to Blog via Email
Join 97,477 other subscribers
Archives