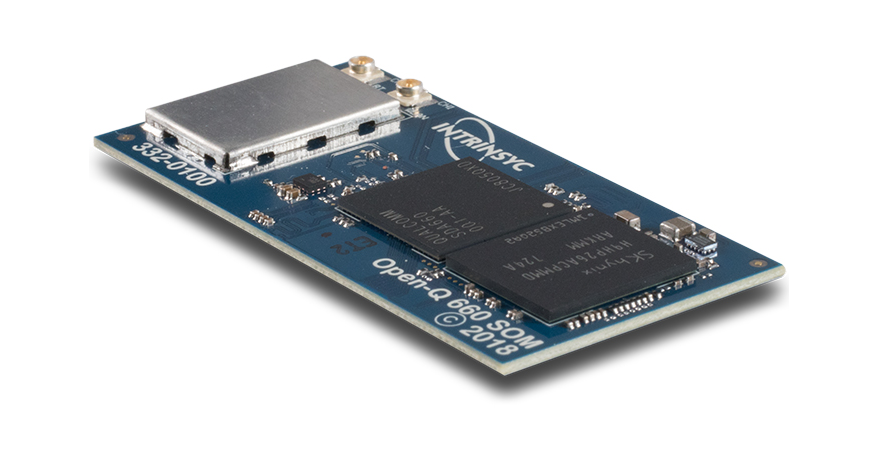 Tiny, octa-core Arm module (Qualcomm SDA660) targets AI on the edge
Designed for use in 4K Cameras, Gaming, Digital Signage, and other Consumer and Industrial IoT Devices.
Intrinsyc Technologies Corporation, a leading provider of solutions for the development and production of embedded and Internet of Things (IoT) products, today announced the availability of the Open-Q™ 660 µSOM (micro System on Module) and Development Kit.
Intrinsyc's Open-Q™ 660 µSOM is an ultra-compact (50mm x 25mm) production-ready embedded computing module.  The SOM is powered by the Qualcomm® SDA660 system on chip (SoC), a product of Qualcomm Technologies, Inc., and is designed to support high-performance, intelligent, on-device processes utilizing heterogenous compute capabilities to power a variety of high-performance consumer and industrial IoT devices.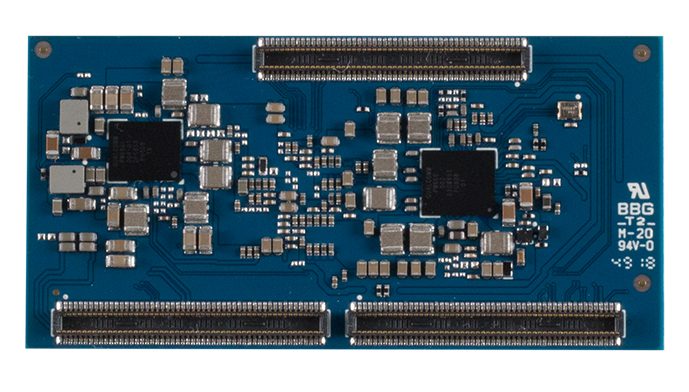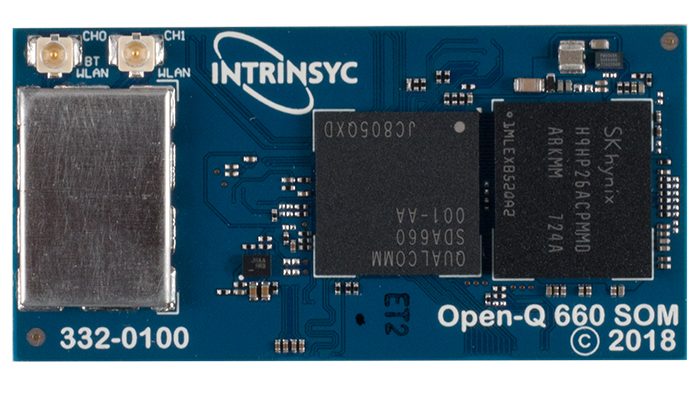 The Qualcomm SDA660 features eight Qualcomm® Kryo™ 64-bit 260 cores that are divided in two clusters – a fast cluster of four cores with up to 2.2 GHz and a power saving efficiency cluster of four cores with up to 1.8 GHz. Additional high-end features in Qualcomm SDA660 mobile platform include the powerful Qualcomm® Artificial Intelligence (AI) Engine), Qualcomm Spectra™ ISP, and Qualcomm® Hexagon™ 680 DSP with Hexagon Vector eXtensions (HVX), designed to support Caffe2 and Tensorflow for machine learning and image processing.
Intrinsyc's Open-Q™ 660 µSOM is an ideal platform to power the growing demand for consumer and industrial IoT devices capable of artificial intelligence and machine learning," said Cliff Morton, Vice President, Solutions Engineering, Intrinsyc. "To assist with integration of our System on Modules into customer products, Intrinsyc offers strong capabilities in all phases of product development. Services include everything from electrical and mechanical design to software development, including camera and audio tuning, artificial intelligence, power optimization, device management, security, and more.
We are proud to see Intrinsyc's new micro-SOM product being powered by the Qualcomm SDA660,

said Jeffery Torrance, vice president, business development, Qualcomm Technologies, Inc.

Qualcomm Technologies is driving the Internet of Things forward with our cutting-edge compute and connectivity technologies, and we are honored to enable a bright future of IoT devices along with Intrinsyc.
Open-Q™ 660 µSOM Specifications:
Qualcomm® SDA660 SoC:

Qualcomm® Kryo™ 260 CPU (up to 2.2GHz)
Qualcomm® Adreno™ 512 GPU
Qualcomm® Hexagon™ 680 DSP with Hexagon Vector extensions

System Memory: eMCP – 4GB LPDDR4x RAM + 32GB eMMC storage
Wireless Connectivity: Wi-Fi 802.11a/b/g/n/ac 2.4/5Ghz 2×2 MU-MIMO + Bluetooth 5.x
Display Interfaces:

2x MIPI 4-lane DSI + touch panel
VESA DisplayPort v1.3 via USB Type-C, up to 4K30 or 2K60

Camera Interfaces:

3x MIPI CSI D-PHY1.2 camera ports
Dual 14-bit Qualcomm Spectra™ ISP supports up to 2 x 16MP cameras

Video Performance:

Encode: 4K30 HEVC/H.264/VP8/MPEG4
Decode: 4K30 8-bit: H.264/VP8/VP9, 4K30 10-bit: HEVC
Concurrent: 1080p60 Decode + 1080p30 Encode

Audio Interfaces:

SLIMBus to support Qualcomm® WCD9335 audio codec (off-SOM)
Multi-channel I2S digital audio interface

I/O Interfaces:

1x USB3.1 Gen1 Type C
1x USB 2.0 Host
1x SDIO 4-bit interface
General purpose UART, I2C, SPI
Sensor interface – SPI, UART, I2C to sensor DSP core

Power: Integrated battery management on SOM
Size: 50mm x 25mm
Operating System: Android 9 Pie
Developement Kit
To help IoT device makers accelerate time to market, Intrinsyc provides the Open-Q™ 660 µSOM Development Kit, as well as turnkey product development services, driver and application software development, technical support, and documentation.
Intrinsyc's Open-Q 660 µSOM Development Kit is a full-featured development platform including the software tools and accessories required to immediately begin development. The development kit marries the production-ready Open‐Q™ 660 µSOM with a carrier board providing numerous expansion and connectivity options to support the development and testing of a wide variety of peripherals and applications, ensuring the fastest time to market possible. The Development Kit is available for purchase at  https://shop.intrinsyc.com/products/open-q-660-usom-development-kit
The Open-Q 660 µSOM is available for pre-order at $225 in single quantities, with shipments due in April. More information may be found in Intrinyc's Open-Q 660 µSOM announcement, product page, and shopping page.
Join 97,426 other subscribers

Archives