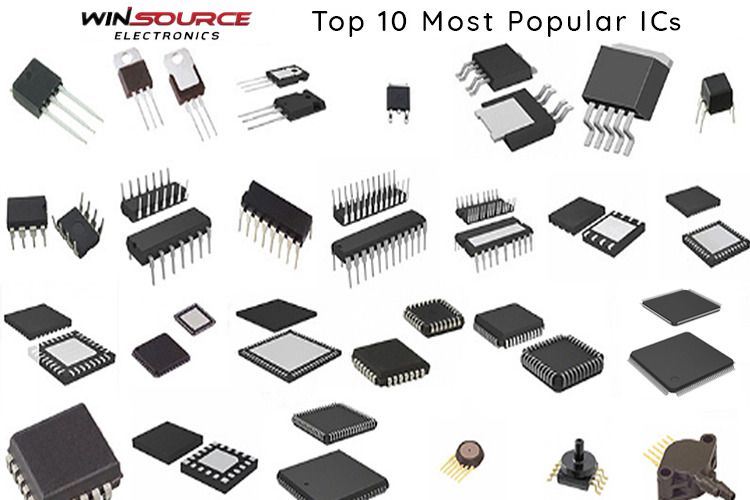 Top 10 Most Popular ICs in Today's Electronics
ICs or Integrated Chips are the fundamental building blocks of all modern-day electronic devices. They're made of lots of tiny parts like resistors, capacitors, and transistors printed into a small piece of material known as silicon. These chips are in almost everything electronic we use in our day-to-day lives – from our phones and smartwatches to even the projects people make at home for fun (DIY or hobby electronics). They're also in big things like cars and rockets. These chips are necessary for many of our gadgets to work. In this article, we'll explore the top 10 most widely used chips in the industry.
While we are at it we would like to point your attention to one of the biggest distributors of electronic components Win Source. Established in 1999 and boasting an inventory of over 1 million SKUs they are recognized as leaders in industrial distribution. Let's explore some of the categories and examples from their vast collection:
Linear ICs
Linear Integrated Circuits, or analog ICs, work with a continuous range of values, which means they can have an infinite number of operating states. This makes them different from digital ICs, which have a set number of distinct input and output states. Analog ICs serve as the funda­mental building blocks for complex elect­ronic circuits and find applic­ations in various devices such as airpl­anes, space­ships, and radars. Designing linear ICs is more challenging, despite them having fewer transistors. Some of the most commonly used linear ICs are listed below.
Type
Part Number
Description
Operational Amplifiers (Op-Amps)
LM741
LM358
TL072
General-purpose op-amp
Dual op-amp
Low-noise JFET dual op-amp
Voltage Regulators
LM7805
LM7905
LM317
+5V positive voltage regulator
-5V negative voltage regulator
Adjustable positive voltage regulator
Voltage Comparators
LM339
LM311
Quad voltage comparator
Precision voltage comparator
Timers
NE555N
Timer IC
Voltage References
LM4041BEX3
Micropower phase-locked loop
Phase Locked Loops (PLL)
LM4041BEX3
Phase Lock Loop IC
Audio Amplifiers
TDA8560Q/N1
TPA6012A4PWPR
LM3886T/NOPB
55 W 2 Channel Audio Amplifier
3W Audio Amplifier
1-CH Mono 68W Class-AB Amp

Video Processor
LMH0302SQX/NOPB
GS9092ACNE3

GS9092A GenLINX-R III 270Mb/s Serializer for
SDI and DVB-ASI
3-Gbps HD/SD SDI Cable Driver
Logical ICs
Logical ICs or as it is commonly referred to as Digital ICs are semiconductor devices that are designed to process basic logical operations (i.e., signals that have only two possible states: high/1/true or low/0/false). These ICs are the fundamental building blocks of digital systems such as compu­ters, mobile devices, and various other devices.
Embedded Processor and Controllers
A microprocessor acts as the brain of a system; it does arithmetic and logic operations, manages data flows, and communicates with other devices. A microcontroller does the same thing as a microprocessor. The difference is that a microcontroller has RAM, ROM, and EEPROM  embedded inside it, but that is not true for a microprocessor. You have to connect RAM and storage for it to operate externally.
Memory Circuits
Memory ICs are special chips, which are made from millions of transistors, designed to store data or they can be used to hold code. They can retain information temporarily, as seen in RAM or SRAM, or permanently, like in ROM.
Digital signal processors
Digital Signal Processors (DSP) are ICs that can process various real-world signals such as voice, audio, video, temperature, pressure, and position. Once these signals are converted into digital form, DSPs can quickly and efficiently perform mathematical operations like adding, subtracting, multiplying, and dividing. DSPs play a crucial role in refining and interpreting digital information from our surroundings.
Radio-frequency ICs
RFIC is an abbreviation of radio-frequency integrated circuits. Applications for RFICs include radar and communications, although the term RFIC might be applied to any electrical integrated circuit operating in a frequency range suitable for wireless transmission.
Application-specific ICs or ASICs
Application-specific integrated Circuits (ASICs) are ICs designed for a specific purpose or task rather than for general use. They are custom-made to perform a particular device or system function.
For example, a chip designed solely to run a digital watch is an ASIC. Similarly, the chips in your smartphone that manage battery consumption or process camera images are ASICs.
Type
Part Number
Description
ASIC ICs
AD654JNZ
RP2040
IC V-F CONVERTER MONO
Raspberry Pi Drivers
PMICs (Power Management ICs)
PMIC stands for Power Management Integrated Circuit. These are specialized ICs designed to manage and control the power in electronic devices. They handle power distribution, voltage scaling, battery charging, and power source selection tasks.
Optoelectronics ICs
Optoelectronic ICs combine electronic devices and optical processes within a single chip. This IC can be used in many applications like SMPS, Linear Feedback Systems, and more. Some of the most common types of optoelectronic ICs are listed below,
Type
Part Number
Description
Optocouplers
PC817X1J000F
MCT2E
DIP 4pin General Purpose Photocoupler
OPTOISO 7.5KV TRANS W/BASE 6DIP

Sensors, Transducers ICs
Sensors and Transducers are one of the most important ICs that you can have as an electronic engineer. They can detect different types of signals and generate a response accordingly to that received signal. Some of the most common sensors are Temperature and Humidity Sensors, Blood Pressure Sensors, Pulse Oximeter Sensors, and many more.
Join 97,426 other subscribers

Archives