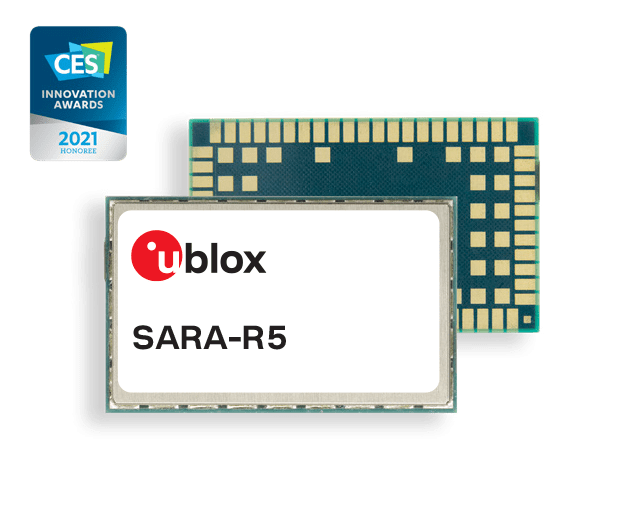 u-blox's SARA-R5 LTE-M/NB-IoT Modules are secure cloud LTE solutions
u-blox's modules offer security-based features and services like zero-touch provisioning and secure chip-to-chip communication
u-blox's SARA-R5 series modules are secure cloud LTE Cat M1/LTE Cat NB2 solutions based on the UBX-R5 cellular chipset and the M8 GNSS receiver chip. With this combination, u-blox can offer long-term device availability and provide lifetime support of the entire platform, down to the chipset level. The SARA-R5 series also offers security-based features and services like local data protection, zero-touch provisioning, anti-cloning, and secure chip-to-chip communication.
The LTE-M and NB-IoT modules support a comprehensive set of 3GPP Rel. 14 features that are relevant for IoT applications, like improvements to power consumption, coverage, data rate, mobility, and positioning. They are 5G-ready, meaning customers will be able to upgrade the software of their deployed devices once 5G LTE has been rolled out by mobile operators, greatly improving product scalability and lifetime.
The SARA-R5 series includes three secure Cloud variants that support u-blox IoT-Security-as-a-Service, making these the ideal choice for devices that transmit critical and confidential information. The SARA-R500S secure Cloud module is the cost-effective solution, the SARA-R510S secure Cloud module is optimized for extremely low power consumption in deep-sleep PSM, and the SARA-R510M8S secure Cloud module has an integrated u-blox M8 GNSS receiver chip and a separate GNSS antenna interface. In addition, the SARA-R510M8S module offers unique hybrid positioning, in which the GNSS position is enhanced with u-blox CellLocate® data, providing location always and everywhere.
SARA-R5 series modules are form-factor compatible with the u-blox LISA, LARA and TOBY cellular module families and they are pin-to-pin compatible with the u-blox SARA-R4, SARA-N2, SARA-N3, SARA-N4, SARA-G3, SARA-G4, and SARA-U2 cellular modules families.
Features
Built-in secure cloud functionality with hardware-based root-of-trust inside a discrete secure element
IoT security-as-a-service with foundation, design, end-to-end security, and access control
Optimized ultra-low power consumption: less than 1 µA of current in power saving mode (PSM)
Data communications up to 1,200 kbits/s
Extended operating temperature range: -40°C to +85°C
Critical firmware updates delivered and services enabled via uFOTA
Accurate and reliable positioning with u-blox M8 GNSS receiver (SARA-R510M8S)
-00B version: LTE-M only for US and EU + global roaming

Security-based features:

Key management system
Zero-touch provisioning
Local data protection
Local chip-to-chip security
Local data protection

-01B version:

-00B features plus:

NB-IoT for EU, Taiwan, and Australia
E2E data integrity

Thingstream anywhere
more information: https://www.u-blox.com/en/product/sara-r5-series
Subscribe to Blog via Email
Join 97,951 other subscribers
Archives