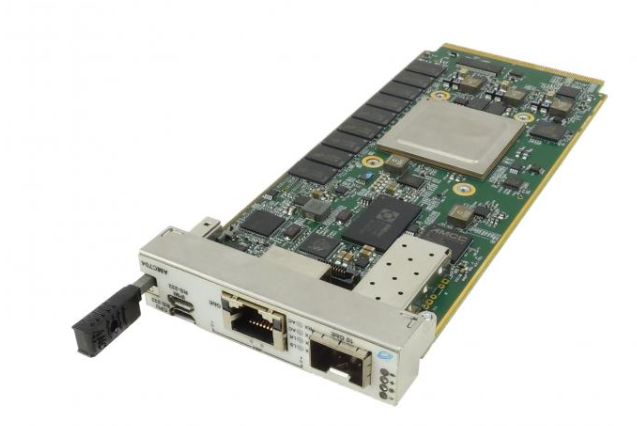 VadaTech's QorIQ P5040 Processor AMC with PCIe Interface
Vadatech, a leading manufacturer of integrated systems, offers innovative embedded computing solutions as well as pre-configured application-ready platforms. Now, the company has come up with the QorIQ P5040 Processor AMC. The module, also identified as AMC704, features a quad-core processor. This is a single-module Processor AMC (PrAMC) in a mid-size AdvancedMC (AMC) form factor.
The AMC704 features a quad-core NXP P5040 processor, providing high single-threaded performance for compute-plane applications. This processor supports up to 2.2 GHz core frequencies. Additionally, the P5040 processor integrates Data Path Acceleration Architecture (DPAA) for network processing.
Speaking of interfaces, the board comes with a dual PCI Express x4 interface i.e., connections have four data lanes. This technology allows interconnecting system peripherals inside your computer. Here, the unit has dual x4 PCIe slots on Ports 4 to 7 and 8 to 11 per AMC.1. Hence, the configuration of the interface can occur in either in Host or Agent mode.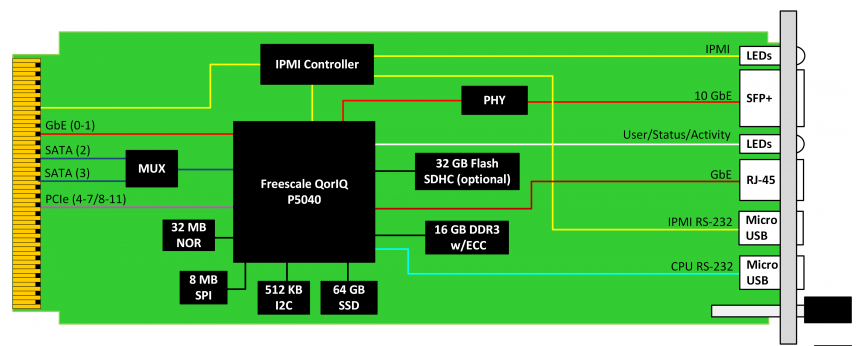 Features of QorIQ P5040 Processor AMC
AMC704 is a PrAMC with an NXP QorIQ P5040 processor
PCIe Gen2 interface is configurable as Host (Root Complex) or Agent
10GbE with SFP+ interface
It also has Dual GbE on Ports 0-1 and SATA on Ports 2 or 3
Single-module, mid-size per AMC.0
Option for up to 32 GB SDHC, 16 GB of DDR3, 64 GB of SSD on the module, etc.
For rugged conduction-cooled applications, the module can be ordered per MTCA.2 or MTCA.3
Further, QorIQ P5040 Processor AMC also features dual Gigabit Ethernet (GbE) on Ports 0-1 per AMC.2 and single SATA is routed to Ports 2 or 3 per AMC. SATA, also called serial ATA, is an interface for transferring data between a computer's central circuit board and storage devices.
The front panel supports single GbE via RJ-45, 10GbE to SFP+, and x2 RS-232 for CPU and IPMI via Micro USB connectors. PCIe dual x4 to backplane and 10GbE with SFP+ interface supports high-throughput communications. Additionally, AMC704 supports up to 16 GB of DDR3 memory with ECC, 32 MB NOR flash, 8 MB SPI flash, as well as 512 KB I2C flash, 64 GB SSD, and optional 32 GB SDHC.
VadaTech offers commercial and rugged computing solutions for a wide range of industries thanks to its unique combination of electrical, mechanical, software, and system-level expertise in-house. QorIQ P5040 Processor AMC module is also available for rugged conduction-cooled applications.
There is no pricing or availability information of the AMC at this point in time. For more information visit the official product page. Images and technical specifications have been taken from the product page.
Join 97,426 other subscribers

Archives