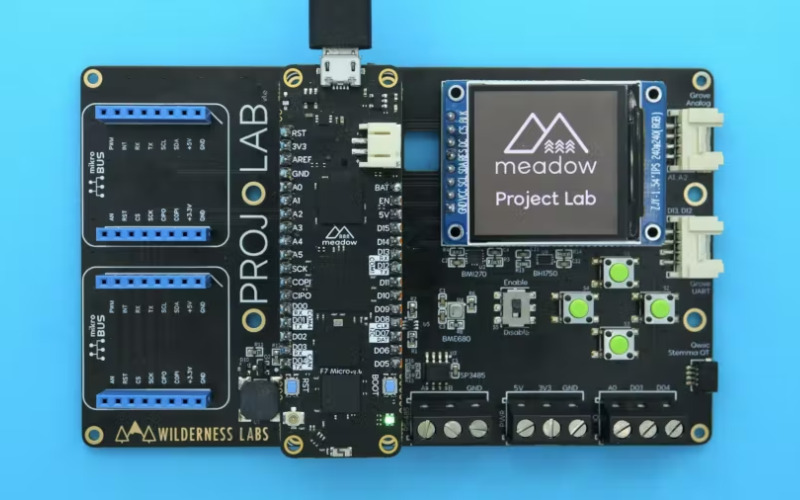 Wilderness Labs Project Lab reference board has several onboard sensors for prototyping
Wilderness Labs has launched a new hardware platform that supports various standard interface ecosystems, such as Seeed Studio Grove, Adafruit STEMMA, SparkFun Qwiic and MIKROE mikroBUS– Project Lab Board. This reference board is designed for its Meadow F7v2 Feather development board to enable faster time to market through rapid prototyping of IoT applications without having to do any breadboard circuitry and soldering. Through onboard peripherals, the Project Lab board provides flexibility to interface with hundreds and thousands of external modules and sensors. The Project Lab hardware platform is packed with tons of integrated sensors and peripherals.
The Project Lab looks like a baseboard with a lot of interfaces and onboard sensors, with some of the sensors, including BMI270 accelerometer/inertial measurement unit, BME688 temperature/pressure/humidity/air quality index sensor, and many more. The BMI270 is a state-of-the-art accelerometer that has been integrated into various embedded development boards to provide accelerometer functionality and has built-in gesture recognition. The second onboard sensor is the BME688 to offers best-in-class atmospheric data, including gas and air quality.
"You can go from zero to prototype with no more hardware integration effort than it takes to plug in peripherals. And because it's packed with a wide array of state-of-the-art, built-in peripherals, you can build an endless number of solutions without even having to plug anything in."
Specifications of the Project Lab board:
Module: Meadow F7v2 Feather Development Board

Wireless connectivity: Wi-Fi and Bluetooth Low Energy
Memory: 32MB RAM
Storage: 64MB flash
Peripherals: GPIO, PWM, I2C, SPI, I2S, CAN, UART
Power supply: Integrated LiPo battery charger

Onboard sensors: BMI270 accelerometer, BME688 temperature/pressure/humidity/air quality index sensor, BH1750 light sensor
LCD screen: 1.54-inch LCD display with 240×240 pixels and directional pad buttons
Interfaces: Seeed Studio Grove, Adafruit STEMMA, SparkFun Qwiic and MIKROE mikroBUS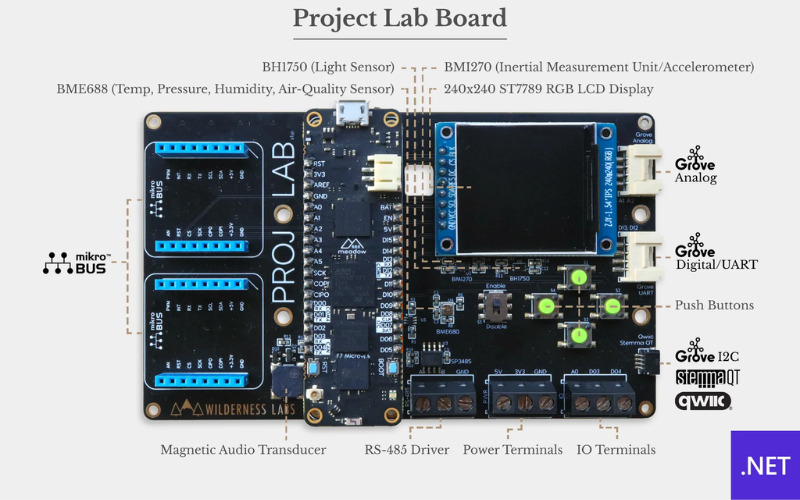 The Project Lab carrier board fits the upgraded Meadow F7 development board designed for .NET programmers and witnessed a wide range of upgrades from its previous version. Some of the upgrades include 2x flash storage than in v1, an upgraded antenna to give 10x better performance, and a fully SMT-compatible to allow use as both a through-pole device and surface mount device. Other upgrades include the addition of I2S sound to enable both I2C microphone input and sound output. There also comes an upgraded power component, which is a fixed battery voltage to full 3V3.
The Project Lab board is currently sold on Wilderness Labs' e-commerce website for $250.00. If you are interested in bulk purchases, you might be eligible for 10% and 20% discount on the Project Lab reference board.
Join 97,426 other subscribers

Archives