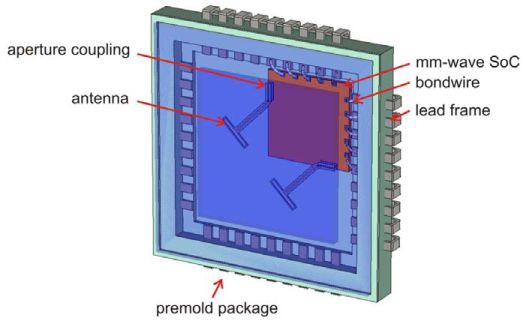 Silicon technology has made tremendous progress towards ever higher device cut-off frequencies. Nowadays all RF components for mm-Wave sensing applications up to 120 GHz can be realized.
Silicon Radar is a german company that designs and delivers Millimetre Wave Integrated Circuits (MMICs) on a technologically advanced level, manufactured in affordable Silicon-Germanium-Technology (SiGe). It has just introduced new development kits using GHz CMOS radar MMICs, which are built using SiGe or SiGe:C from IHP.
Silicon Radar participated in the European Commission 7th Framework Success project,  to develop ways to mass produce silicon mm-Wave SoCs at low cost – with STMicro, IHP, Evatronix, Selmic, Hightec, Bosch, the Karlsruhe Institute of Technology and the University of Toronto.
The development kits are: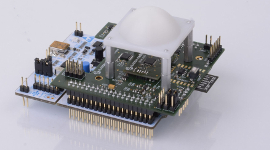 EasyRadar is for evaluating all of the firm's TX/RX radar chips, and is "great for beginners and pros who want to start development and tweak system parameters", said Silicon Radar.
EasyRadar features:
programmable FMCW parameters
signal processing
target recognition
web-based GUI
USB or wireless LAN communication with PC
The kit includes:
122 GHz radar front end (see photo above)
24 GHz radar front end (see lower photo)
controller board
baseband board with WiFi
lens for 122 GHz
You can download the user guide and the protocol description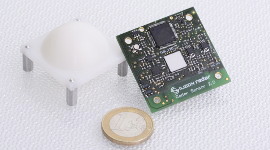 SimpleRadar is available to evaluate the firm's 122 GHz radar front end.
It has the same functionality as the EasyRadar but is smaller (40 x 40mm), and can be used as a Wi-Fi-enabled radar sensor with integrated target recognition.
It has the following features:
programmable FMCW parameters
signal processing
target recognition
web-based GUI
USB communication with PC or over wireless LAN
You can check its user guide and the protocol description
"We offer high frequency circuits for radar solutions, phased-array-systems and wireless communications, for both custom specific ASIC design and supply of standard circuits in frequency range from 10GHz X-band up to 200GHz and above," said the firm.
Possible applications using the kits are:
distance sensing applications such as industrial sensing (distance, speed, material characterisation),
public and private safety (motion detectors, even behind wall paper),
automotive (wheel suspension measurement, pedestrian safety),
replacement of cheap ultrasonic sensors (distance measurement)
For more details, you can download the full package. Since it is password-protected, you have to contact the company to gain access.