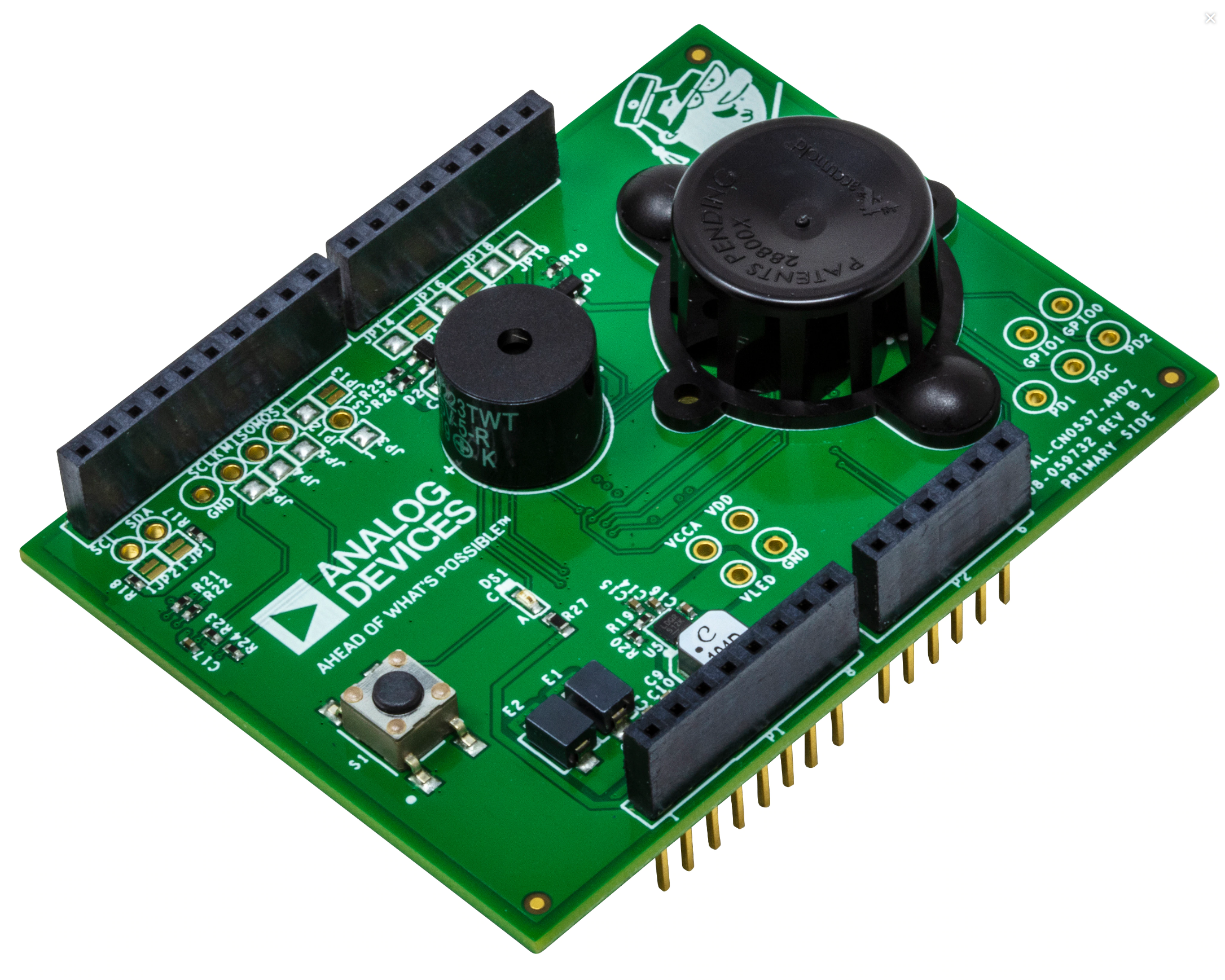 Analog Devices CN0537 Reference Design for UL-217 Smoke Detector
Analog Devices CN0537 Reference Design for UL-217 Smoke Detector is designed to demonstrate the use of the ADPD188BI Integrated Optical Module in a smoke/fire detection application. The ADPD188BI optical module is a complete photometric system specifically designed for smoke detection applications. Using the ADPD188BI in place of traditional, discrete smoke detector circuits greatly simplifies the design as the optoelectronics (consisting of two LEDs and two photodetectors) and the analog front end (AFE) are already integrated into the package.
The Analog Devices Inc. CN0537 Reference Design for UL-217 Smoke Detector makes use of the EVAL-CN0537-ARDZ Evaluation Board. This Evaluation Board features a pre-mounted ADPD188BI Module, housed in a proprietary Smoke Chamber that is specifically designed to meet device and industry requirements. The internal geometry of this smoke chamber allows for the highest signal-to-noise ratio (SNR) readings and, therefore, optimal PTR values for the ADPD188BI.
When combined with the EVAL-ADICUP3029 Development Platform, the EVAL-CN0537-ARDZ Evaluation Board can be used to create a Reference Design for a smoke/fire detector circuit compliant with the ANSI/UL-217 Standard for Smoke Alarms. The UL 217 Standard includes criteria to reduce nuisance alarms and address smoke characteristics between fast-moving and smoldering fires, greatly increasing accuracy and safety.
As battery-powered devices are a common use case for smoke detectors, the Reference Design minimizes data required from the sensor and the number of computations per alarm determination. This design allows the ADPD188BI to output less data, thereby saving power and reducing consumption cycles in the microcontroller, yet still meeting the strict UL-217 specifications.
CN0537 Data & Algorithm
The Data and Algorithm Packages help complete the Reference Design. The Data Package (EVAL-CN0537-DATA) provides an extensive smoke dataset taken at UL-217 certified facilities for those who wish to develop their own algorithm and the CN0537 source code, excluding the detection algorithm. The Algorithm Package (EVAL-CN0537-ALGO) includes everything in the Data Package and a UL certified smoke detection algorithm with associated algorithm project files.
Solution Options
Hardware (EVAL-CN0537-ARDZ, EVAL-ADICUP3029) – Smoke detector reference design hardware for prototyping and solution evaluation. A tested and verified UL-217 smoke detection algorithm is embedded as part of the installer for evaluation.

Evaluation Board with ADPD188BI Module and Smoke Chamber
Microcontroller Development Board
UL-217 Embedded SW Executable (.hex)
ADPD188BI no-OS driver

Data (EVAL-CN0537-DATA) – CN0537 Source Code (excluding detection algorithm) plus over 1000+ sample fire/smoke datasets taken at certified UL-217 facilities for algorithm development.

UL-217 Test Datasets Files
CN0537 Source Code
UL-217 Test Datasets User Guide

Algorithm (EVAL-CN0537-ALGO) – Full source code and UL-217 8th edition tested and verified algorithm, associated project files, CN0537 source code and over 1000+ sample fire/smoke datasets to accelerate system development.

CN0537 Source Code including UL-217 8th Ed. Detection Algorithm (.c)
MATLAB and Python UL-217 Algorithm Projects
UL-217 Test Datasets File
UL-217 Algorithm Documentation
UL-217 Test Datasets User Guide
MATLAB/Python User Guide
10 hours of phone support
Features
ADPD188BI Integrated Optical Module housed in a proprietary smoke chamber
Arduino Uno R3 compatible connectors
Selectable I2C and SPI interfaces
Reference Design lowers nuisance alarms using dual-wavelength detection with high SNR and dynamic range.
Low power circuit design for long battery life
more information: https://www.analog.com/en/design-center/reference-designs/circuits-from-the-lab/cn0537.html
Join 97,426 other subscribers

Archives