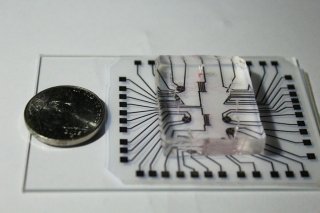 1 Cent Lab-On-A-Chip For Early Diagnostics
Researchers at the Stanford University School of Medicine have developed a way to produce a cheap and reusable diagnostic "lab on a chip" with the help of an ordinary inkjet printer. At a production cost of as little as 1 cent per chip, the new combination of microfluidics, electronics and inkjet printing technology could usher in a medical diagnostics revolution like the kind brought on by low-cost genome sequencing, said Ron Davis, PhD, professor of biochemistry and of genetics and director of the Stanford Genome Technology Center.
The lab on a chip consists of two parts: a clear silicone microfluidic chamber for housing cells and a reusable electronic strip and  a regular inkjet printer that can be used to print the electronic strip onto a flexible sheet of polyester using commercially available conductive nano-particle ink.
"Enabling early detection of diseases is one of the greatest opportunities we have for developing effective treatments," Rahim Esfandyarpour said, a PhD and an engineering research associate at the genome center. "Maybe $1 in the U.S. doesn't count that much, but somewhere in the developing world, it's a lot of money."
Designed as a multi-functional platform, one of its applications is that it allows users to analyse different cell types without using fluorescent or magnetic labels that are typically required to track cells. Instead, the chip separates cells based on their intrinsic electrical properties:
When an electric potential is applied across the inkjet-printed strip, cells loaded into the microfluidic chamber get pulled in different directions depending on their "polarisability" in a process called dielectrophoresis. This label-free method to analyse cells greatly improves precision and cuts lengthy labeling processes.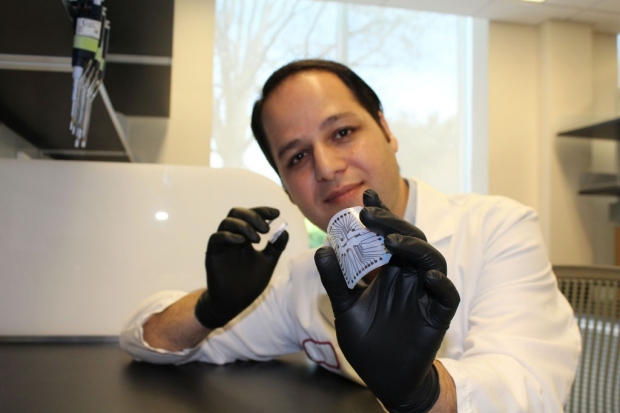 The tool is designed to handle small-volume samples for a variety of assays. The researchers showed the device can help capture single cells from a mix, isolate rare cells and count cells based on cell types.The low cost of the chips could democratize diagnostics similar to how low-cost sequencing created a revolution in health care and personalized medicine, Davis said. Inexpensive sequencing technology allows clinicians to sequence tumor DNA to identify specific mutations and recommend personalized treatment plans. In the same way, the lab on a chip has the potential to diagnose cancer early by detecting tumor cells that circulate in the bloodstream.
Via: Stanford Medicine
Join 97,426 other subscribers

Archives