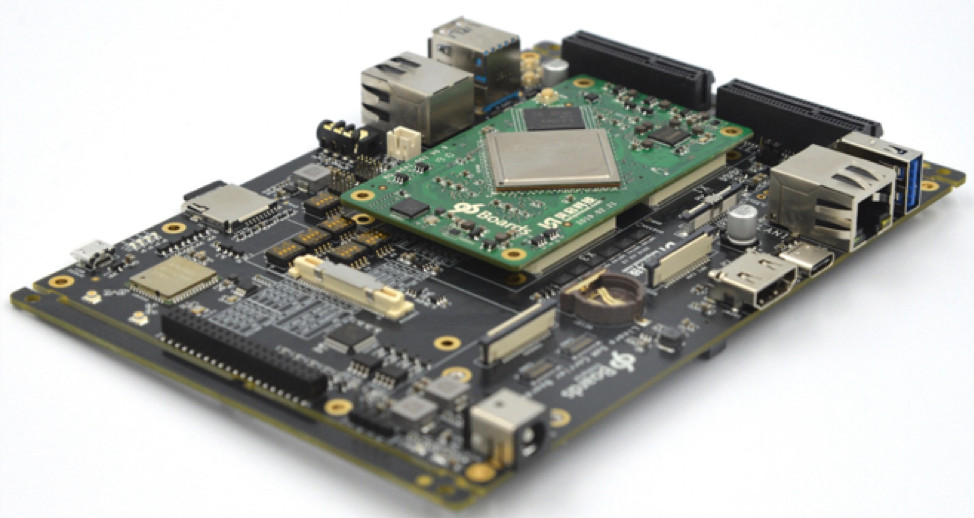 96Boards launched B-96AI & TB-96AIoT – their First Systems-on-Module (SOM)
Linaro announces 96Boards System-on-Module (SOM) Specification and Rockchip powered compute SOM design.
At the first day of Linaro Connect Bangkok 2019, 96Boards SoM specifications have been announced, together with the introduction of Rockchip RK3399Pro powered TB-96AI and Rockchip RK1808 based TB-96AIoT, which are the first 96Boards compliant SoMs, along with 96Boards SoM Carrier Board.
96Boards System-on-Module Specifications
Two form factors are defined as SOM-CA and SOM-CB with a maximum of four 100 pin Connectors. The X1 connector is mandatory on all SOMs. The defined interfaces are shown in the table below.
List of signals associated to each connectors:
X1 – SoM managements, 1x UART, 2x I2C, 1x SD, 2x SPI, 1x CAN, 1x multiplexed DSI/eDP/LVDS, 2x USB 2.0 OTG/Host, 1x USB 2.0/3.0 host
X2 – 1x I2S, 1x multiplexed I2S/PCIe, 6x multiplexed GPIO/analog audio, 1x multiplexed MIPI CSI/DSI/Audio, 1x Ethernet, 1x PCIe 4x, 1x USB 2.0 OTG/Host, 1x USB 2.0/3.0 device, 1x smartcard/muxed with PCIe, 1x SATA
X3 – 7x GPIO, 4x MIPI CSI inc. 1x multiplexed with MIPI DSI, 1x MIPI DSI multiplexed with MIPI CSI,  1x Ethernet, 1x HDMI
X4 – 2x UART, 2x I2C, 1x I2S mux with SATA, 7x GPIO mux with ADC/SPI, 1x SD. 2x SPI, 2x CAN (1x mux), 1x PCIe x4, 1x USB 2.0 OTG/Host, 1x USB 2.0/3.0 host, 1x SATA mux with I2S
That's plenty of multiplexed signals which at first sight open the door for potential incompatibilities between modules.
The 96boards Wireless specification defines wireless modules with 802.15.4, BLE, WiFi, LoRa, NB-IoT, LTE-M, and future wireless standards. Again two form factors are specified with SOM-WA and SOM-WB and 20-pin are defined with GPIO, PWM, UART, SD, SPI, I2C, ADC, USB, SWD, and VDD/ground.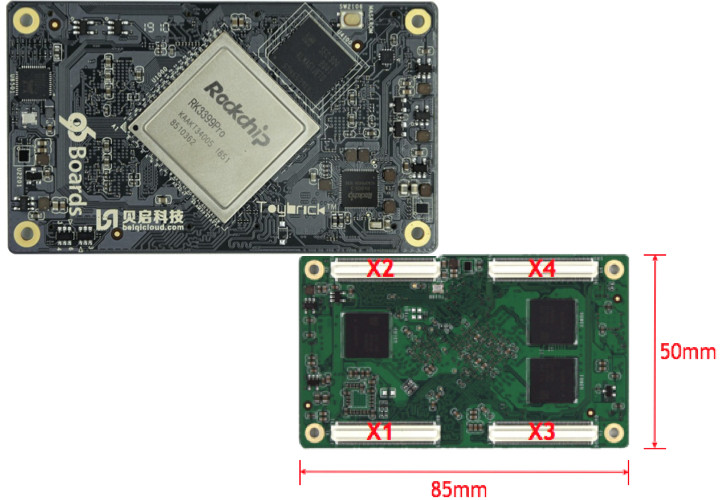 TB-96AI SOM

The TB-96AI , equipped with RK3399Pro, has an integrated neural network processor NPU, computing power of up to 3.0 Tops, and offers compatibility across a variety of AI architectures. It can be combined with the backplane to form a complete industry application motherboard, and be applied to various embedded artificial intelligence fields.
TB-96AIoT SOM

Equipped with the RK1808 AIoT chip, 22nm process, ultra low power consumption with Independent NPU and AI computing power of up to 3.0Tops, the TB-96AIoT also provides rich interfaces and strong scalability.
96Boards SOM Carrier Board
The 96Boards SOM Carrier Board is compatible with both the TB-96AI and TB-96AIoT. It is designed to suit different markets and demonstrates how easy it is to support multiple different SOMs.
Key features:
4x 100-pin connectors for 96Boards SoM
Storage – Micro SD card
Video Output – 4-lane MIPI DSI (eDP), HDMI 2.0, LCD header
Audio – 3.5mm audio jack, speaker header
Camera – 2x 4-lane MIPI CSI connectors
Connectivity – 2x Gigabit Ethernet, Dual band WiFi + Bluetooth module
USB – 3x USB 3.0 ports, 1x USB type-C port
Expansion

2x PCIe sockets
LS & HS connectors for mezzanine products
CAN bus header

Debugging – micro USB debug port, JTAG
Misc – Reset, power, and 2x user buttons; user LEDs, and system LEDs; RTC battery socket
Power Supply – 12V DC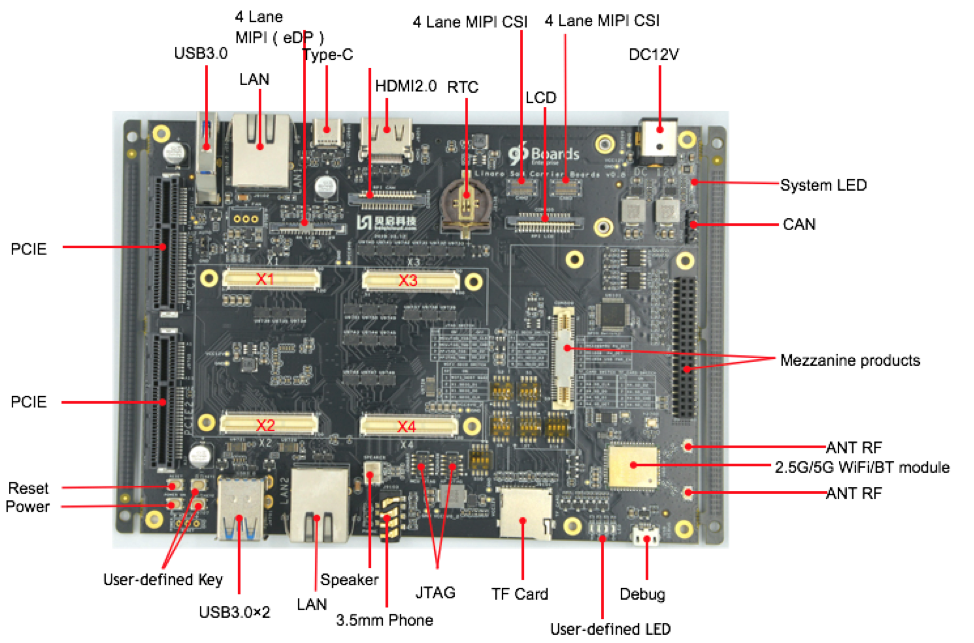 The full scope of Linaro engineering work is open to all online. To find out more, please visit http://www.linaro.org and http://www.96Boards.org. You'll also find details about all three hardware platforms on the products page of the company.
Join 97,426 other subscribers

Archives