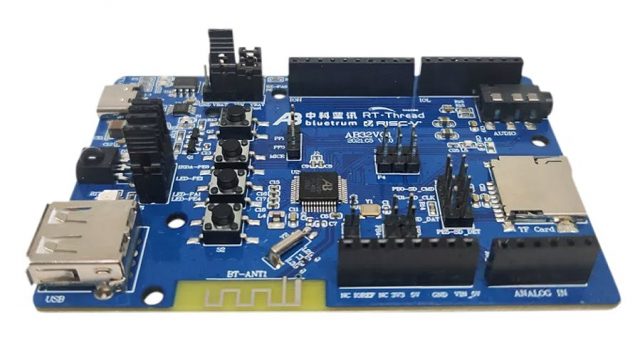 AB32VG1 – An Arduino Uno-like RISC-V based development Board Designed for Audio Applications
Bluetrum, a Chinese chip manufacturer known for its high-performance Bluetooth speakers and headsets, has designed an audio player microcontroller for audio applications and other general purposes. The new device named AB32VG1 is an Arduino Uno – like development board with a high-performance 32-bit core that relies on IP based on the RISC-V instruction set created by Bluetrum. The Bluetrum Bluetooth AB5301A RISC-V MCU is said to have a frequency of 120 MHz and is overclockable up to 192 MHz.
The AB32VG1 development board is a great competition for ARM-based development boards, no doubt. It comes with a USB port, a microSD card slot, and various GPIO headers that make interfacing with other devices possible.  It is quite small in size but it has all the necessary feature that makes developing with it easy.
Here are some of its features and specifications:
High-performance 32-bit RISC-V MCU that can be clocked up to 120 MHz and overclockable up to 192 MHz
192KB RAM
1MB flash memory of 1MB flash
MicroSD card slot
Wireless communication through Bluetooth 5.0 and Bluetooth Low Energy (BLE).
Onboard PCB antenna designed for FM radio applications
Full speed USB 2.0 Host/device controller
13x expansion headers — 1x 12C, 6x ADCs and 6x PWM
IR receiver
3x User Buttons
1x Reset Button
RGB LED, Power LED and Status LED
Various configuration jumpers
Power: 5V via USB Type-C or Vin pin on the expansion header
Audio

3.5mm audio jack
Audio code with 16 bit stereo DAC and 2-channel 16 bit ADC
4-channel stereo analog MUX
2-channel MIC amplifier input
Stereo audio ADC with 90dB SNR
Stereo audio DAC with 95dB SNR
Support for flexible audio EQ adjust

Temperature:

Operating Temperature: -40 °C to +85°C
Storage Temperature: -65°C to +150°C

Dimensions:  9 cm x 6 cm
Operating System
The AB32VG1 development board also runs on the popular RT Thread, an open-source embedded real-time operating system that is used for several applications. The OS comes in two versions: the standard version (consists of a kernel layer, components and service layer, and IoT framework layer) and the nano version (which has a very small footprint and refined hard real-time kernel). It can be programmed using the RT-Thread Studio IDE, and there are several tutorials online that can help with this, in case you are interested.
Bluetrum's AB32VG1 is currently available and can be purchased from Tabao for 79.90 Yuan, approximately $12. Other useful details on the board including the datasheet and schematic can also be found on their official product page.
Join 97,426 other subscribers

Archives