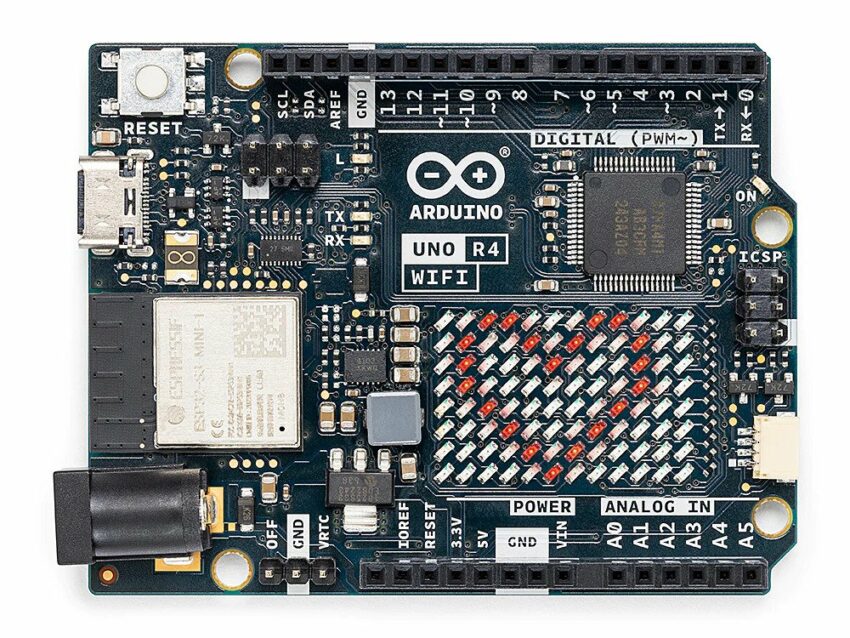 Arduino introduces UNO R4 Boards with expanded capabilities and powerful CPU
Arduino announced the release of the Arduino UNO R4 back in March of this year, which brought new hardware platforms for the maker community. Building upon the popular UNO footprint, Arduino gave the R4 a complete hardware refresh, making it a must-have for embedded developers and beginners. While the UNO R4 retains the unevenly-spaced pin headers of its predecessors in the UNO range, it stands out as the first model to feature a powerful 32-bit processor.
One addition to the Arduino UNO R4 lineup is the Arduino UNO R4 Wi-Fi. This board combines the processing power of the RA4M1 microcontroller from Renesas with the wireless connectivity prowess of the ESP32-S3 from Espressif. Alongside these extended features, the UNO R4 Wi-Fi offers an onboard 12×8 LED matrix for users who need to view various parameters for their outdoor IoT applications.
When it comes to interfaces with external sensors and devices, the hardware platform is designed with a Qwiic connector for a seamless connection. Arduino has upgraded an existing setup to incorporate wireless connectivity into the latest UNO R4 Wi-Fi board to provide all the necessary tools for developing next-gen applications.
Arduino has also come up with a minimalistic design for its UNO R4 Minima development board. Equipped with a Renesas 32-bit microcontroller, this board has enough processing power, expanded memory, and an array of new onboard peripherals. The UNO R4 Minima maintains compatibility with existing shields and accessories, and no alterations to the standard form factor or 5V operating voltage are required.
Despite the advancements made on the UNO R4 boards, Arduino has made sure to prioritize backward compatibility. These new boards retain the same 5V logic and pin-out as their predecessors, ensuring that the majority of projects and shields can be seamlessly ported across with updated software.
The Arduino UNO R4 Wi-Fi is available for purchase starting at $27.50, while the Arduino UNO R4 Minima is priced at $20.00. Upgrade your development experience with the Arduino UNO R4 boards and explore the possibilities of these advanced community-centric hardware devices.
Join 97,426 other subscribers

Archives