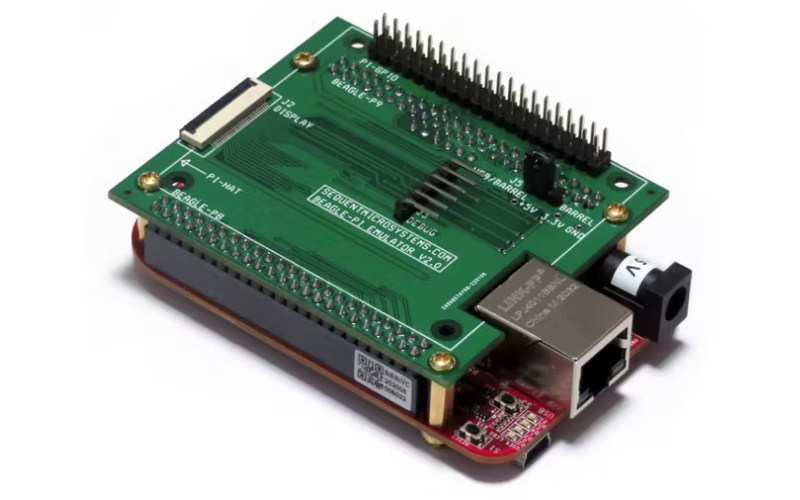 Beagle-Pi Raspberry Pi Emulator Solves Semiconductor Shortages
An interesting embedded device created by the Sequent Microsystems, Beagle-Pi, a Raspberry Pi Emulator has solved the problem of incompatibility of HATs to a Beaglebone. The Beagle-Pi converts the two 2 x 23 connectors of the Beaglebone into the 2 x 20 GPIO connector of the Pi making Raspberry Pi HATs compatible with the Beaglebone hardware.
There has been a severe shortage of embedded single-board computers from some of the top manufacturers, including the UK-based Raspberry Pi. The unavailability of these single-board computers resulted in a hike in prices, which are seen as more than 3x the original price while the shipping date of 78 weeks on Mouser for Raspberry Pi 3B. However, the developed ecosystem for Raspberry Pi single-board computers has evolved over time to more than hundreds of HATs. The shortage has limited the use of these HATs that are usually not compatible with most other single-board computers, and certainly not with Beaglebone.
Intro Video
Most importantly, the Beagle-Pi routes all I2C, SPI, and other serial communication GPIOs to the equivalent function pins on the Beaglebone. Also, to mount the Beagle-Pi onto the Beaglebone, four mounting holes– four brass standoffs, screws, and nuts will be shipped along with the hardware depending on the pledge option.
"We tested all the Sequent Microsystems cards run on the Beagle-Pi. The software was compiled without any modifications. You simply download the software from GitHub, compile it on the Beagle and you are ready to go." Here is our 8-RELAY card to run the self-test program on Beagle:
Replay HAT Video
"Our business is very dependent on Raspberry Pi," Beffa adds. "We all hope that the current shortage is short lived, the Pi will be back in stock soon at affordable prices and nobody will need the Beagle-Pi. Until then, buy your insurance and try the emulator."
Bealge-Pi has ended the crowdfunding on Kickstarter that aimed for $1000 but successfully raised $3785 with support from a total of 89 backers on various pledge levels. The basic pledge started at $18 that provided a Beagle-Pi using Beagle Bone Black and four brass standoffs, screws, and nuts. The most recent update came on April 6, 2022, for early-bird supporters, "Backers should have received an email with USPS tracking numbers. All the others will be mailed from China in a few days."
Join 97,426 other subscribers

Archives