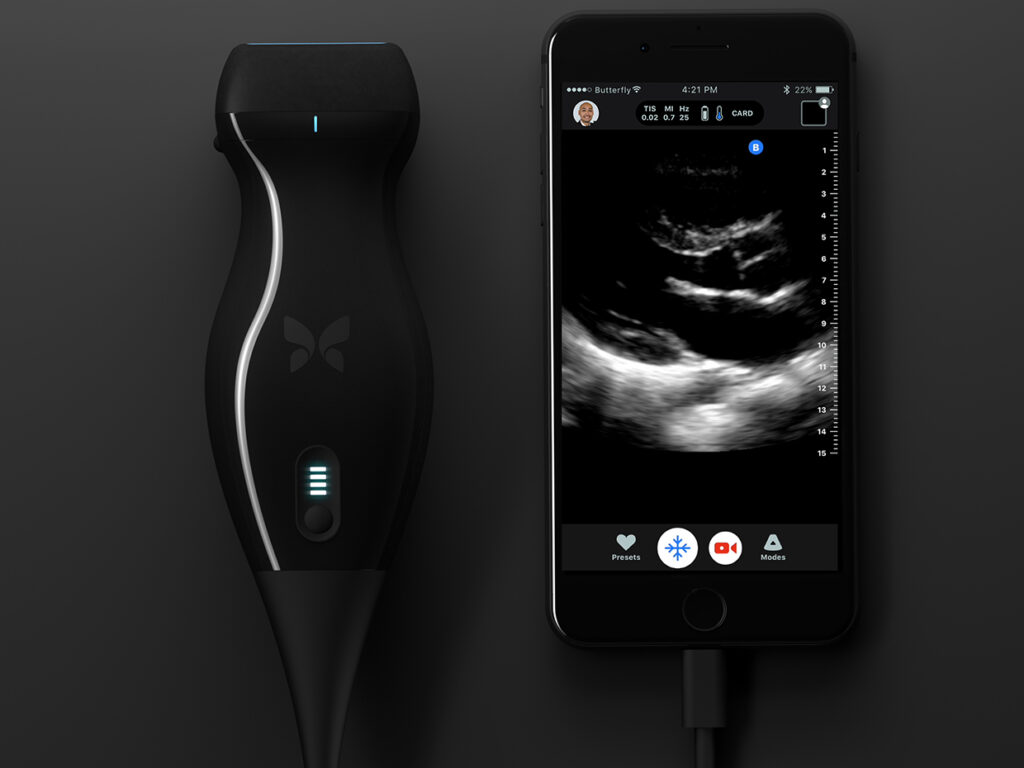 Butterfly IQ – Ultrasound Anywhere, Anytime
Ultrasound, also known as sonography, is a medical procedure which uses sound waves to get images from inside the body. It is used to help guide biopsies, diagnose causes of pain, examine a baby in pregnant women, diagnose heart conditions etc. High- frequency sound waves are transmitted to the body using a small transducer (probe), then the probe collects the sounds that bounce back, and a computer uses that information to render an image. Ultrasound scanner consist of a transducer, a video display, a console (with computer and electronics) and sometimes multiple transducers are needed for different parts of the body. As a result, ultrasound machines are not portable, and are not easy to access during emergencies.
As a result, Butterfly has combined semiconductor engineering, artificial intelligence, and the cloud in order to create IQ, a portable and affordable ultrasound machine. Butterfly believes that "Medical imaging should be accessible to everyone on the planet". With the use of a chip, a single probe, and an iPhone now every licensed healthcare practitioner can have an ultrasound anywhere, anytime.
The chips used for the device has transducers, signal processing and computational horsepower. Also, the device has its own battery (to avoid draining the phone's battery), and works with 9,000 little drums that wobble to create sound and then receive it from the body. It does all the signal processing that would normally cost a hundred thousand dollars to render an image.
Nowadays, ultrasound machines use piezoelectric crystals which require on factory tuning for specific depths which generates the need for multiple probes. The IQ can be tuned on the go and can be buzz at 1 MHz for deep analysis or 5 MHz for shallow analysis. Additionally, the Butterfly IQ incorporates artificial intelligence for image acquisition and analysis which in the future could help guide nonprofessionals in proper operation of the device. Also, it includes cloud services for storage.
This device already has FDA clearance for 13 clinical applications which include abdominal, cardiac (adult and pediatric), fetal (obstetric), gynecological and procedural guidance. The same probe can be used to look anywhere inside the body, with different depths and to anyone.
Eventually, Butterfly expect their device to become as accessible and useful as a household thermometer, but currently it is not available for consumers and the price is high for household purposes. Its only supported by iPhone (soon by iPad), but there has been no talk about Android support. The price starts in 2K and shipping will begin on 2018.
[
source
]
Join 97,426 other subscribers

Archives