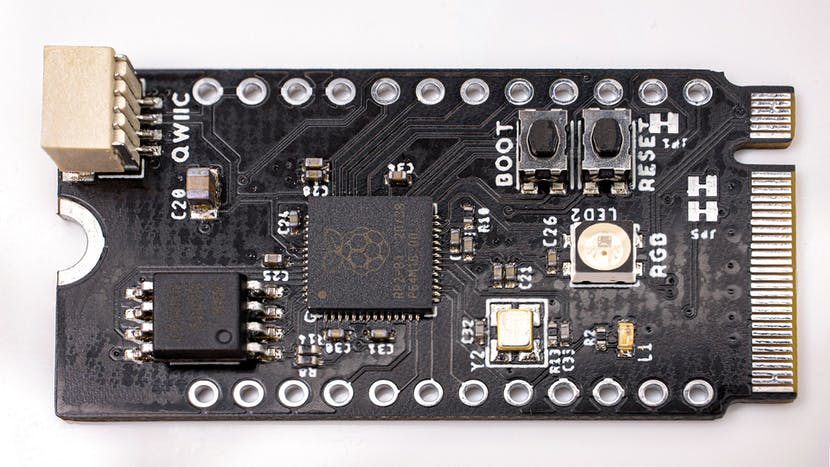 RP2040 M.2 Card with M.2 Connectivity Form Factor
There has been a lot of discussion about the Raspberry Pi's RP2040 SoC in the past few months after the release of the Raspberry Pi Pico. The RP2040 SoC is also popular for its high-frequency clock covering a large range of applications at a very low cost. Timonsku a hardware designer has come up with a design for the M.2 interfacing of the SoC. This allows the miniaturization of the hardware at low power requirements. The edge connector of the design has a size of M.2 B key.
Timonsku's design is an RP2040 M.2 card consisting of an RP2040 SoC, a WS2812 intelligent control LED, and a Qwiic connector. WS2812, an intelligent control LED light source in which the control circuit and RGB chip are combined in a package of 5050 components. It is a "simple, scalable and affordable full-color LED". The board also comes with external GPIO pins allowing the input for the program from outside the CPU or providing the output to the user. The board also has reset and boot buttons on it.
Twitter Thread of RP2040 M.2 Card
This is a @Raspberry_Pi RP2040 M.2 card. It's compliant to M.2 B-Key.
It uses USB at the moment but a future version might integrate a PCI-e PHY.
This is mostly a demonstration that it is easy to make your own M.2 compliant addon cards. pic.twitter.com/Fj2QJiyWVa

— Timon🛠 (@timonsku) March 28, 2021
Additionally, M.2 form factor is popular in SSDs. It is also called the Next Generation Form Factor (NGFF) due to its internal mounting capacity. This allows compatibility with the computer expansion cards and similar connectors. It is a good alternative to the mSATA standard, which uses the "PCI Express Mini Card physical card layout and connectors".
There has been a discussion on the interfacing of the board with Desktops or Laptops as they come with M.2 slots. However, according to Timonsku, the M.2 slot of the RP2040 M.2 card may not be used with USB signals. As the M.2 specification does not compulsorily require them. Also, it would be difficult to automate the board while it is present on the laptop or computer. Hence, GPIO-level access would be necessary to work on the boot and reset signals.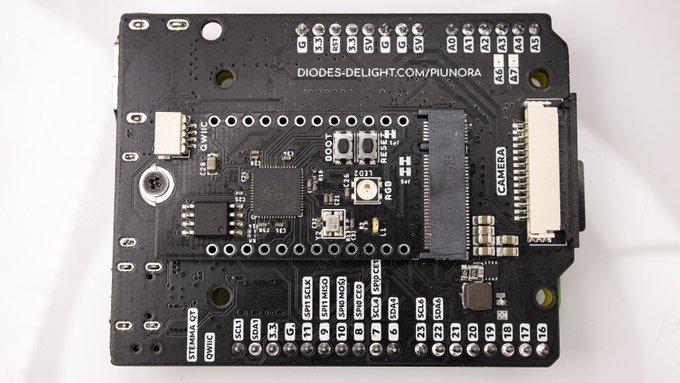 The Twitter thread of Timonsku shows the compatibility of the RP2040 M.2 card with the Piunora carrier board. This carrier board is also compatible with the popular Raspberry Pi CM 4 and transits it to Arduino R3 like form factor. Piunora carrier board has completed its goal of funding on the Crowd Supply at this point time.
The RP2040 M.2 card is still in the design phase and it is probable that the design would be soon open-source. For more information and updates on the card, you can keep checking Timonsku's Twitter thread.
via Hackster
Join 97,426 other subscribers

Archives