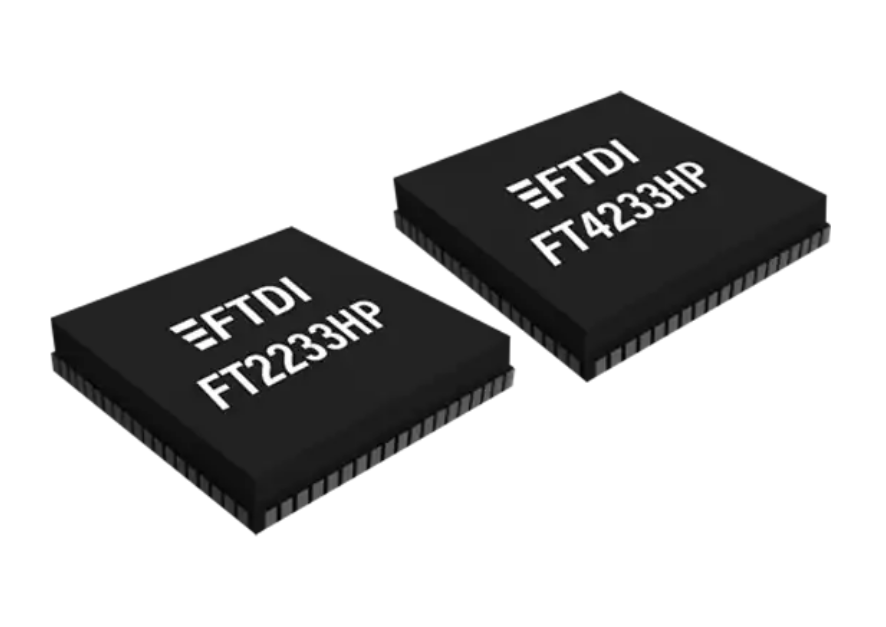 FTDI Chip High-Speed USB Bridge ICs with Type-C Controllers
FTDI Chip High-Speed USB Bridge ICs with Type-C/PD 3.0 Controllers fully support the latest USB Type-C and Power Delivery (PD) standards. This enables the support for power negotiation with the ability to sink or source current to USB host devices. These high-speed USB bridge devices feature up to two PD ports viz, PD1 port and PD2 port. The PD1 port shares the same Type-C connector with USB data and the PD2 port is the power port only without USB data. The high-speed USB bridge ICs support 5V, 9V, 12V, 15V, and 20V PDO profiles and these profiles are configurable through an external EEPROM at power-up/reset.
The high-speed USB bridges offer up to 40Mbytes/s data rates and multi-channel interfacing. The benefit of a multi-channel bridge is that the system BOM is reduced by removing the need for a USB hub chip. Additionally, each channel of the device appears to the host PC as a separate device. This enables each channel to be independently configured for different modes such as UART, MPSSE, or FIFO. Also, with different parameters such as 4 UARTS all operating with different baud rates.
Features
Supports PD specification Rev 3.0
2 USB PD 3.0 port support:

Port 1 mode configuration for Sink or Dual-role
Port 2 works as Sink, supporting charge through to Port 1

Support 5V 3A, 9V 3A, 12V 3A, 15V 3A, and 20V 3A PDOs as sink or source
Type-C/PD physical layer protocol
PD policy engine using 32-bit RISC controller with 8kB data RAM and 48kB code ROM
PD mode configuration through external EEPROM
Options to use external MCU controlling PD policy through I2C interface
USB 2.0 high speed (480Mbits/second) and full-speed (12Mbits/second) compatible
Adjustable receive buffer timeout
Multi-Protocol Synchronous Serial Engine (MPSSE) to simplify the synchronous serial protocol (USB to JTAG, I2C (MASTER), SPI (MASTER), or bit-bang) design
FTDI royalty-free Virtual Com Port (VCP) and Direct (D2XX) drivers eliminate the requirement for USB driver development in most cases
Highly integrated design includes 1.2V LDO regulator for VCORE and integrated POR function
Low operating and USB suspend current
USB Bulk data transfer mode (512-byte packets in high-speed mode)
Fully assisted hardware or X-On / X-Off software handshaking
Extended -40°C to 85°C industrial operating temperature range
Available in Pb-free QFN-56/QFN-46/QFN-76/QFN-68/LQDP-80 packages (RoHS compliant)
more information: https://www.ftdichip.com
Join 97,426 other subscribers

Archives