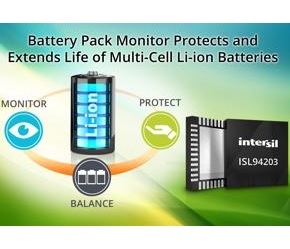 IC monitors multicell battery packs
by Susan Nordyk @ edn.com:
The ISL94203 battery-pack monitor IC from Intersil monitors, protects, and cell-balances three- to eight-cell rechargeable battery packs, supporting Li-ion CoO2, Li-ion Mn2O4, and Li-ion FePO4 chemistries. Its internal state machine has five preprogrammed stages that accurately control each cell of a battery pack to extend operating life.

In addition to functioning as a stand-alone battery-management system for rechargeable Li-ion battery packs, the ISL94203 can be used with an external microcontroller communicating via an I2C interface. The device integrates high-side charge/discharge FET-drive circuitry, which allows the battery pack to be securely ground referenced.
IC monitors multicell battery packs – [Link]
Join 97,426 other subscribers

Archives