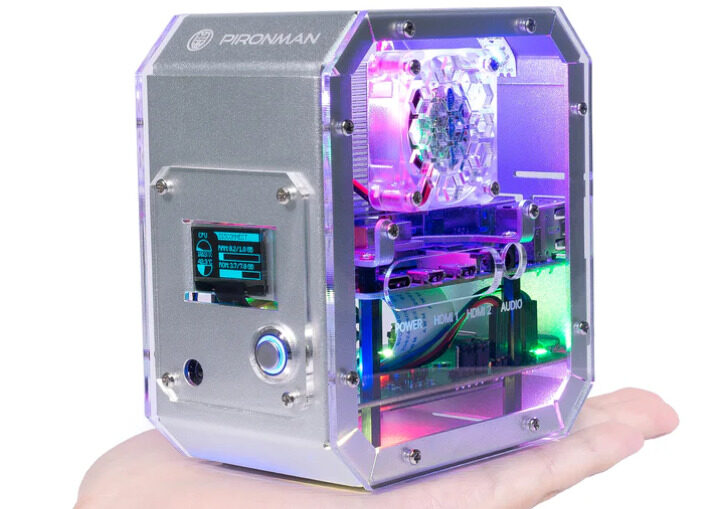 Introducing Pironman Mini PC case for Raspberry Pi 4
Introduction
SunFounder has designed the Pironman Mini PC Case, which is a miniature case for Raspberry Pi 4 (Pi 3 is not compatible). It can be used for various projects or entertainment, by simply connecting a keyboard, a mouse, and a screen. Key features of the Pironman are the all-aluminum alloy tower case that includes a cooler, an M.2 SATA SSD expansion board, a 0.96″ OLED, an IR receiver, and a power button.
Features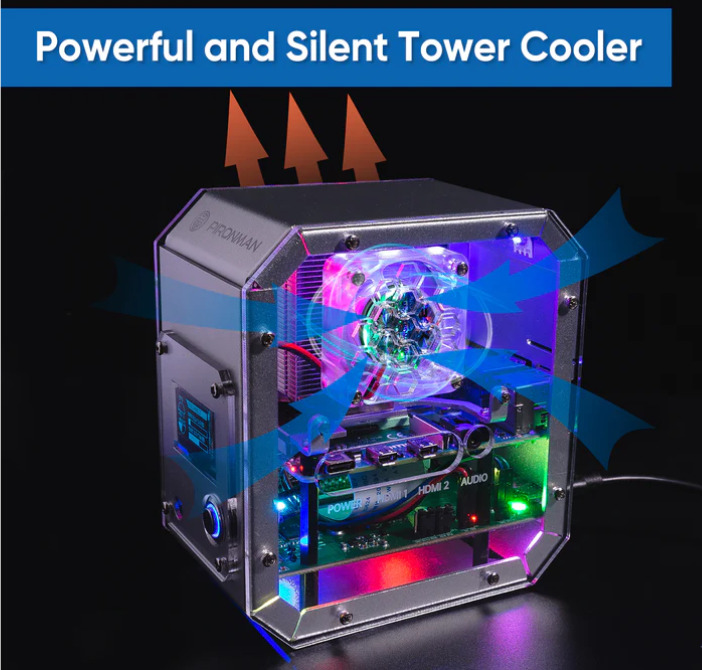 Pironman Raspberry Pi 4 Mini PC is a miniature aluminum tower case. As said the main body is made of aluminum, with transparent acrylic panels that provide a sleek design, a tough temperament, and outstanding protection. It is equipped with a tower cooler with a silent 16 WS2812 RGB LED fan and an added bonus that can boost system performance. The internal fan in the Pironman has been optimized to run quietly and steadily while providing an increased level of cooling performance thanks to the inclusion of a temperature control feature. The WS1812 RGB Strip is an 8-LED light strip that can be used to show off Pironman's current status. At 25°C room temperature, the fan can bring the temperature of a Raspberry Pi with 100% CPU load down to 39°C. The noise level created by the fan is as low as 22-32 decibels.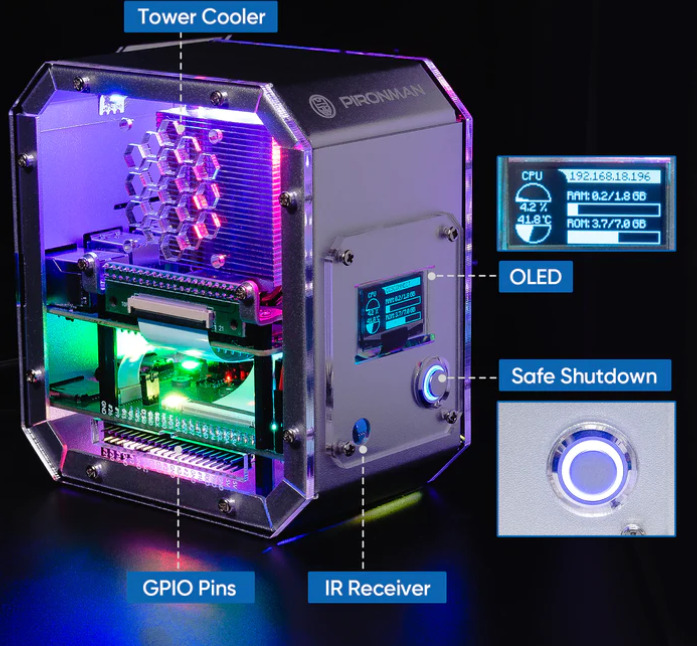 Extra storage in the form of a microSD card slot (at least 8GB in size) is supported. Additionally, the case's bottom can be opened to accommodate an M.2 SSD to facilitate high-performance storage. It also has TRIM and UASP support. M.2 SATA solid-state drives in sizes ranging from 22mm X 30mm, 42mm, 60mm, and 80mm are supported. The M.2 SSD interface is only compatible with the SATA protocol, not NVME or PCIe. Click here to learn more about M.2 SATA SSDs and the configuration required to mount them on Pironman.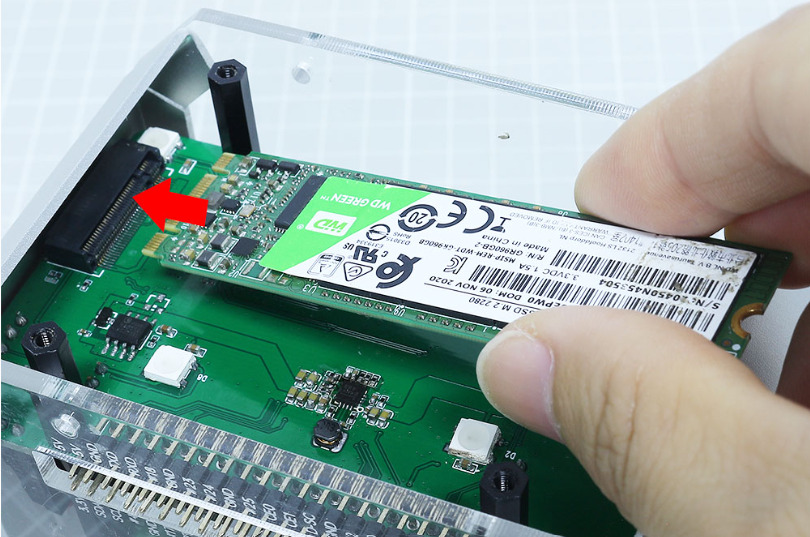 Additionally, it has a 0.96-inch OLED screen for monitoring system resources like CPU, RAM, ROM, CPU temperature, and IP address. A 5V/3A adapter can be used to power the Pironman's power connector. Pironman can be turned on/off in safe mode using the power button, which enables safe shutdown. Additionally, the power status memory feature recalls the power state and restarts itself in the event of an unexpected power outage.
Pinout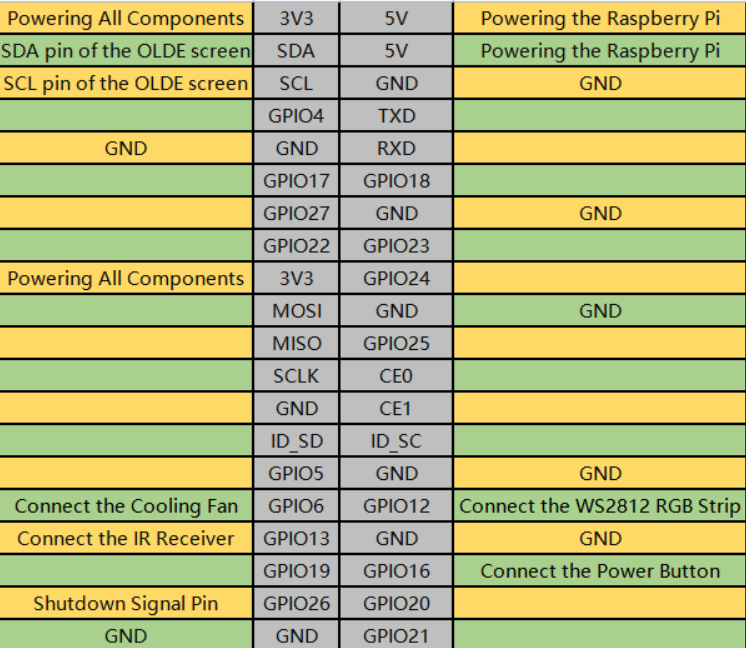 Specifications
Supports Raspberry Pi 4B
Power input: USB Type C 5V/3A
Rated power: 5V/800mA

I/O Interface
Raspberry Pi standard 40-Pin GPIO
Micro SD
USB Type C power input
USB 2.0 x 2
USB 3.0
Gigabit LAN port
USB Type C Raspberry Pi power supply
Micro HDMI x 2
3.5mm headphone jack

Others

Power button
OLED screen: 0.96 inches, 128×64 resolution
Infrared receiver: 38KHz
Cooling fan: size 40x40x10mm
WS2812 RGB LED: 16xWS2812B-5050

Dimension: 112.45×68.2×118.92mm
Material: Body -aluminum alloy, sides, and front panel- acrylic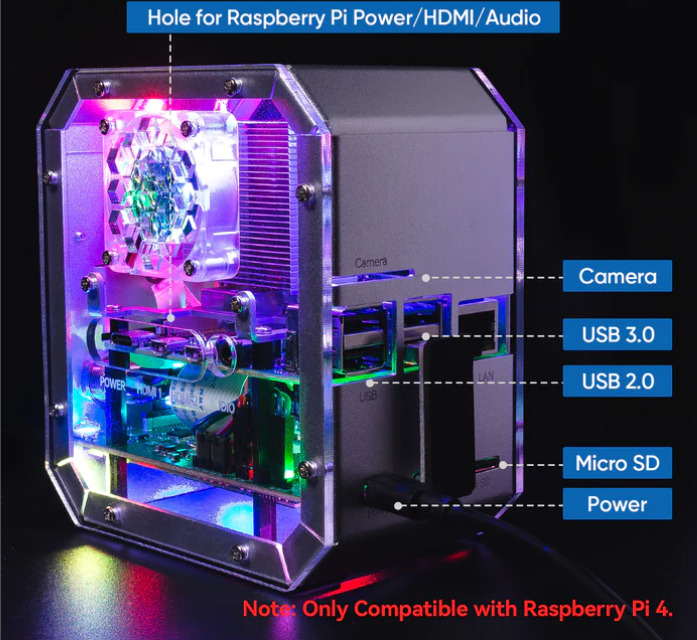 Video
Below is a complete guide on how to assemble a Pironman mini PC.
Exciting Applications
Pironman can be used as network-attached storage for Whole-Home File Sharing with its integrated cooling system and M.2 SATA SDD interface.
Try installing Home Assistant and Pironman Software on your Raspberry Pi System for centralized and private control of Smart home devices.
Using Pironman as a host for 3D printing ensures reliable operation over time.
Purchase Information
Pironman Raspberry Pi 4 Mini PCs cases are available for $79.99 (without the Raspberry Pi 4 2GB + 32G TF Card combo) and $237.97 (with the Raspberry Pi 4 2GB + 32G TF Card combo).
Join 97,426 other subscribers

Archives