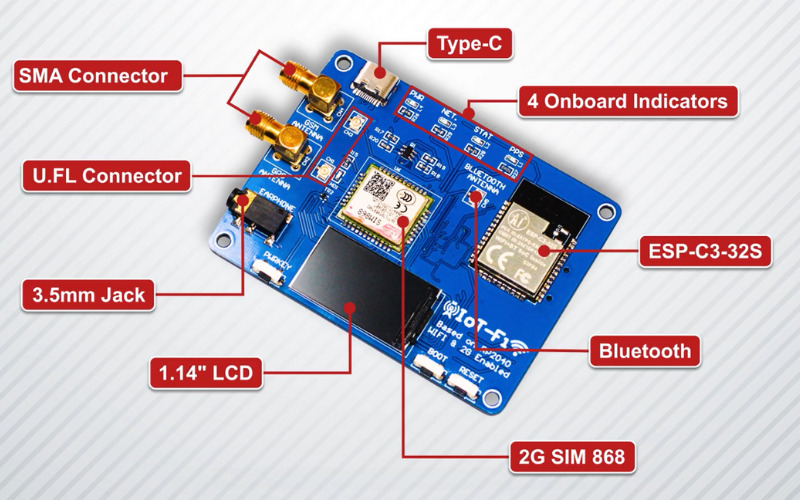 IoTFi cellular connectivity board with RP2040 microcontroller and inbuilt GPS technology
This one's exciting! A UK-based embedded developer in collaboration with SB Components has designed an IoT development board with support for a rich set of connectivity options. The hardware platform has 2G and 4G cellular connectivity through a separate antenna for both. For 2G, the onboard SIM868 module supports GSM/GPRS and GNSS with low-power consumption and supported frequency bands of 800/900/1800/1900 MHz.
The IoTFi cellular connectivity board is built around the Raspberry Pi in-house silicon tapeout RP2040 microcontroller fabricated using 40nm silicon and comes with an integrated static RAM. The board also has an ESP32, a low-power system-on-chip with support for Wi-Fi and dual-mode Bluetooth wireless connectivity. The board is equipped with a 3.5mm audio jack and an SD card slot to expand the onboard storage.
Apart from the enhanced wireless experience, IoTFi cellular connectivity board features a high-resolution 1.14-inch LCD display for displaying various sensor parameters. There is also an onboard accelerator and Bluetooth 2.0 module, making the hardware platform run next-gen applications. As the company says, "This All-in-One device is capable of calling and transmitting messages to any of your devices."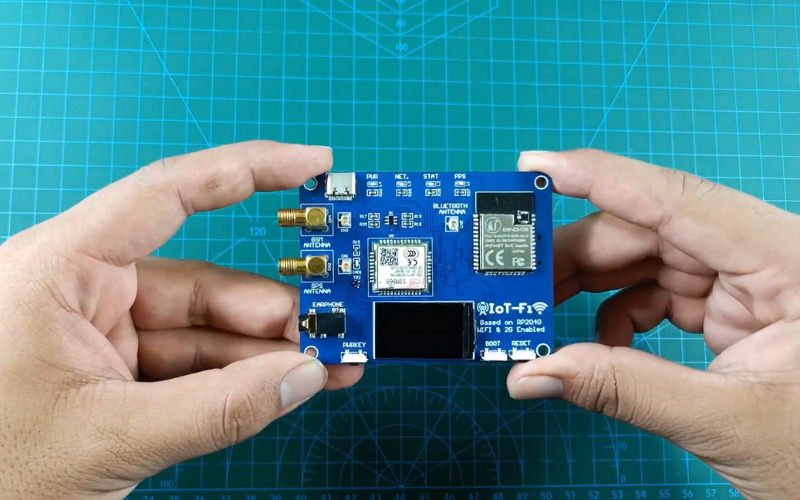 Specifications of IoTFi cellular connectivity board:
Microcontroller: Raspberry Pi RP2040 microcontroller featuring a dual-core Arm Cortex-M0+ processor core clocked up to a frequency of 133MHz
Wireless module: ESP32 system-on-chip with built-in support for Wi-Fi and dual-mode Bluetooth
Cellular connectivity: microSIM and SD slots for 2G via SIM868 and 4G via SIM7600G. Also, an inbuilt Bluetooth 2.0 module with support for enhanced data rate and faster PSK modulation
Antennas: 2x antennas– GSM and GPS
Display: 1.14-inch LCD display with a resolution of 135×240 pixels
Audio: 3.5mm audio jack
Sensors: Accelerometer module
Power: USB Type-C connector for power as well as transmitting data
Dimensions:

80×60 mm for 2G variant
100×70 mm for 4G variant
On the software support, the hardware platform provides the flexibility to use several programming languages, such as Arduino, Python, and C/C++. There are several applications that can be built including fetching GPS coordinates, using it as a navigation system, integrating it as a security device, as a vehicle tracking device, as well as a home automation system.
The package contains an IoTFi cellular connectivity board, a GSM antenna, and a GPS antenna. The board was primarily looking for crowdfunding through Kickstarter product page, but is currently unavailable. Interested people can sign up on the Mailchimp page to get notified when available.
Join 97,426 other subscribers

Archives