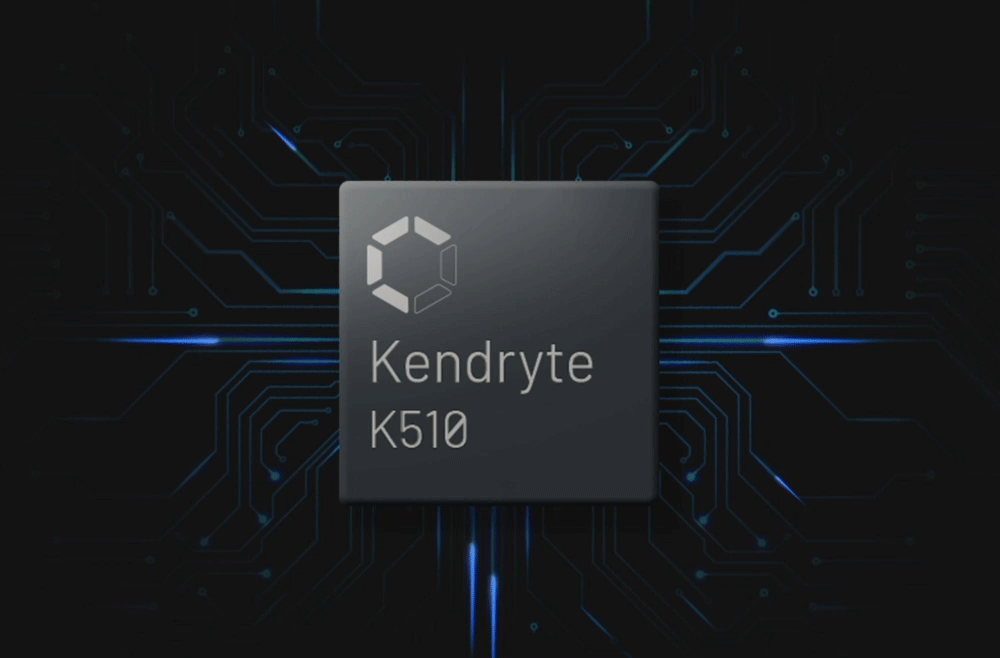 Kendryte K510 is Tri-core RISC-V Processor for Edge AI applications
We have come across multiple hardware development boards and MCUs that employ Edge AI for processing and computing. On the other hand, cloud computing was traditionally preferred as an alternative for implementation due to its scalability and easier to develop applications on the cloud platform. However, it comes at the expense of data transmission latency and security problems. As the system is vulnerable to network attacks.
Edge AI focuses on processing ML algorithms locally on the hardware for a quick and safe system. This form of local computing reduces the network delay for data transfer and solves the security issues as everything happens on the device. Canaan, a leading provider of high-performance computing systems, has developed the Kendryte K510, a RISC-V-based processor built particularly for edge AI applications.
We previously saw the Kendryte K210 AI accelerator processor featuring a dual-core 400MHz 64-bit RISC-V processor with a 0.5 TOPS performance and a custom neural-network acceleration. Everything from Raspberry Pi add-ons to binocular computer vision boards, IoT development kits, and robots rely on K210.
The new self-developed Edge AI chip comes with upgraded machine vision and improved programming flexibility with three times the performance of K210. Thus, the Kendryte K510 can better address the demands of mid-to-high-end applications at the edge. According to Cannan, the K510 specializes in UAV high-definition aerial photography, panoramic video conferencing, robotics, STEAM education, driver assistance scenarios, and industrial and professional cameras.
Block Diagram of Kendryte K510 Processor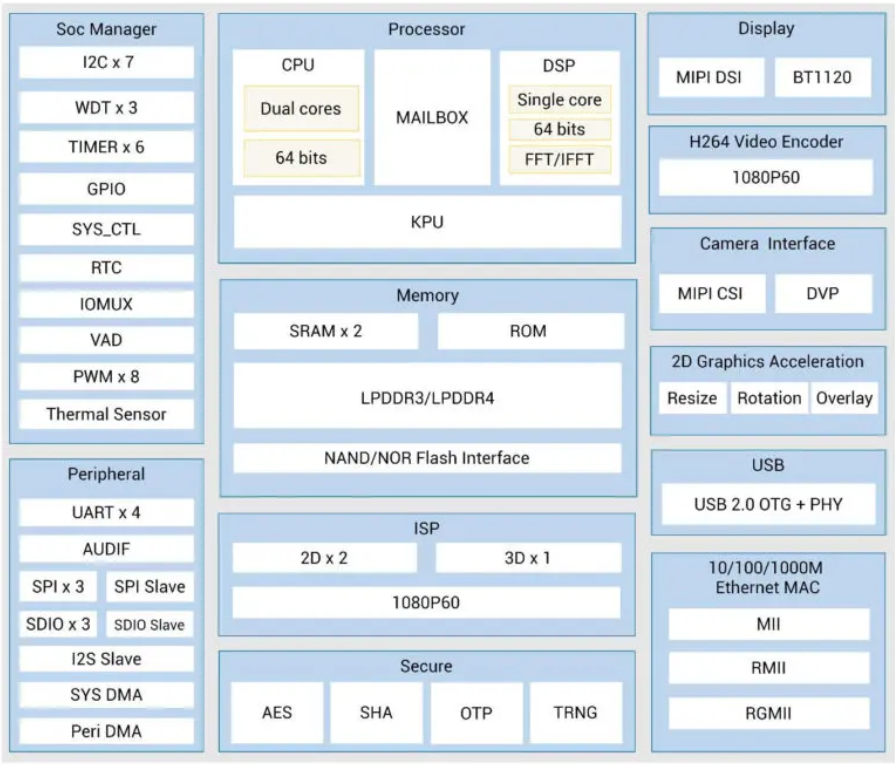 The compact Kendryte K510 AI processor features a 64-bit tri-core RISC-V processor with FPUs. It is divided into a dual-core block that operates at 800MHz and a single-core block that serves as a digital signal processor (DSP).
The main highlight of K510 is that it can triple its computing power while reducing power consumption by adopting unique computing data flow and multiplexing technology. Thus, the chip can perform 3 TOPs (Tera Operations Per Second) for applications requiring faster time responses.
The new K510 also features USB 2.0 OTG compatibility, MIPI CSI, and DVP camera interfaces, gigabit Ethernet, an H.264 video processing unit that is capable of 1080p60 along with MIPI DSI, and BT1120 display choices. It also offers various peripherals, including four UARTs, AUDIF, three SPI buses, three SDIO buses, etc. Additionally, the SHA and AES accelerator provide on-chip security.
All these pairs with K510's on-chip 1.5MB SRAM split into 1MB and 512kB blocks with LPDDR3/LPDDR4 support for system RAM. The chip integrates a next-generation image processor with 2D/3D noise reduction, WDR (Wide Dynamic Range), fisheye correction, and hardware 3A capabilities.
The K510 is highly configurable, thanks to its RISC-V open-source architecture, and capable of empowering developers when it comes to scenario-based programming. For more information visit the company's official website.
Join 97,426 other subscribers

Archives