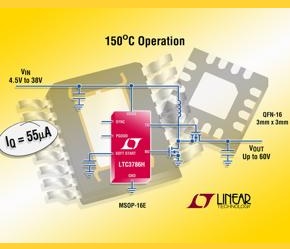 LTC3786 – Efficient boost controller takes the heat
Linear Technology has launched a higher-temperature 150°C version of its LTC3786 step-up DC/DC controller that boasts 98% efficiency. This H-grade device replaces the boost diode with an N-channel MOSFET for higher efficiency and reduced power loss. by Susan Nordyk @ edn.com:
The controller produces a 24-V, 5-A output from a 12-V input with up to 98% efficiency, useful for automotive, industrial, and medical applications. It operates from an input voltage ranging from 4.5 V to 38 V during startup, maintains operations down to 2.5 V after startup, and regulates an output voltage as high as 60 V. Its low quiescent current of 55 µA helps extend the run time of battery-powered applications in standby mode.
LTC3786 – Efficient boost controller takes the heat – [Link]
Subscribe to Blog via Email
Join 97,571 other subscribers
Archives