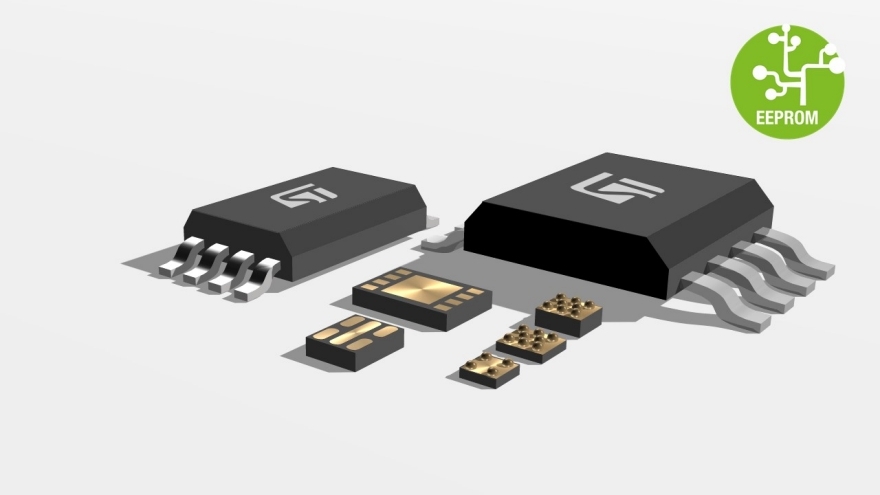 M95M04-DR – 4-Mbit serial SPI bus EEPROM
The M95M04 devices are electrically erasable programmable memories (EEPROMs) organized as 524288 x 8 bits, accessed through the SPI bus.
The M95M04 can operate with a supply range from 1.8 to 5.5 V, and is guaranteed over the -40 °C/+85 °C temperature range. The M95M04 offer an additional page, named the Identification page (512 bytes). The Identification page can be used to store sensitive application parameters that can be (later) permanently locked in read-only mode.
Key Features
Compatible with the serial peripheral interface (SPI) bus
Memory array

4 Mbit (512 Kbytes) of EEPROM
Page size: 512 bytes
Additional write lockable page (Identification page)

Write time

Byte Write within 5 ms
Page Write within 5 ms

Write protect

quarter array
half array
whole memory array

Max clock frequency: 10 MHz
Single supply voltage: 1.8 V to 5.5 V
Operating temperature range: from -40 °C up to +85 °C
Enhanced ESD protection (up to 4 kV in human body model)
More than 4 million Write cycles
More than 40-year data retention
 Packages

SO8N (ECOPACK2)
TSSOP8 (ECOPACK2)
WLCSP (ECOPACK2)
Join 97,426 other subscribers

Archives