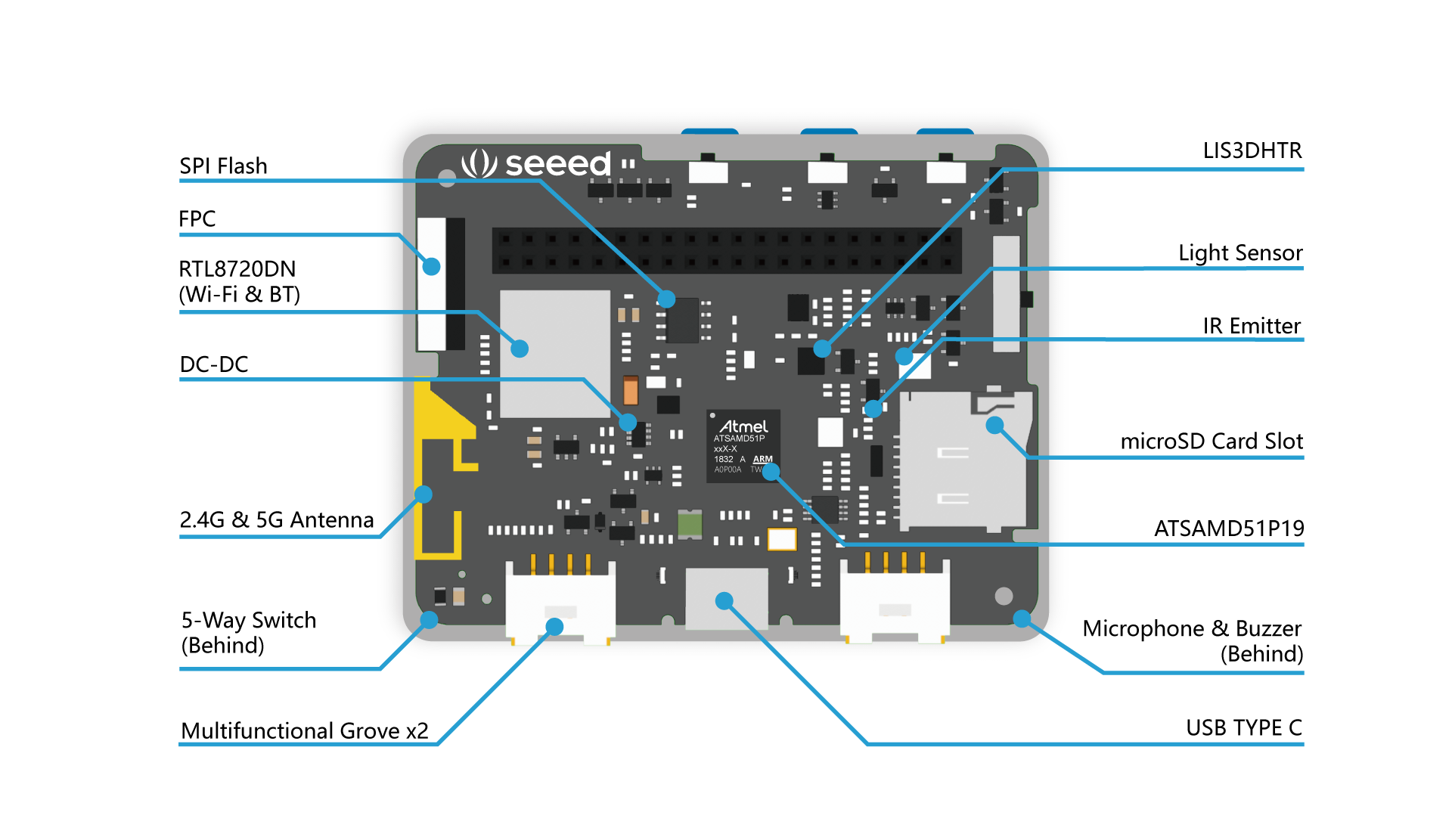 Meet the New WiO Terminal From Seeed Studio
Seeed Studio, one of the biggest open-source electronics component manufacturer, recently announced the launch of a new Product called the WiO Terminal. The Wio terminal is an addition to Seeed's impressive Wio family of development boards which comprises popular boards like the Wio Tracker and the Wio Node, which are boards designed to meet the needs of diverse IoT applications.
Unlike other boards in the family, however, the Wio Terminal is not just a microcontroller board or an embedded functional module. It is an all-encompassing system, equipped with a Screen, a Development Board, Input/Output Interface and an enclosure, that all together makes it an efficient and Product-Ready device. According to Seeed, the board was released to enable the community to develop customized products at a much lower risk and cost, even for those who have no hardware background.
Compatible with Arduino C and Micropython, the Wio Terminal is based on an ATSAMD51-based microcontroller running at 120MHz. It is equipped with a Realtek RTL8720DN chip which provides both Bluetooth (BLE4/5.0) and Wi-Fi (2.4G/5G), connectivity, making it an IoT ready device. To make it a perfect fit for several applications, the Terminal is equipped with a 2.4" LCD Screen, an onboard inertial measurement unit(LIS3DHTR), a microphone, a buzzer, a microSD card slot, a light sensor, and an infrared emitter(IR 940nm). In addition to this, it also comes with two multifunctional Grove ports for connection to over 300 sensors and actuators in the Grove Ecosystem, a Raspberry pi 40-pin compatible GPIO for even more add-ons, and 3 user-programmable push-buttons to provide all that is needed (including enclosures) for standalone applications.
Asides being able to serve as a standalone unit, the Wio terminal could also be connected as a HAT to the raspberry with its display and other features available for use by the raspberry pi, enabling users to interact with the pi directly and easily implement standalone edge computing solutions.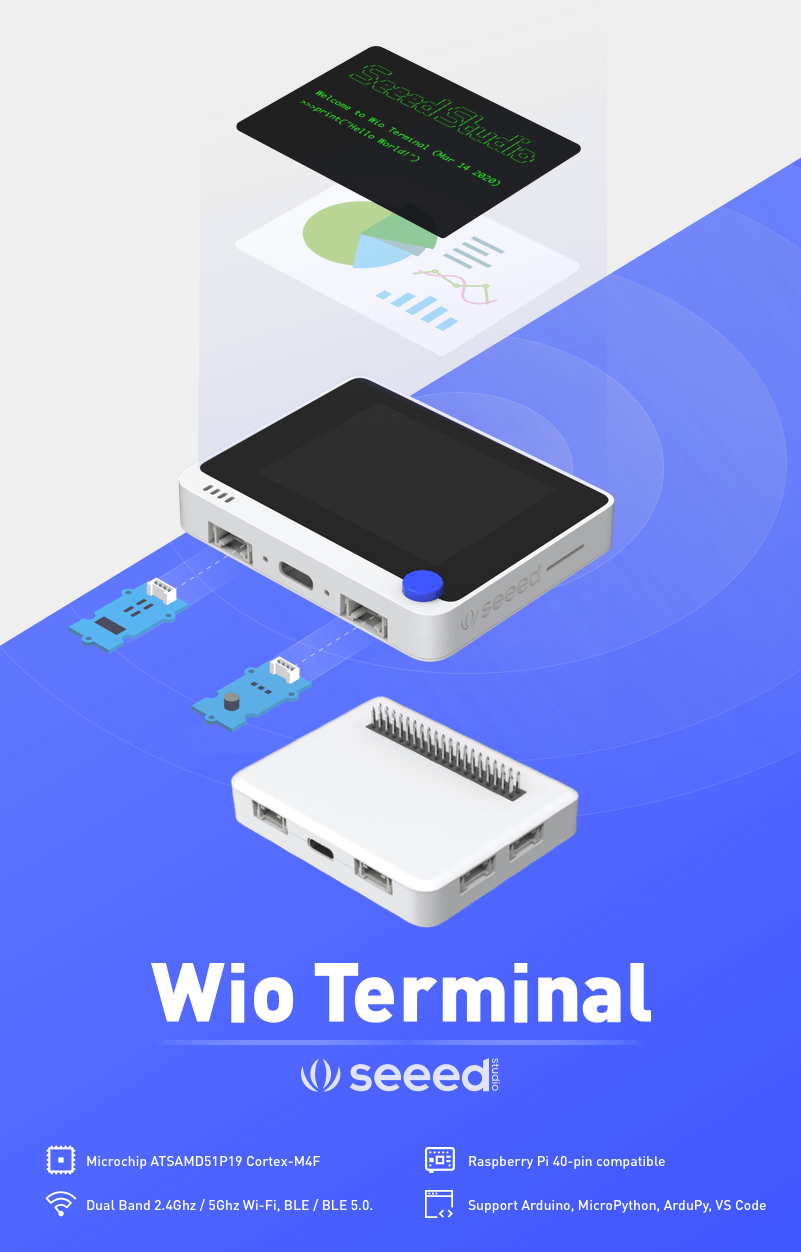 Highlight features of the Wio Terminal include;
Highly Integrated Design
MCU, LCD, WIFI, BT, IMU, Microphone, Buzzer, microSD Card, Configurable Buttons, Light Sensor, 5-Way Switch, Infrared Emitter (IR 940nm), Crypto-authentication Ready
Powerful MCU – Microchip ATSAMD51P19
ARM Cortex-M4F core running at 120MHz (Boost up to 200MHz)
4 MB External Flash, 192 KB RAM
Comprehensive Protocol Support
SPI, I2C, I2S, ADC, DAC, PWM, UART(Serial)
Reliable Wireless Connectivity
Powered by Realtek RTL8720DN
Dual Band 2.4Ghz / 5Ghz Wi-Fi (802.11 a/b/g/n)
BLE / BLE 5.0
USB OTG Support
Accessible Devices(as USB-Host): Mouse, Keyboard, MIDI Devices, Xbox/PS Gaming Controllers, 3D Printers
Simulated Devices(as USB-Client): Mouse, Keyboard, MIDI Devices
300+ Grove modules to explore with IoT
Two onboard multi-functional Grove ports can be used for Digital, Analog, I2C, and PWM
Raspberry Pi 40-pin Compatible
Can be mounted to a Raspberry Pi as a slave device
Raspberry Pi's HAT can be used with an adapter cable
Software Support
Arduino
MicroPython
ArduPy
AT Firmware
Visual Studio Code
Video
More information about the Wio terminal, including the price and features, can be found on the product's page and on seeed's product announcement page.
Join 97,426 other subscribers

Archives