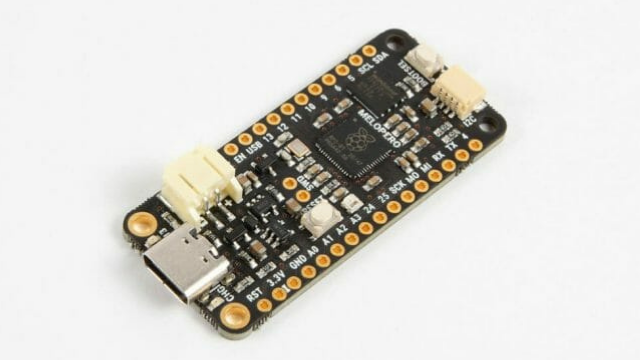 Melopero's Shake RP2040 Development Board Lists at €22.90
Italian embedded device manufacturer Melopero has recently launched a powerful new development board based on the Raspberry Pi's in-house silicon tapeout RP2040. Lately, we have seen many manufacturers designing a feather form factor development board on RP2040, like the Adafruit Feather RP2040 and ItsyBitsy RP2040. With this development board, you can now build applications related to remote IoT applications like Smart Agriculture.
The Melopero's Shake RP2040 development board comes with a battery charger based on the MCP73831 for the use of LiPo 1-cell. Since the fast charger is set to ~200 mA, the battery capacity has to be at least 500 mA. The board also features a battery monitor that sends an alert when the battery voltage drops below 3.4V. To increase the compatibility in building more applications, the design supports Qwiic/Stemma QT connector to connect Adafruit and SparkFun sensors.
Deep Dive into the Shake RP2040
Memory: 16MB Flash
Connectors: Qwiic and Stemma QT connector
Buttons: Reset and BOOTSEL
Battery: Low battery monitor and LiPo battery charger
LEDs: User LED, Charge status LED, WS2812 RGB LED
Power: USB-C input power
Programmability: C/C++, MicroPython, CircuitPython with Arduino IDE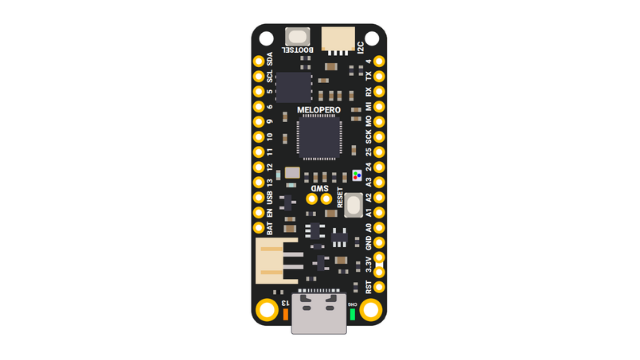 As mentioned earlier, the low battery monitor is connected to the GP17. If the pin detects a low battery alert, the battery monitor output will be HIGH when the voltage reaches 3.6V. However, it is important to note that this feature only works when the battery is not charging or the power input is not connected via USB-C. Through these features, remote IoT applications are one aspect of increasing efficiency. A detailed pinout diagram for your reference will be provided by the manufacturer as a getting started guide.
The Melopero's Shake RP2040 gets the support for C/C++, MicroPython, and CircuitPython. This is common support for all the RP2040-based development boards. The higher cost of €22.90 (~$27) for the Shake RP2040 is justified by the additional connectors. The guide for programming the board will be provided on the product page.