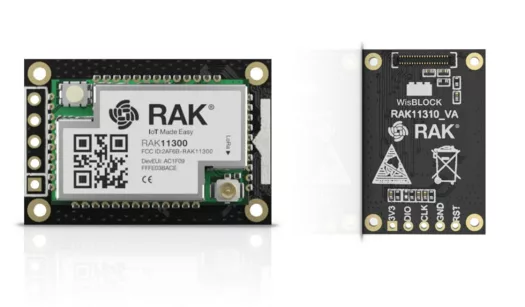 New Release from RAKwireless include a Raspberry Pi RP2040 based LoRaWAN core Module
Just a year after RAKwireless launched 14 new WisBlock modules for IoT prototyping, the company is back with a new WisBlock RAK11310 Core, alongside a Wisblock baseboard, 11 new modules, and one new IO Extension cable.
RAK11310 CORE MODULE
This new RAK11310 Core is one of the first in the market to combine a Raspberry Pi RP2040 with a LoRa transceiver from Semtech – a perfect core module for IoT applications requiring LoRa connectivity. Suitable for a number of applications like home automation, sensor networks, building automation, and personal area networks applications (health/fitness sensors, and monitors, etc.).
The core module can be programmed with Arduino IDE, PlatformIO, or MicroPython.
Features and Specifications:
RAK11300 WisDuo LPWAN Module:

Raspberry Pi RP2040 dual-core Cortex-M0+ microcontroller running at 133MHz; 246 kB RAM
Semtech SX1262 low power high range LoRa transceiver
Worldwide frequency coverage:

RAK11310L – EU433, CN470
RAK11310 – EU868, US915, AU915, KR920, AS923, IN865, RU865

LoRaWan® 1.0.2 protocol stack
UART/I2C/GPIO/USB through a "Wisconnector"
Serial Wire Debug interface
2.0 V – 3.6 V supply voltage
Dimensions: 30 mm x 20 mm
Temperature Range: -40°C to 70°C
The Wisblock RAK11310 core is available for $9.95 while the RAK11300 RP2040 LoRaWAN module sells for $6.95. Other details can be found on the documentation site here.
RAK19003 WISBLOCK BASE BOARD (the smallest WisBlock baseboard so far)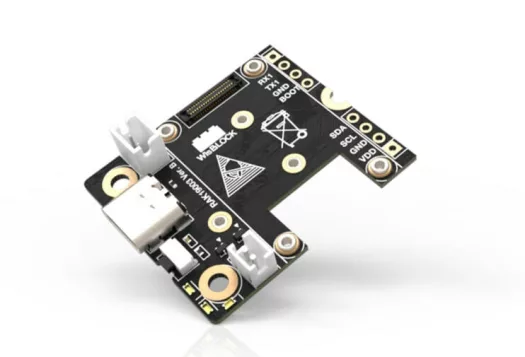 Features and Specifications:
Wisconnector for WisBlock Core MCU
2x 24-pin Wiconnectors for WisBlock modules
I2C, UART, GPIOs and analog input
USB Type-C debug port
1x Reset button
2 user-definable LED's
5V power supply via USB port/3.7V power supply via LiPo batteries/5V via solar panel(s)/Combination of multiple power inputs
Dimensions: 35 x 30mm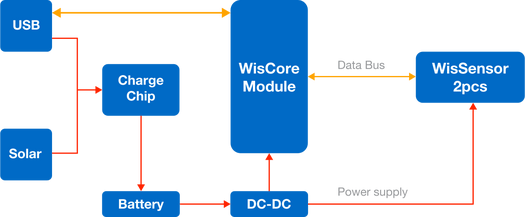 The baseboard is currently available for $8.99. Other details can also be found on the company's website.
The company also released 11 other modules with a new 120mm RAK19008 IO extension cable for large WisBlock modules.
Here's a list of the 11 new modules:
RAK12006 PIR Module: Motion detection sensor (can be used for light automation as well as for detecting intruders in security systems).
RAK12007 Ultrasonic Sensor –  Obstacle detection and distance measurement module (uses ultrasonic waves to detect objects up to a distance of 400 cm with up to 3mm accuracy and 15° detection angle).
RAK12009 MQ3 Alcohol Gas Sensor – For detecting alcohol concentrations in the air between 25 to 500 ppm (can be used in low-cost breathalyzers or air quality sensing system).
RAK12010 Ambient Light Sensor – For measuring light intensity from 0 lux ~ 120000 lux.
RAK12011 Barometer WT Sensor – A water-resistant barometric air pressure and temperature sensor for outdoor and weather applications (for measuring pressure from 260 ~ 1260 hPa).
RAK12012 Heart Rate Sensor –  Based on the MAX30102 low-power sensor (for measuring heart rate and pulse oximetry).
RAK12015 Vibration Sensor – For detecting unusual vibrations on motors and machinery.
RAK13101 GSM/GPRS Module – Cellular modern for sending data over GSM to the cloud
RAK14003 LED Bar Graph Module – For displaying status information (has 10x customizable LEDs)
RAK19004 Green Power Module –  External power converter to recharge WisBlock with renewable power sources like wind generators, water turbines and solar panels.
RAK16000 Current Sensor – DC Current Sensor module that can measure current from 0 to 3A.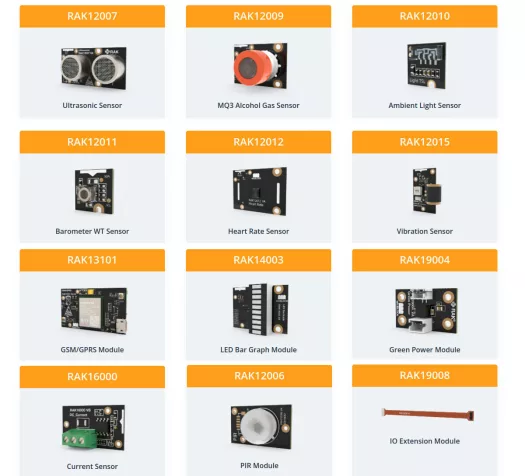 Details on the modules plus how to go about buying any can be found on their product page.
Join 97,426 other subscribers

Archives