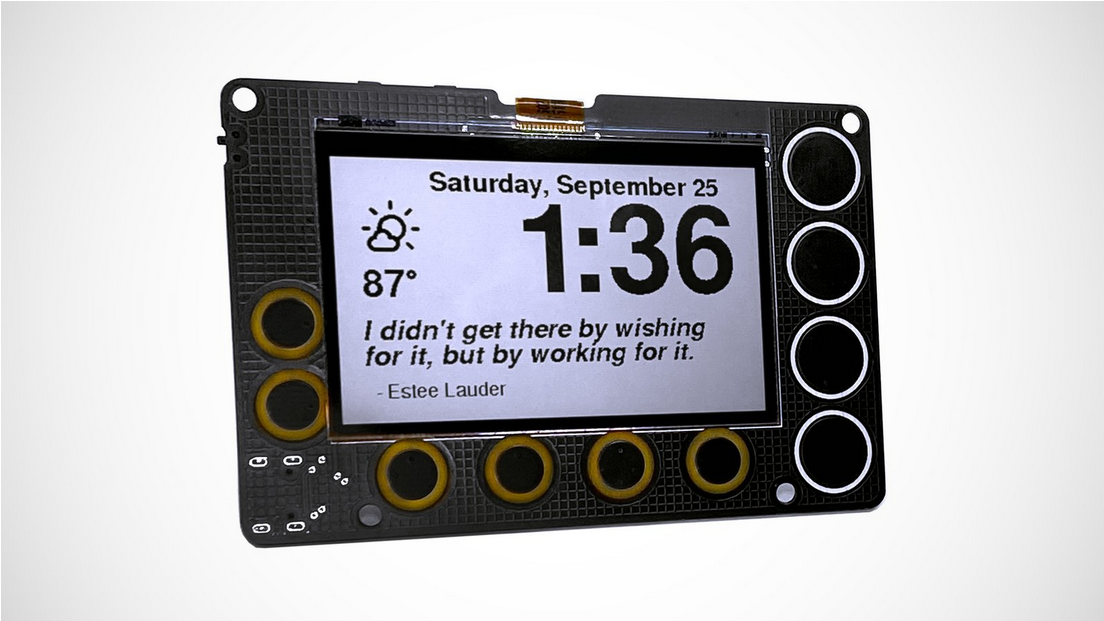 Newt, a low-power open source display powered by an ESP32-S2 module
A campaign was launched on Crowdsupply for Newt, which is a battery-powered, always-on, wall-mountable display that can go online to retrieve weather, calendars, sports scores, to-do lists, quotes. Newt is powered by an ESP32-S2 microcontroller which enables you to program with Arduino, CircuitPython, MicroPython, or ESP-IDF.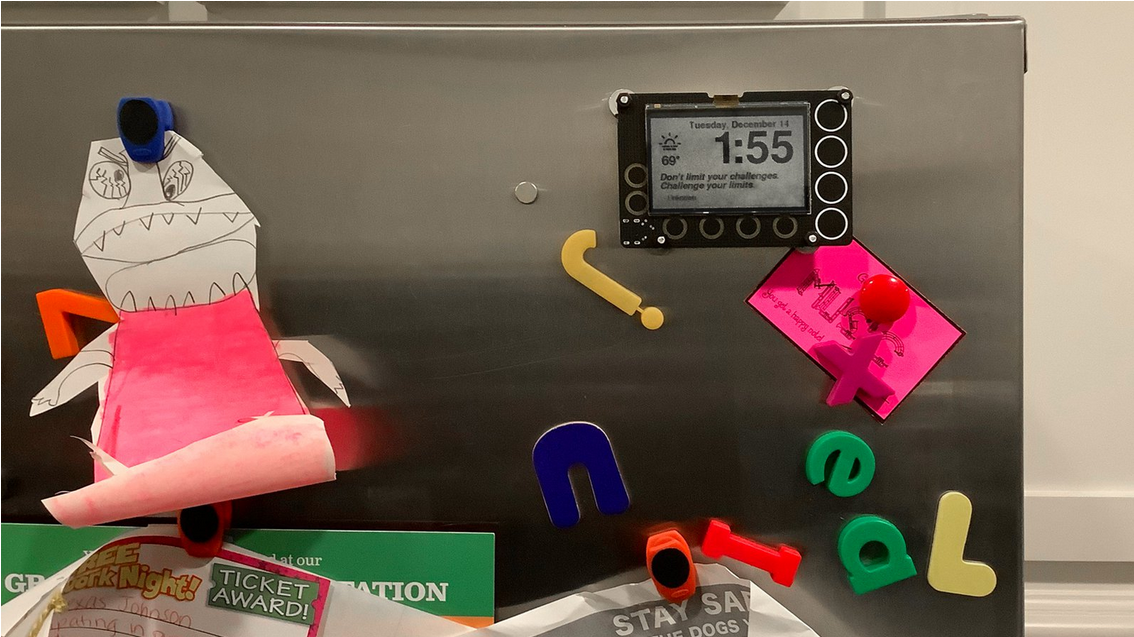 About Newt, the company says:
"We consider Newt to be the next step in the evolution of low-power display boards."
Newt is the ideal tool for makers because its Sharp's Memory-in-Pixel (MiP) technology avoids the slow refresh times associated with E-Ink displays. Newt operates "untethered," meaning it can be mounted on places where it will be hard for a power cord to be placed would be like on a wall, refrigerator, mirror, or dry-erase board. It comes with an optional stand, so you can mount it on desks, shelves, and nightstands.
The idea behind Newt was primarily to serve as a multi-function smart device to display weather reports, agendas, and shopping lists right there on your refrigerator. However, users have come up with additional uses like:
Home Applications:
Kitchen timer
Bedside alarm
Habit tracker
Weather station
Sports-score or news-headline display
Daily quotation, vocabulary word, bible verse, etc.
Professional Applications:
Meeting room status (occupied, available, date when last cleaned, etc.)
User-productivity (integration with project-management tools, task lists, etc.)
More Complex Applications
Some of which might require integration with third-party services:
Fitbit stats
Google calendars, to-do lists, or fitness data
Alexa to-do and shopping lists (require the development of Alexa smart skills)
Display of current traffic conditions and arrival-time estimates for work, school, etc.
Movie clips and animations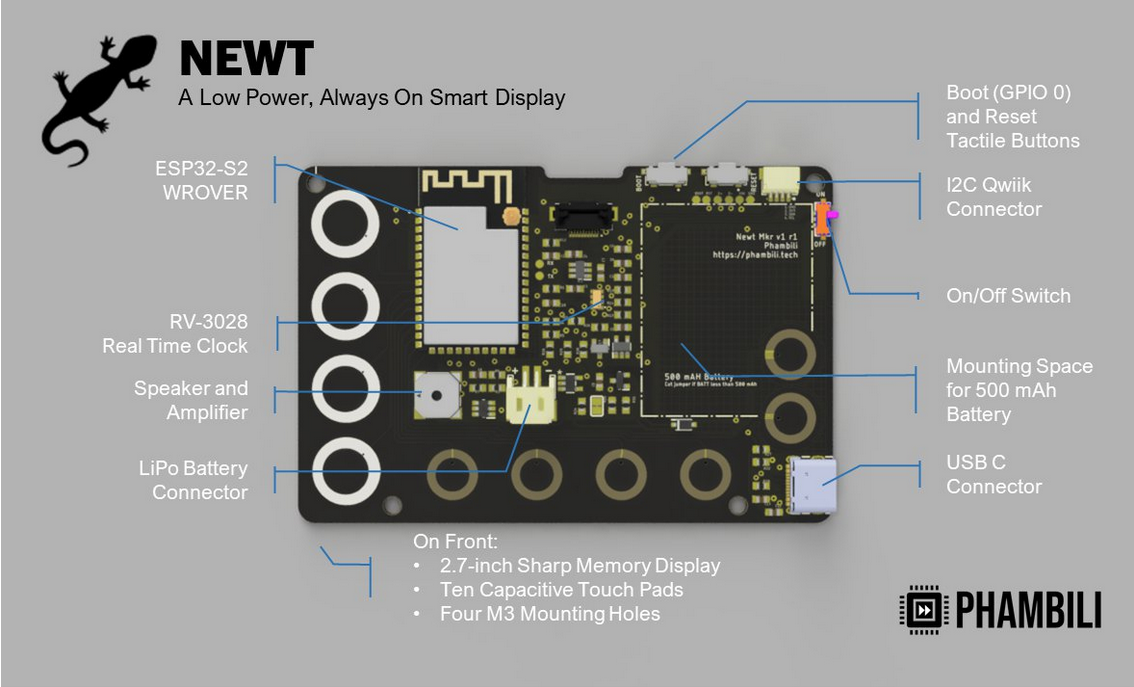 Newt features a 2.7-inch, 240 x 400-pixel MiP LCD which can deliver high-contrast, high-resolution, and low-latency content with ultra-low power consumption Reflective mode leverages ambient light to eliminate the need for a backlight. It also features a speaker/buzzer with mini class-D amplifier on DAC output A0 which can play tones or lo-fi audio clips. Newt can operate for one to two months between charges thanks to its 500 mAH LiPo battery. It features a USB Type-C connector for programming, power, and charging. Its low-quiescence voltage regulator (TOREX XC6220) is capable of providing an output 1 A of current and operating as low as 8 uA. Additional features include a JST connector for a Lithium-Ion battery, battery-charging circuity (MCP73831), and a low-battery indicator (1uA quiescence current).
Newt is open-source therefore, all design files and libraries are available for review, use, and modification. Each Newt comes with working code with the following features:
Current weather details
Hourly and daily weather forecast
Alarm
Inspirational quotes
Air-quality forecast
Habit Calendar
You only need to follow the Wi-Fi provisioning instructions (no app downloads required) to get started. For more information, visit the campaign page on Crowdsupply.
Join 97,426 other subscribers

Archives