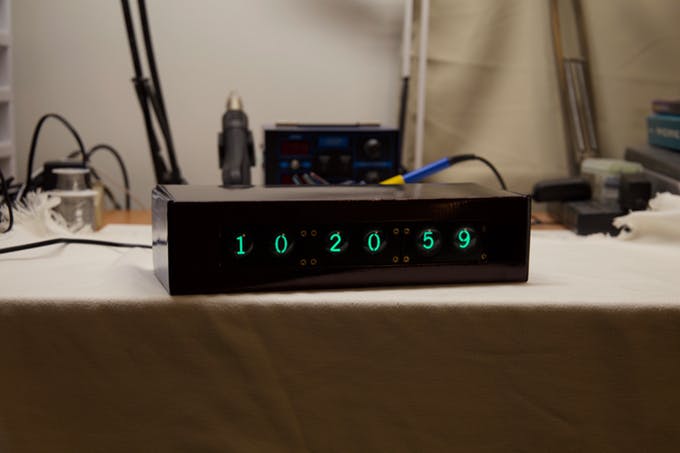 NIMO Clock – Recreating the look of a 60's CRT display
Recreating the look of a 60's CRT display with small LCDs. By Paul Bricmont @ hackster.io:
My design uses six 1.44-inch TFT LCD displays to display NIMO-style digits. These small LCD displays are cheap (around $3.50 US each) and use the ST7735 chipset and SPI bus. To drive the displays I'm using the Adafruit Metro M4. I found that a traditional ATmega328 based board wasn't fast enough to update the displays once per second and didn't have enough memory to store all the digits. The Metro M4 is fast, has plenty of memory and is compatible with the Adafruit ST7735 library.

I wanted to try to replicated the phosphorus CRT glow so I replaced the fairly dim white LED backlights of the LCDs with 16 WS2812B (NeoPixel) RGB LEDs. The digits are displayed on the LCDs as white characters on a dark background. The color is provided by the NeoPixel backlights. Finally, I used plano-convex lenses (LED flashlight condenser lenses) placed directly in front of the LCDs to create a tube-like appearance.
NIMO Clock – Recreating the look of a 60's CRT display – [Link]
Subscribe to Blog via Email
Join 97,601 other subscribers
Archives