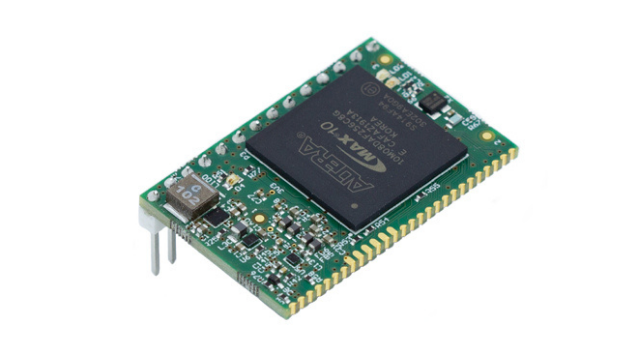 Open Source Kryptor FPGA with Dedicated Hardware Security Module
Kryptor FPGA has been around in the pre-launch phase for over two years. After a significant amount of time and wait, the one-chip hardware security module Kryptor FPGA has launched for crowdfunding on Crowdsupply with the goal of $13,000. This compact FPGA hardware security module brings ease and flexibility for deployment in the IoT space. Kryptor FPGA can become the favorite board for IoT-developer and maker communities looking for multifunctionality of the HSM along with the custom soft-core.
At the heart of the board is the Altera MAX10 FPGA chip that features 55 nm TSMC embedded flash process technology. The FPGA has a four-input look-up table (LUT) and a single register logic element (LE) with a total of 8000 LUT/LE. The flash memory retention is around 20 years at 85°C and speeds up to 830 Mbps.
Parameters to Know About Kryptor FPGA:
FPGA: Altera MAX10 FPGA chip
Memory: 378 Kb total
Storage: 1376 Kb
Compatible platforms: Linux, Raspberry Pi (RPi), and Arduino
Interface: SPI, UART, I²C
GPIOs: 250 available from the FPGA (fewer accessible via the board)
Dimensions: 22.8 x 31.2 mm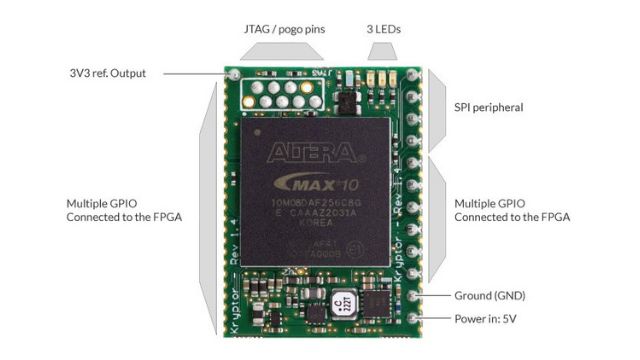 One of the most highlighting factors of the hardware is the dedicated hardware security module that is missing in popular hardware like iCEBreaker FPGA, TinyFPGA BX, and NiteFury. With open-source hardware design, it possesses greater reliability and verifiability of encryption techniques. This allows the user to look at the schematics of the design and self-verify the techniques using the open-source encryption primitives and not trust the chip manufacturer for its security.
Kryptor FPGA is compatible with Raspberry Pi API and Arduino library which makes it easy for the users to play with the available APIs for Linux. Once you buy the hardware, the designer SKUDO Kryptor will provide the option to download the HSM soft-core from the official website at no extra cost. With the flexibility in the hardware, the user gets the option of either using it as a MAX10 FPGA development board or can even load their own soft-core.
If you are interested in backing the product and getting perks for it, head to the crowdfunding page and help with this open-source project.
Join 97,426 other subscribers

Archives