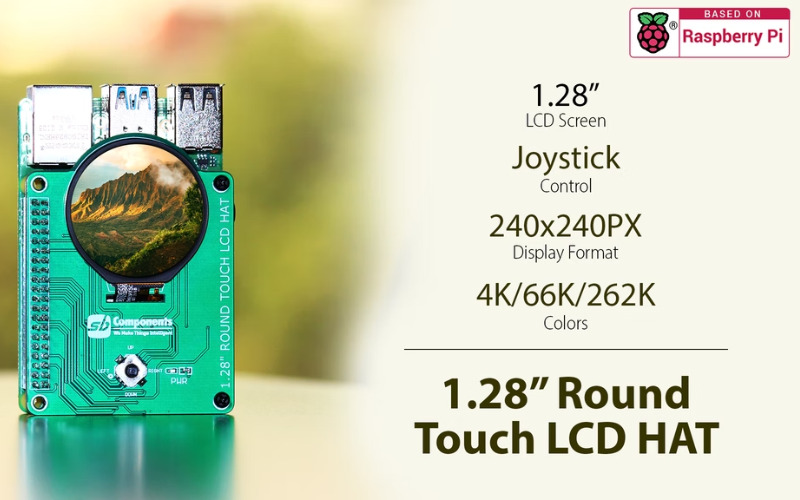 SB Components launches a 1.28-inch touch LCD HAT for your Raspberry Pi
UK-based embedded device manufacturer, SB Components, has launched a crowdfunding campaign for a 1.28-inch touch LCD HAT with a goal of £3,000. The Kickstarter product page gives us more details on the 1.28-inch display, which has been over-subscribed to reach £3,522 (as of writing). This shows the community's support to send the hardware into mass production, and the pledging options start at £38 to get the round-touch LCD HAT for your Raspberry Pi computer. The early bird £35 has been sold out, and interested people had to pledge to buy the expensive options.
At the heart of the SB Components 1.28-inch round LCD HAT is a capacitive touch control ICU with a high-performance self-capacitance touch clip. The LCD HAT has three main components as part of the hardware– a full-touch LCD display, a touch panel, and a joystick to move around for various actions. The full HD display has a resolution of 240×240 pixels and the 1.28-inch colour IPS TFT display panel has a GC9101A controller and panorama view angle. The touch panel is a capacitive screen with support for up to 13 sensing channels, and >100Hz refresh rate. The single-point gesture and two-point options are key highlights of the onboard touch panel.
Recommended reading: SB Components unveils UHF HAT for Raspberry Pi with a 1.14-inch LCD display.
Specifications of the 1.28-inch round touch LCD HAT:
Display: 1.28-inch TFT display
Resolutions: 240×240 pixels
Display connector: FPC
Color: 4K, 65K, 262K
Contrast: 500:1
Operating temperature: -22 to 70
LED lifetime: 30,000 hours
Interface: 4-wire serial SPI
Response time: 20ms
Power supply: 2.5V to 3.3V
The joystick can be seen below the display panel which is designed to provide comfort and ease while switching between different functions. It uses an SPI serial communication protocol to provide a unified platform through the standard 40-pin GPIO interface. The 5-input manual command is connected to the 1.28-inch round touch LCD HAT through a GPIO connector header.  Some of the applications that can be developed using this SB Components' 1.28 round touch LCD display HAT are weather broadcasting, security systems, home automation, multimedia applications, etc.
More details on the product are available on the crowdfunding product page. If you are interested in pledging the 1.28-inch round touch LCD display HAT, the product will be accepting pledges until July 9, 2022.
Join 97,426 other subscribers

Archives