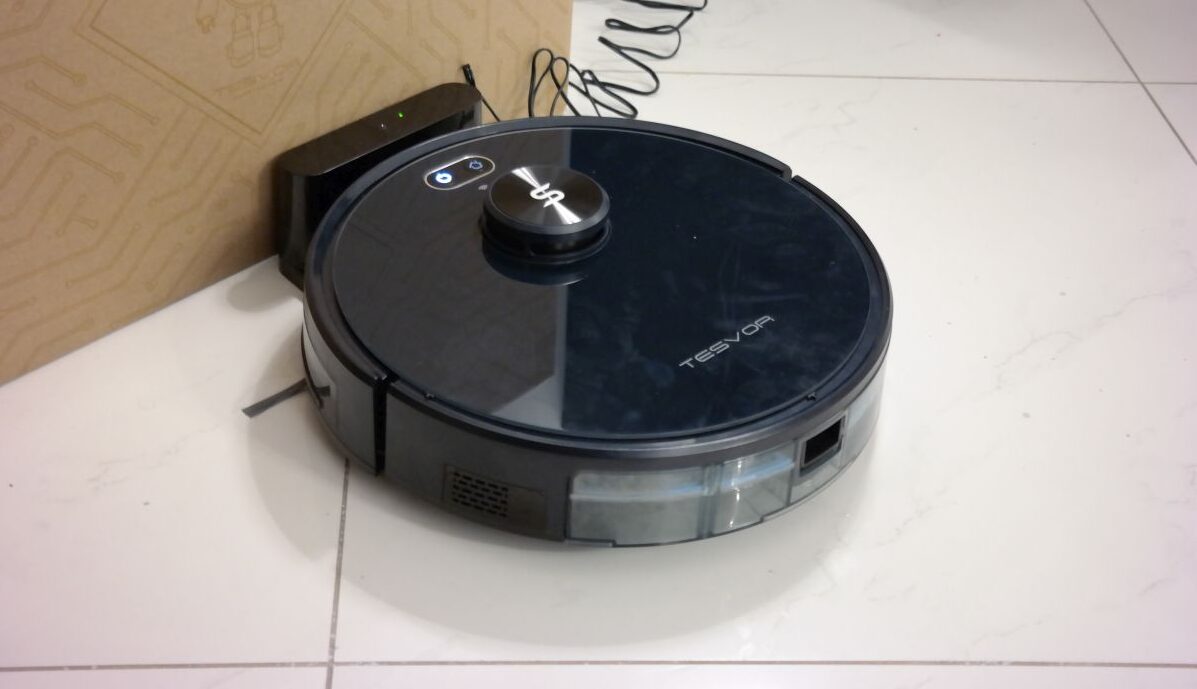 Tesvor S6 Robot Vacuum Review, Ideal for Pet Hair & Dust, Carpets & Hard Floors
Tesvor S6 is a Laser Navigation 2700Pa Auto-Charging Robot Vacuum Cleaner which is Compatible with Alexa/App and it is Ideal for Pet Hair & Dust, Carpets & Hard Floors.
Tesvor S6 robot vacuum cleaner is a laser navigation 2700Pa auto-charging robot vacuum cleaner compatible with Alexa/App, and it is ideal for pet hair & dust, and it can vacuum multiple surfaces and debris types. The robot vacuum's artificial intelligence laser LIDAR navigation technology enables the vacuum to pinpoint obstacles accurately but seems that some training is needed to avoid stalls. Unboxing the vacuum, you find a docking station, battery, clean roller brush, side brushes, and a dust box.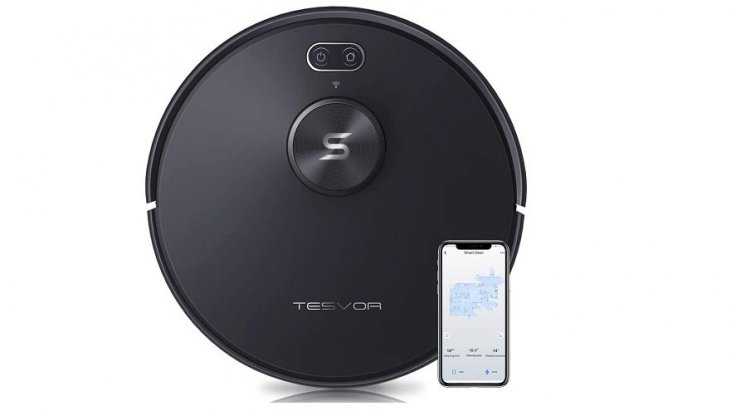 What's in the box?
Tesvor S6 robot vacuum
Charging dock & power cord
Remote
Cleaning tool
Replacement left & right brushes
Replacement high-efficiency filter
User guide
The AI technology enables the vacuum to record all areas where it needs to vacuum, making a room map to clean it properly. The laser navigation technology that the robot vacuum features enables it to navigate through all sorts of spaces that are filled with objects and obstacles. The use of its laser navigation systems can map out these spaces and what is within the spaces. Doing so allows the robot vacuum to develop plans for each space, ensuring that every space within your home is vacuumed thoroughly and efficiently.
The Tesvor S6 has many sensors to help it navigate through the house. It has a front bumper sensor as well as front scanning sensors which allows it to gently bump into things as it navigates around the house. The disk on top of the vacuum is a rotating scanning laser that maps the whole house as it runs and shows a projection on the mobile app. It is able to detect small protrusions and even where a door is open or closed. The map it creates is updated every time the vacuum is run which makes the map more and more detailed and accurate the longer the robot is running. This means that you need to give the robot some time to adapt to your environment and get to know it.
On the underside of the vacuum, there are two side sensors, which monitor the surface the vacuum is operating on. These sensors also detect if the robot is near a staircase and in danger to drop off. The charging points, match up to the charging dock while charging. If the robot doesn't sense that both points are in contact with the dock, it will retry to dock correctly. In real-life experience, we found that sometimes it gets hard to dock itself on the charging station and needs several re-tries, even if it's very close to the base. So you will need to allow some time to find its way to charge.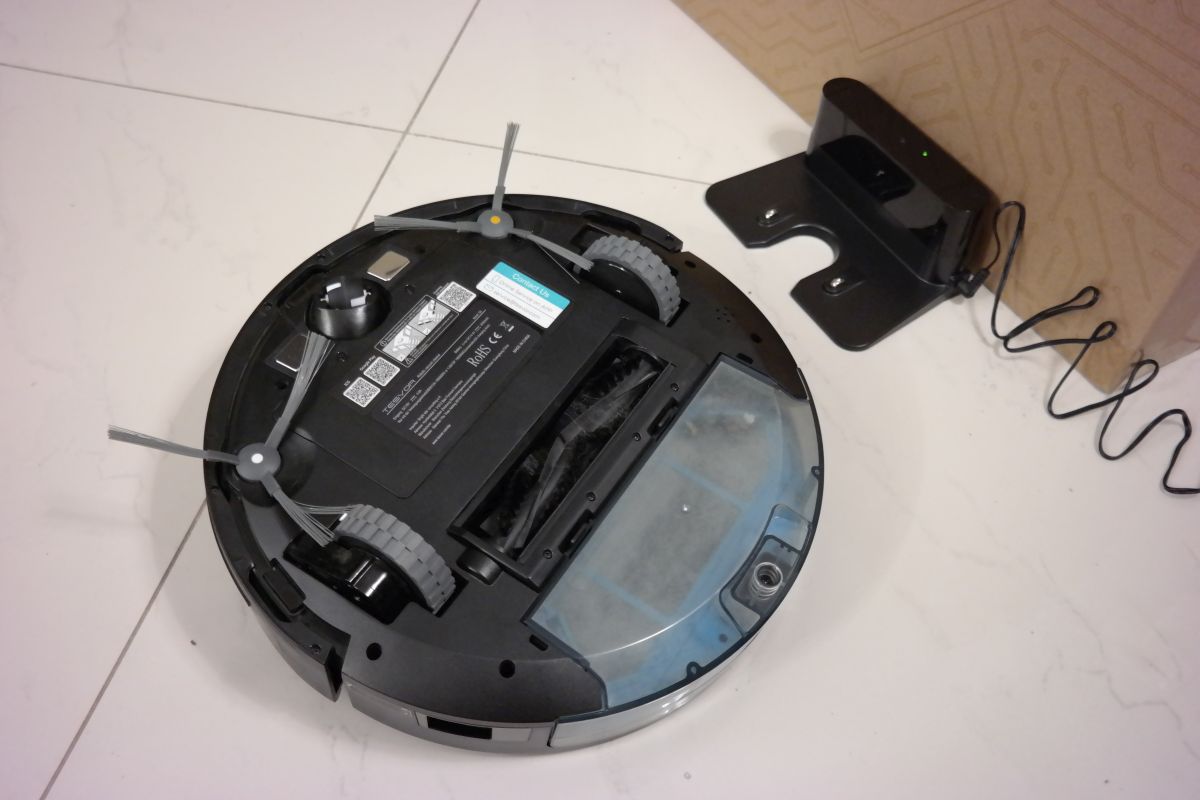 Another feature of the vacuum is that it has the option to switch between normal power mode, max power mode, and boost the power on both an automatic and manual basis. The vacuum detects the nature of the floor surface it needs to clean. For normal mode, a normal cleaning can be completed in about 1 to 1.5 hours for an average house. You don't have to move the vacuum after it is done with cleaning, the vacuum automatically returns to the charging base after cleaning is completed, or the battery power is insufficient. Its powerful turbofan combined with the dust collection effect of bilateral brushes, and efficient air duct design to achieve a strong single cleaning ability. No need to clean again manually.
Demo Video
Hardware Specs
Navigation system: Gyroscope Navigation
Voltage/Power: 14.4V/25W
Size: 13.4" x 3.9" / 34cm x 9.8cm
Weight: 7.7lbs / 3.5kg
Dust Bin Capacity: 20oz / 600mL
Battery Capacity: 2600mAh
Operating Noise: <70db
Operating Environment: 32-104°F / 0-40℃, <85% humidity
Operating Speed: 20 yards / 18 meters per minute
Grade: <15°
Fan Speed: 20000 per minute
Suction Max: 2700 Pa
App: WEBACK
Motor: Brush Motor
Mapping: Laser SLAM
Runtime: 95~120 minutes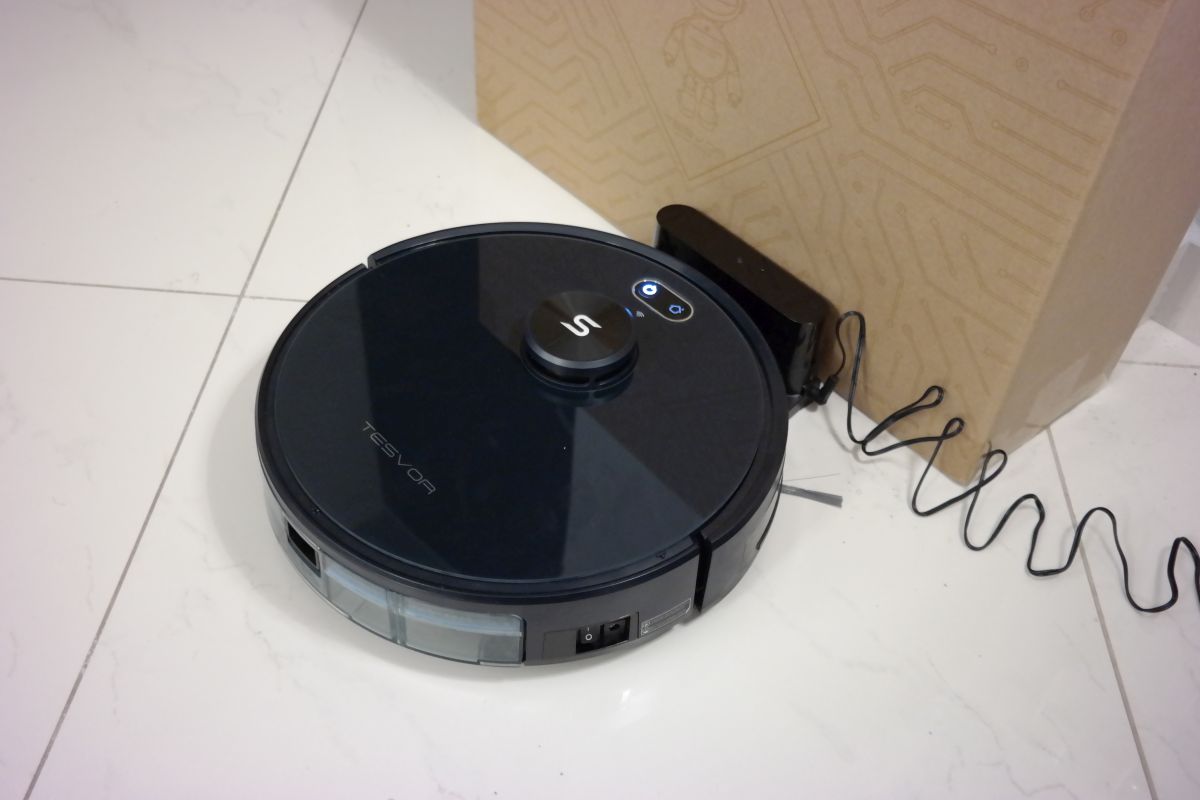 The Tesvor S6 vacuum comes with a large-capacity dust bin, remote control, and option to be paired with a mopping stick. There is also a precision micro-control water pump that cooperates with the high-performance chip to precisely control the water output. 3 levels of water outlet speed adjustment to adapt to different home environments. However, you have to purchase the water tank separately.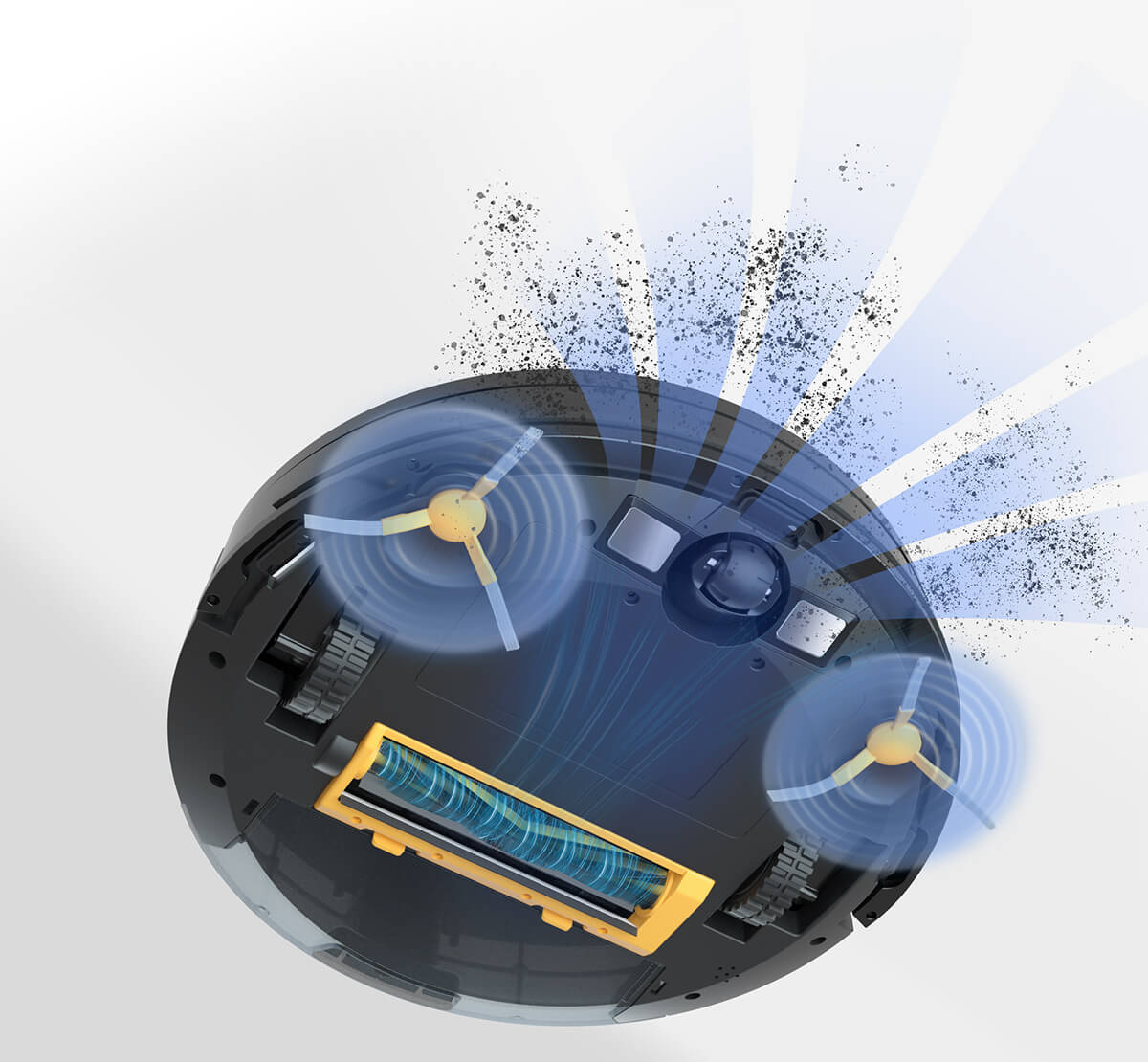 Since it is a WiFi-connected vacuum cleaner,  it can work with Alexa and Google Home and you can also connect it to your smartphone. This enables you to access the robot vacuum just about anywhere, and give it direction through those devices or you can use the free app from the vacuum cleaner company. One feature you get access to if you choose to use a smart home device to access and control the robot vacuum is the various voice control features. The voice control features include turning on the vacuum with your voice and activating a vacuum mode with your voice. This feature enables an extremely convenient vacuuming experience.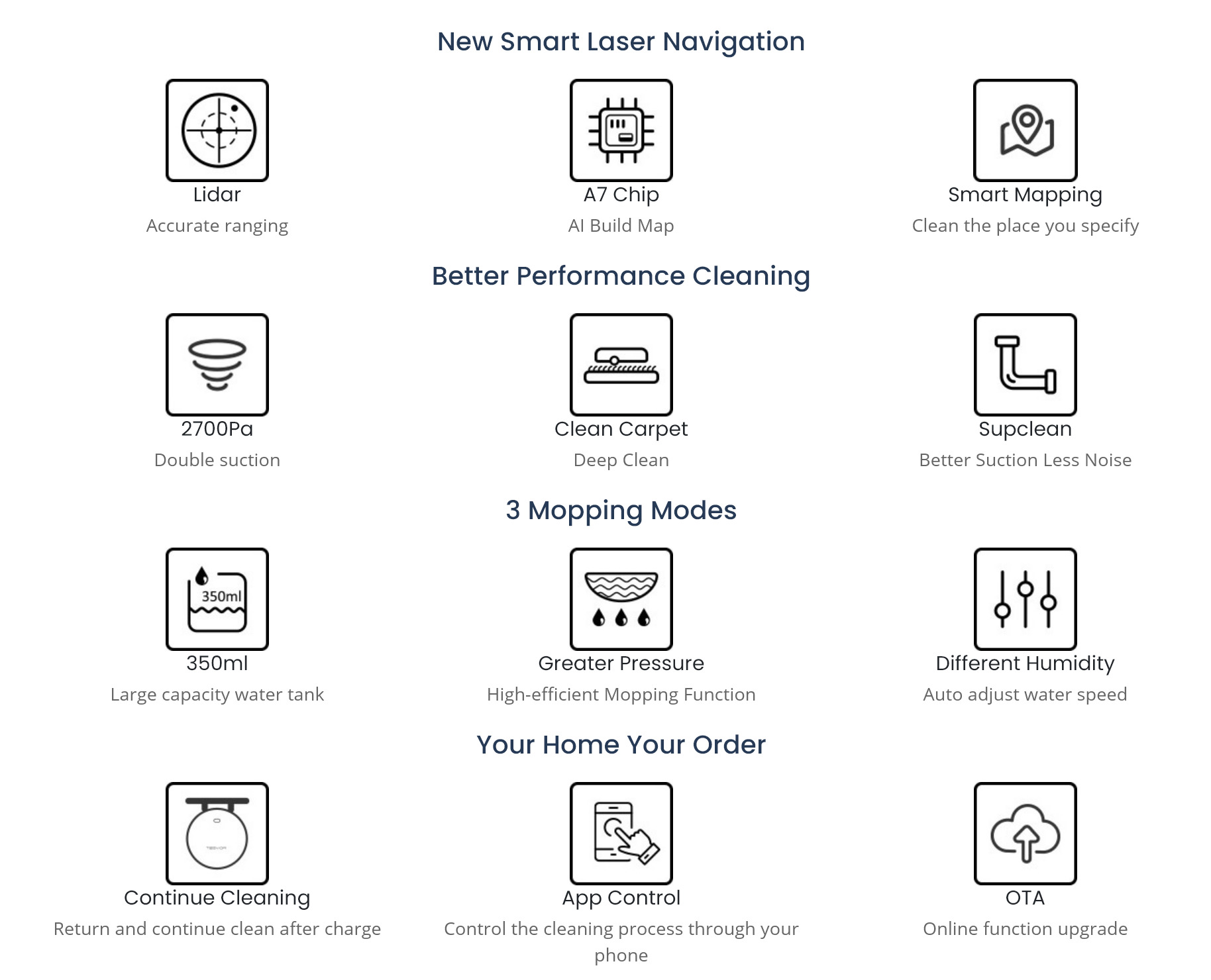 The reason for the Tesvor S6's efficiency is the 2700Pa of suction power it offers. This enables it thoroughly vacuum and clean just about any surface. Vacuuming with the Tesvor S6 on hard floors is very easy, and likewise vacuuming on soft floors, such as rugs and carpets. So, regardless of the nature of your floor, you can use the robot vacuum to clean your floors thoroughly. If you are using a smartphone, or the smart home app that the robot vacuum offers, there is a feature called the "zone cleaning" feature which you can access. The zone cleaning feature enables you to choose selected spaces that you want the robot vacuum to clean. This feature enables you to direct the robot vacuum to clean only the area you need to be cleaned. This helps tailor the cleaning to your need and expectations.
Mobile App
The first-time configuration of the Android app took us ~10 min to complete, as you will need to register an account and add the vacuum as a new device on the app by scanning a QR code and connecting to the Wifi of your home. Once this is done the app shows the status of the vacuum and the charge level on the screen. On our first try to command the vacuum to start cleaning there were some connection issues that we couldn't overcome. So we waited to see if this resolves. It seems it often loses the wifi connection with the router even if we used a WiFi repeater in the center of the house. In order to get it to connect, you have to turn it off while it's on the charging dock, then pull it off of it so the vacuum no longer charging. After about five minutes, push it back onto the dock while still off then turn it on once the robot is charging again. This could be an issue, especially if you are remotely controlling the vacuum through the internet.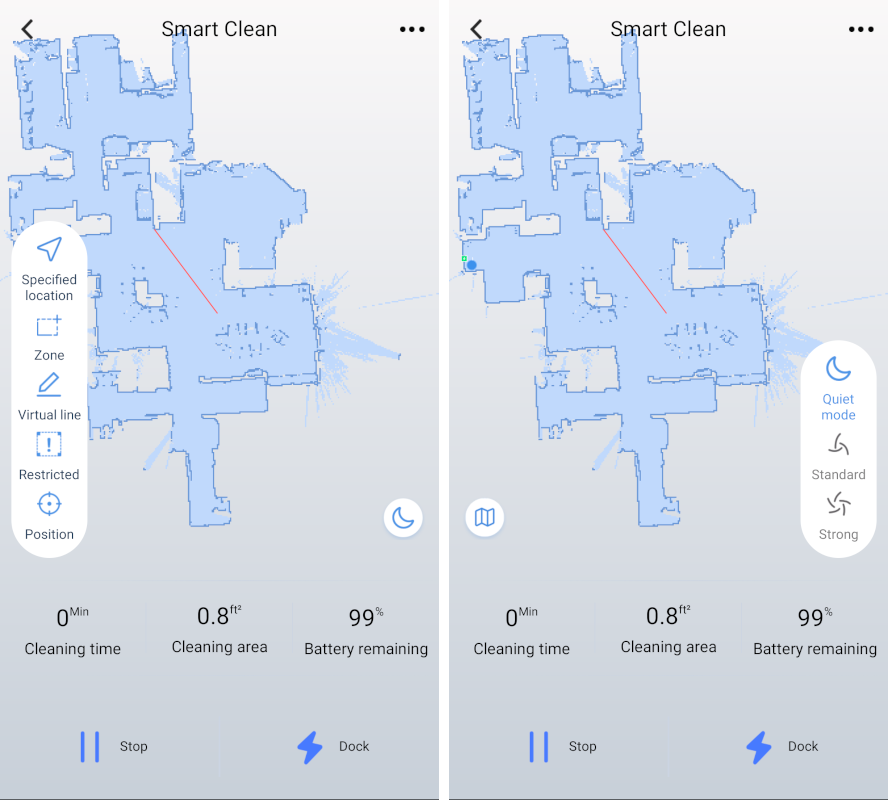 In order to assist the robot in cleaning the app provides options to send the robot to a specified location, set a zone to clean, create a virtual line, indicate restricted zones, and locate where the robot position is. All these indicate you will need some time to spend to get familiarize with the device even if it considered a smart one. Also, we didn't find a way to change the voice language of the vacuum to English as it seems it's in German by default.
Live Mapping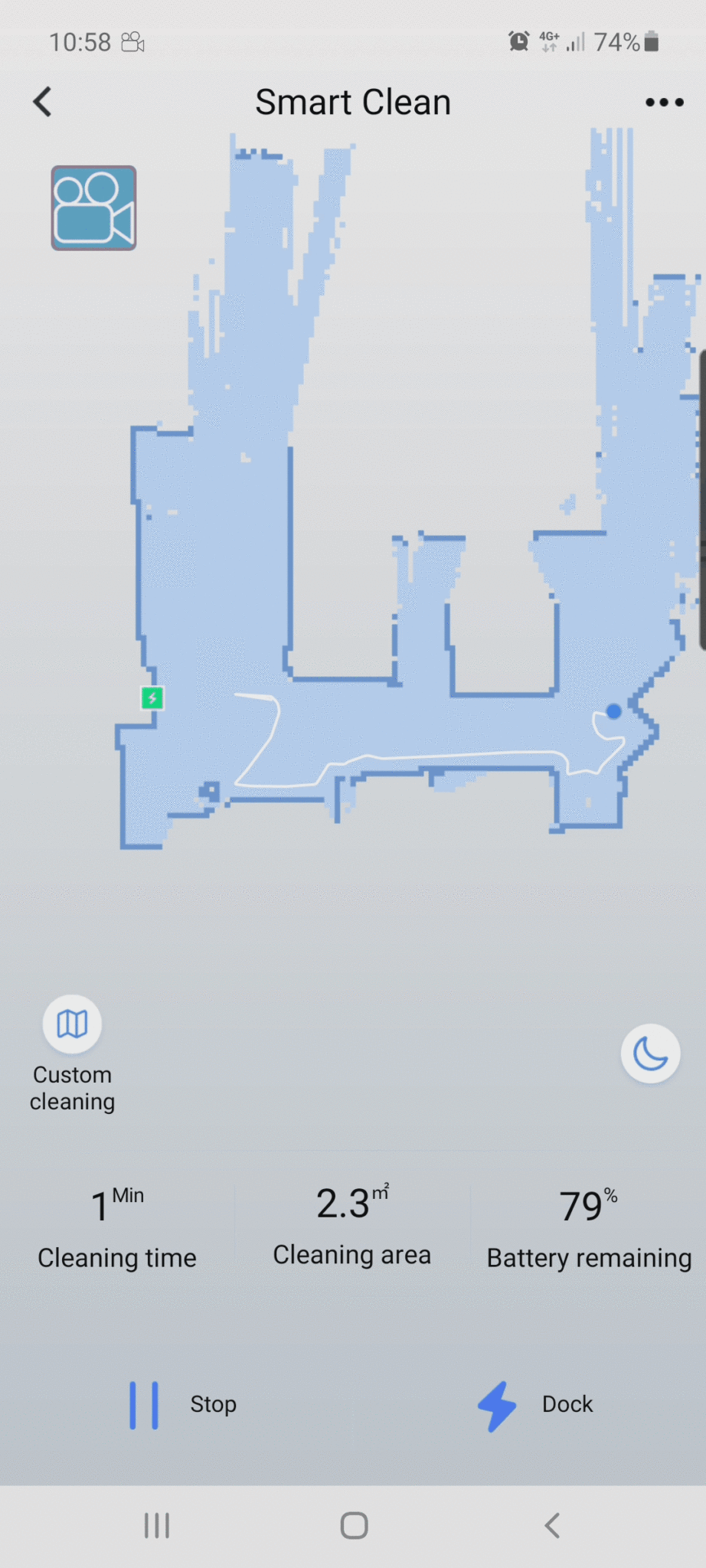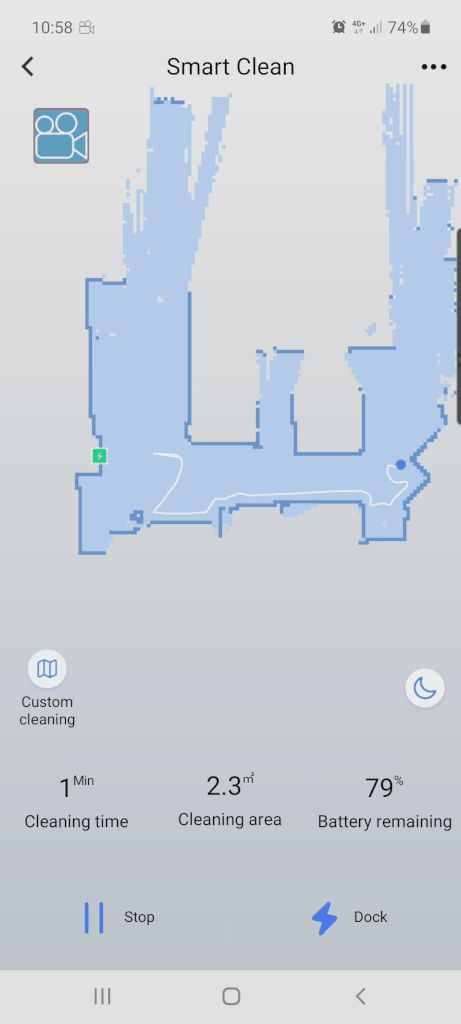 Pros
Powerful suction for a robot vacuum which is also adjustable (three running levels, quiet, standard, and strong)
Intelligently maps your house through the mobile app
Smart features + Wifi connectivity
Live updating laser mapping
Washable filter
Cons
Pricey
Loss of Wifi Connection
Configuration issues
~1.5hr battery life in normal mode
The Tesvor S6 robot vacuum is efficient, durable, and will do the hard work for you, but you will first need to configure it and allow it to know your space .
The robot vacuum is available for $320 on Tesvor's product page or $299.99 on Amazon. Promo code: US$20 OFF with Code: TCS610
Join 97,426 other subscribers

Archives