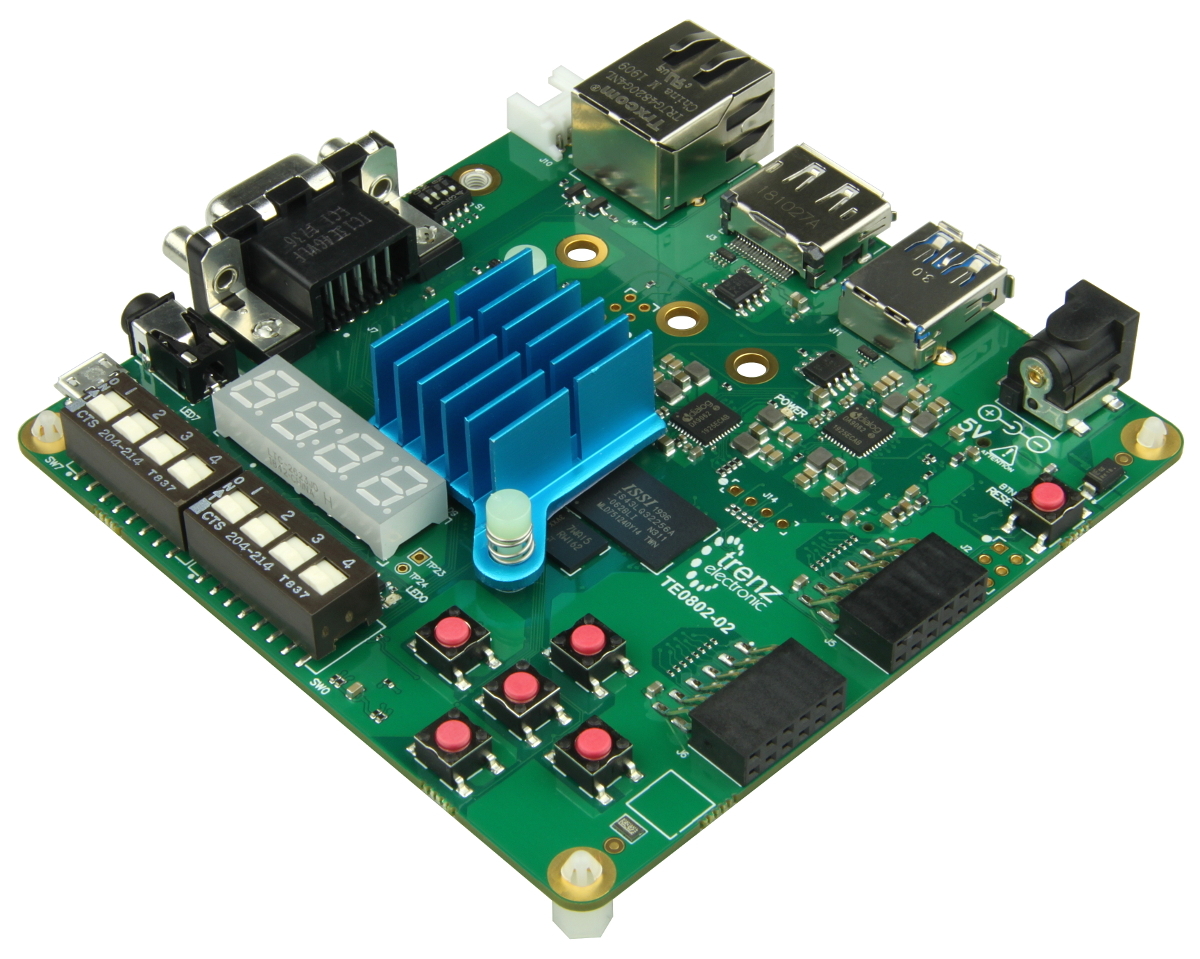 Trenz TE0802: Zynq UltraScale+ MPSoC Development Board
Designed and manufactured by our partner, Trenz Electronic, the TE0802 is a development board integrating a Xilinx Zynq UltraScale+ MPSoC device. The board features multiple connectivity interfaces, including DisplayPort, VGA, USB 3.0, and Gigabit Ethernet RJ45. With a cost-optimized ZU2CG UltraScale+ MPSoC, embedded developers and users familiar with Arm Cortex-R and Arm Cortex-A53 processors can get started in applications such as industrial motor control, sensor fusion, IoT, Real-time I/O, and medical devices. The versatile onboard I/O, including push buttons, slide switches, a seven-segment LED display, and 12-pin Pmod connectors, provide everything you need in one convenient package.
The Trenz TE0802 is an excellent choice for getting started with the Zynq UltraScale+ family. Applications that require higher performance may be better served with a Genesys ZU, which features a ZU3EG UltraScale+ MPSoC with additional capacity and processing power.
Features:
MPSoC:  XCZU2CG – Xilinx Zynq UltraScale+ MPSoC

Package: 1SBVA484E
Temperature Grade: Extended (0 to +100 °C)

RAM/Storage:

SDRAM: LPDDR4 8Gb 256Mx16x 2
SPI Flash 256Mb (32M x 8) 133 MHz
EEPROMs 2Kb (256 x 8)

Interfaces:

Two 12-pin Pmod Connectors
USB JTAG/UART microUSB
1GB Ethernet RJ45
USB 3.0 Host (Type A Connector)
microSD Card
M.2 SSD PCIe
3.5 mm Earphone Jack (PWM Output)
Display Port
VGA
4 Digit 7-Segment LED Display
8 LEDs
5 User Buttons
8 Bit Slide Switches
Reset Button

Power

5 V +/- 10%
~3.5 W
3A recommended for board startup
2.1mm inner diameter/5.5mm outer diameter barrel jack plug

Dimensions: 100mm x 100mm
more information: store.digilentinc.com
Join 97,426 other subscribers

Archives