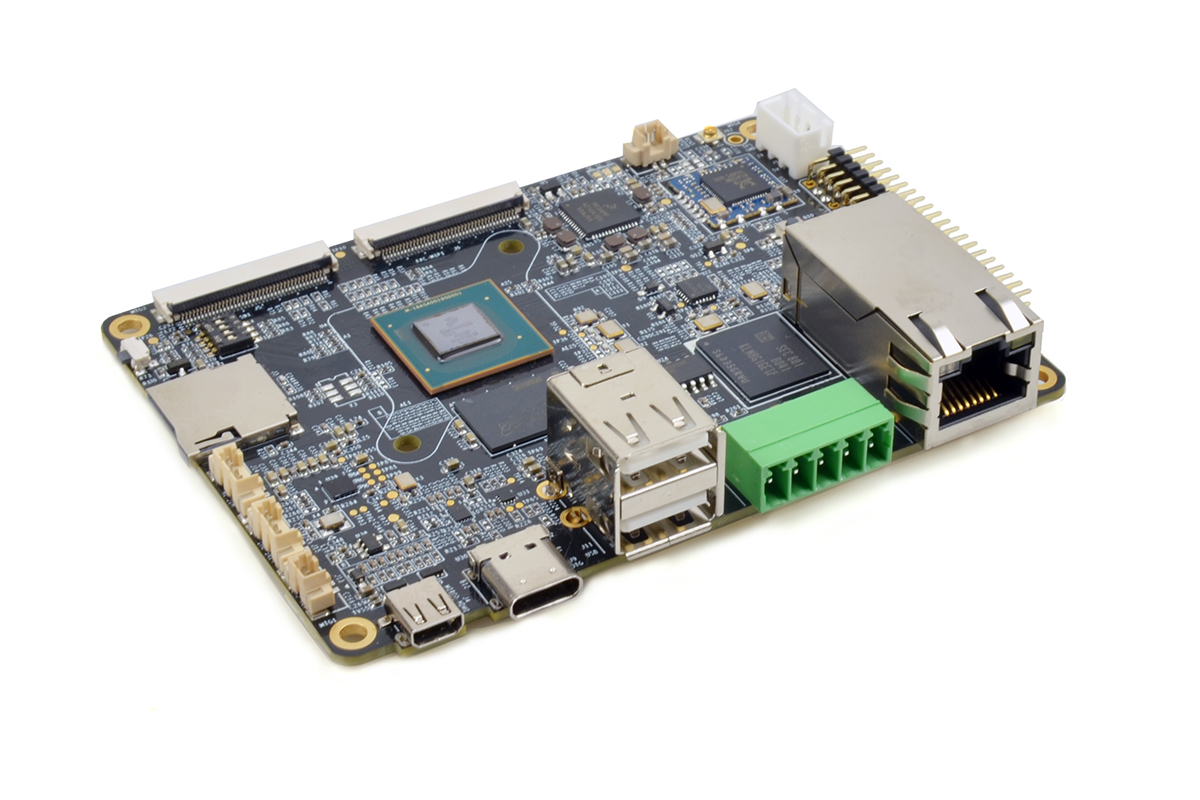 Voice Control Ready Pico-ITX i.MX8M Board for Embedded IoT Solutions
Estone technology is proud to announce the new addition to our pico-ITX embedded board family – EMB-2238, an NXP i.MX8M based single board computer.  Building upon the success of our i.MX6 board series. The EMB-2238 is our first embedded board to integrated with hardware DSP specially designed for voice control applications, This Quad core ARM Cortex-A53 board takes the advantage of NXP's latest i.MX8M application processor with up to 15-year longevity, advance audio and 4K video supports.  It is ready for ODM and industrial product designs for the fast-growing edge computing, voice human machine interface (HMI), streaming multimedia, and machine learning applications.
Targeting embedded and IoT applications with voice control, advance audio and display requirements, the EMB-2238 features a PoE (Power over Ethernet) ready GbE port, rich I/O options including RS-232/485 and USB 3.0, over 20 channels of high performance digital audio input and output expansion and dual core hardware DSP for voice-control algorithms. The board also features a 4-lane MIPI DSI and CSI and built in I2C touch panel support for all types of touchscreen applications. A 40-pin expansion header supports PCIe, GPIO, I2C, serial communications and a wide range of expansion options.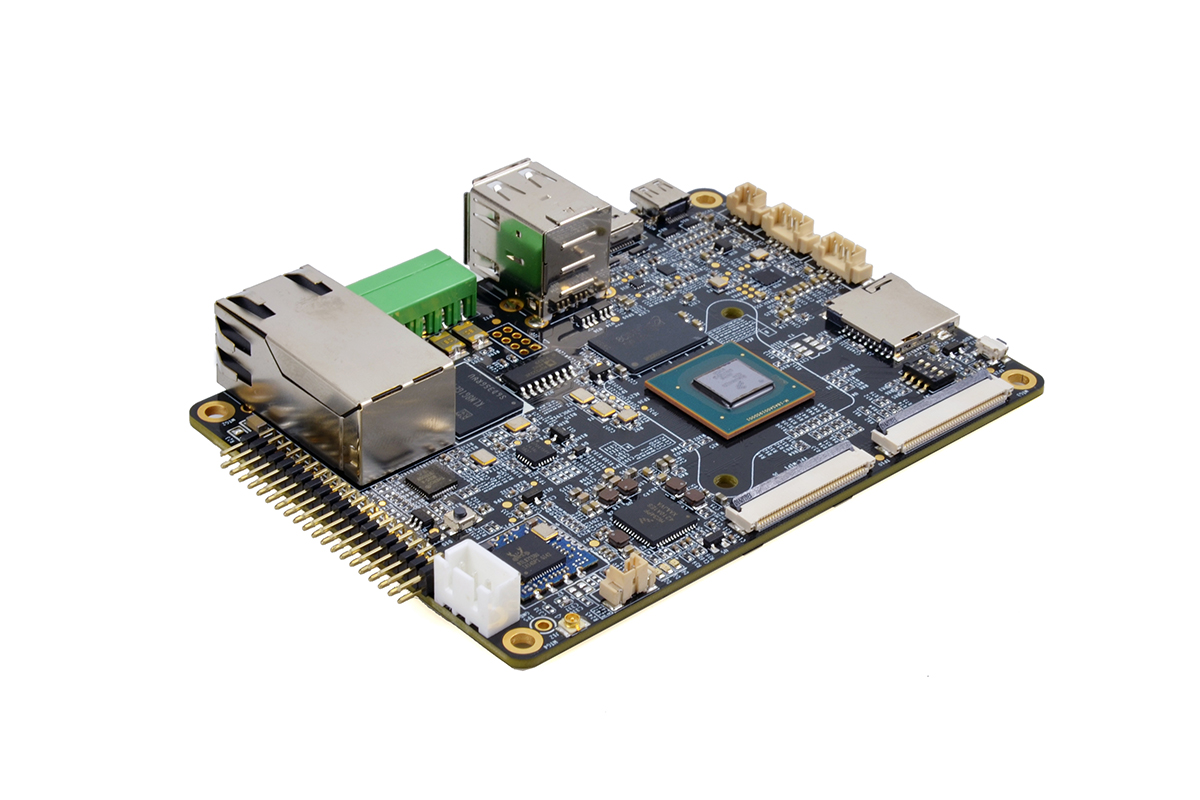 The voice control and audio support of the board is where the EMB-2238 truly stands apart. The on-board smart codec provides support for Dual Digital MEMS Microphone inputs, dual-core DSP with multi-mic noise suppression, Automatic Speech Recognition (ASR) enhancement,  acoustic echo cancellation (AEC)  and barge-in technology enable voice commands for during loud music playback., functions. 16 channel digital audio inputs and 10 channel digital audio outputs support microphone array expansion for voice and best in class audio with 32-bit 384KHz at each channel.  BSP supports include Embedded Linux, Android, Qt, Wayland, Amazon AVS (Alexa Voice Service) Device SDK, Sensory TrulyHandsfree Wake Word Engine, and offline Automatic Speech Recognition (ASR), and Natural Language Understanding (NLU) engine, like the Snips AI voice control platform.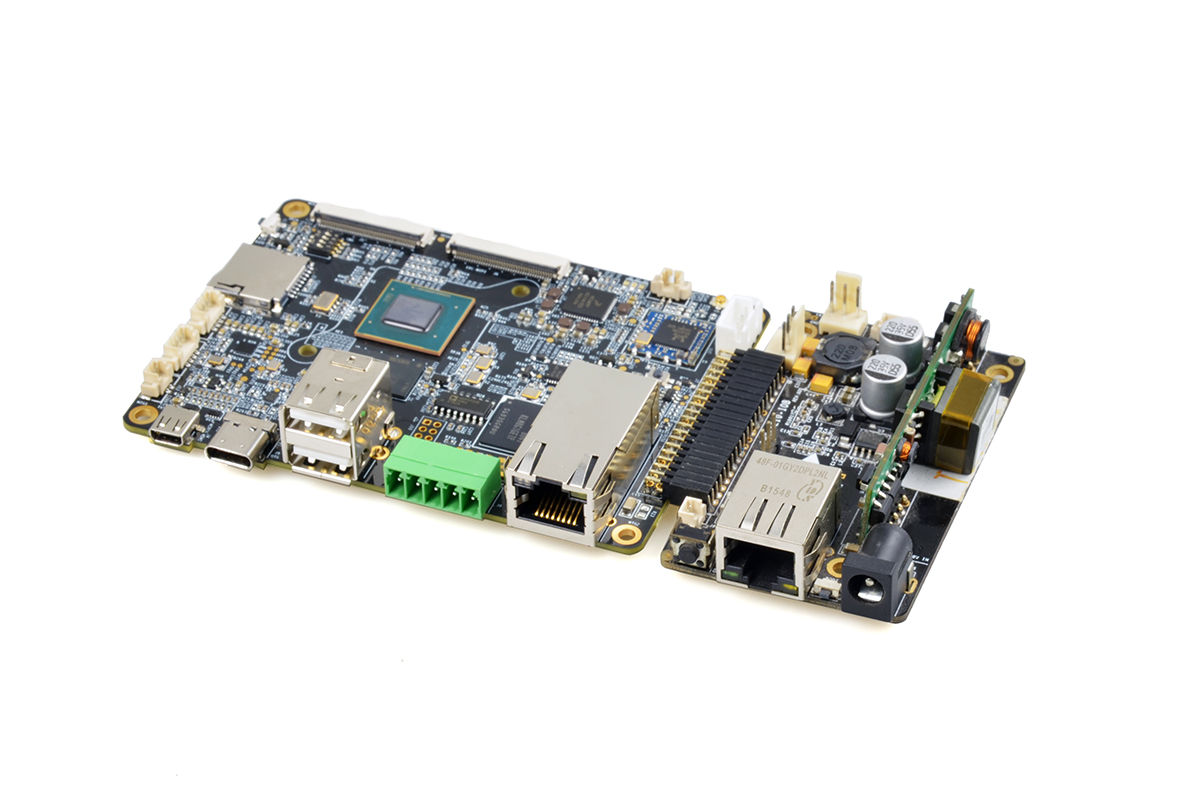 Highlighted Product Specifications
Processor – NXP i.MX8M Quad 4x ARM Cortex-A53, AND 1x ARM Cortex-M4
Storage – Onboard iNAND flash (8GBdefault), 1x MicroSD Slot, 256k EEPROM
Display Options – 1x MIPI 4-Lane DSI for 7", 8", 10.1", and other LCD Panel, 1x MicroHDMI
Expansion – 40-Pin Connector with PCIe, GPIO, Front Panel Control, PoE Input, 8-Channel Audio
I/O – 1x RS-232/485 Block, 1 x RS-232 Header, 2x USB 2.0 Type A, 2x USB 2.0 Header, 1x USB Type C 3.0 OTG, 4x GPIO, 2x I2C (for TP and MIPI CSI), 1x 4-lane MIPI-CSI
Voice Control – Dual Digital MEMS Microphone Header via CS47L24 with Dual DSP, Support Multi-MIC Noise Suppression, Acoustic Echo Cancellation (AEC), Omi-Directional Spatial, 8 Channel Digital Audio/DMIC Inputs (SAI5) for MIC Array
Full Specifications listed for the EMB-2238
Processor — NXP i.MX8M (4x Cortex-A53 @ 1.5GHz); Vivante GC7000Lite/GC7000VLX for OpenGL/ES 3.1, OpenGL 3.0, Vulkan, OpenCL 1.2 GPU; Cortex-M4 @ 266MHz
Memory/storage:

2GB to 4GB LPDDR4 RAM
8GB iNAND flash
MicroSD slot

Wireless — 802.11 b/g/n and Bluetooth 4.10 module (USB-based)
Networking — GbE port with optional PoE; optional second GbE via PCIe add-on with GPIO, 9-36V input, LED control etc.
Display/camera I/O:

Micro-HDMI port for up to 4096 x 216 0 @60Hz
MIPI-DSI (4-lane) for up to 1920 x 1200 and I2C-based support for LCD touchpanels
MIPI-CSI (4-lane)

Audio/voice control I/O:

Class D 2W mono speaker
2x HP out header
8-channel digital in and out (SAI1) with 32-bit @ 384 kHz fs and TDM support
SPDIF, QSPI
Cirrus CS47L24 smart codec with 2x-core, 300-MIPS DSP with 3x DAC and audio hub with SoundClear Control
2x digital MEMS mic header (via CS47L24) with multi-mic noise supp., AEC
Omni-directional spatial 8 ch. digital audio/DMIC inputs (SAI5) for mic array (via 40-pin)

Other I/O:

USB 3.0 OTG Type-C port
2x USB 2.0 host ports
2x USB 2.0 headers
RS-232/RS-485 terminal block
RS232 header
4x+ GPIO, 2x I2C for TP and MIPI CSI

Expansion — 40-pin connector with PCIe x1, GPIO, font panel control, PoE, 8 ch. audio in etc.
Other features — Watchdog timer; 10 to 15-year support longevity
Power — 5V DC header or optional PoE or optional 9-36V input (GbE add-on)
Operating temperature — 0 to 60°C
Dimensions — 100 x 72mm; Pico-ITX form factor
Operating system — Yocto Project (Linux kernel 4.9, Qt, Wayland); Android 8.1.0; ships with Amazon AVS and Sensory TrulyHandsfree Wake Word Engine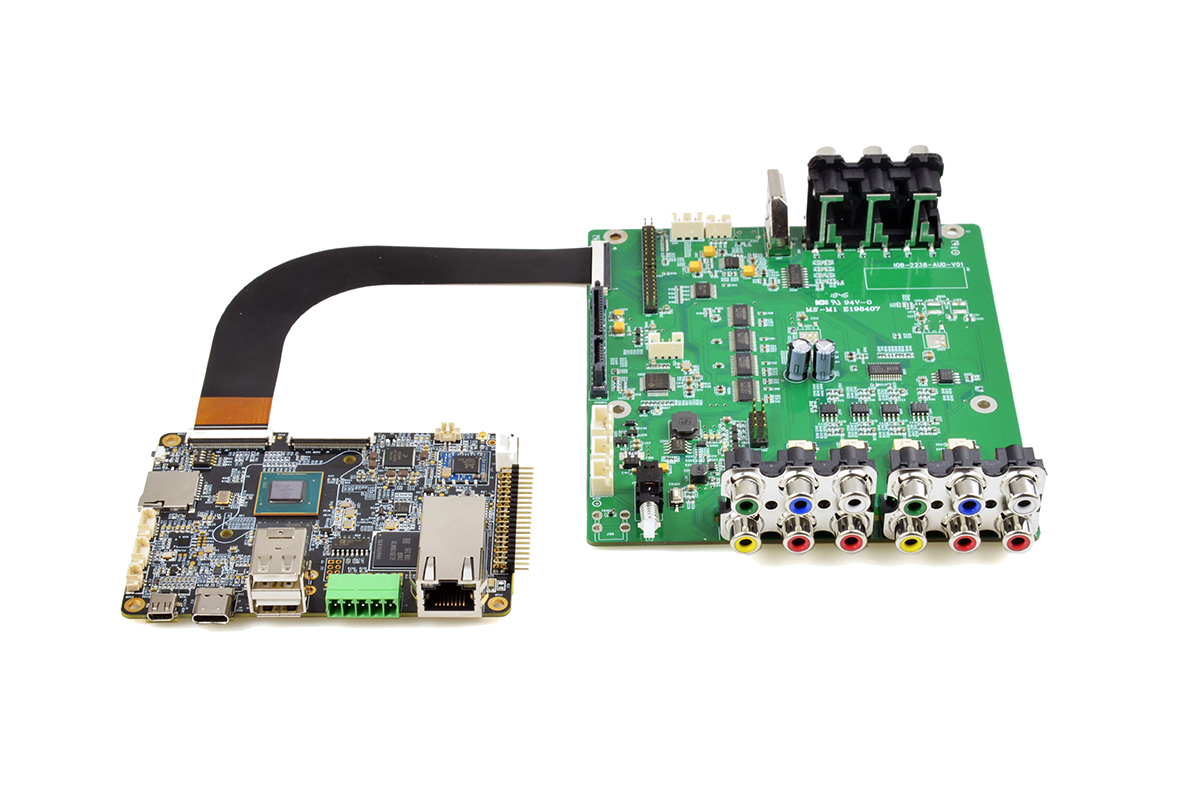 YouTube Video
No pricing or availability information was provided for the EMB-2238 SBC. More information may be found at the Estone Technology EMB-2238 product page.
Live demo of the Snips and Amazon AVS based on Yocto built Linux is available a the Embedded World 2019 at Nuremberg,  Germany,  February 26 – 28.  Both number is Hall1: 1-129.